Bryan Talbot
Bryan Talbot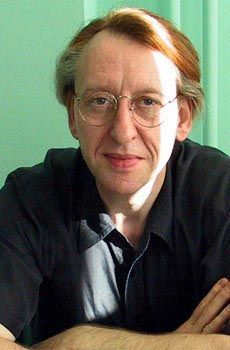 Bryan Talbot was born on the 24th of February in 1952, in Wigan, Lancashire, here in the UK. He was educated at Wigan Grammar School, Wigan School of Art, Harris College, Preston, Lancashire, where he gained himself a Diploma in Graphic Design.
His first published illustrations were seen in Mallorn, the British Tolkien Society Magazine in 1969 and his first published comic strip: Superharris, a weekly strip for the college newspaper which he created in collaboration with his fellow student, the cartoonist, Bonk saw print in 1972
Bryan worked in the underground press for five years, creating, writing and drawing the Brainstorm Comix series for Alchemy Press. The first three issues, the Chester P. Hackenbush Trilogy (1975 -78), were reprinted in one volume entitled BRAINSTORM! in 1982. Hackenbush was later Americanised into Chester Williams by Alan Moore for the DC series Swamp Thing. Brainstorm six featured, The Omega Report (1978), a popular story, which blended Sci-Fi, rock music and comedy into a private detective pastiche. A twenty-five year anniversary book collecting all this material in a 120-page trade paperback was published in 2000 entitled, again, BRAINSTORM!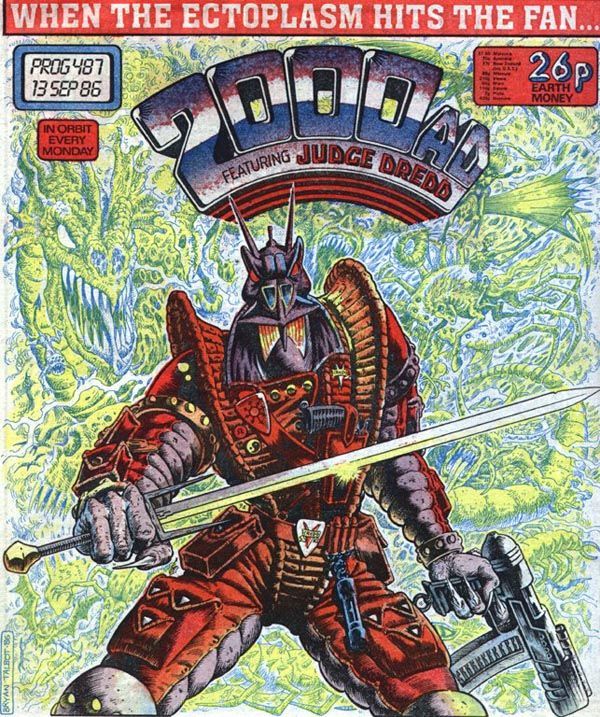 Nemesis The Warlock - 2000AD Issue Prog#487 - Artwork: Bryan Talbot
In 1978, Bryan began Frank Fazakerly, Space Ace of the Future, a space opera parody for Ad Astra magazine. This was later reprinted in one volume.
This year also saw the beginning of his epic saga The Adventures of Luther Arkwright in Near Myths, reprinted and expanded in 1981 in the ground-breaking comic art magazine Pssst! In 1982 the first collected volume of Luther Arkwright was published by Never Ltd. This book and Raymond Briggs' When the Wind Blows, published in the same year, are usually considered the first British graphic novels, though the serialised form of Arkwright pre-dates the latter by three years.
It was here, in the pages of Luther Arkwright, that I first saw Bryan's wonderfully detailed work. His work was different to most of the comic work being produced at the time. His was gritty, contained incredibly detailed rendering and had a dark edge to it. The crossing of Victoriana and its futuristic settings set it aside from the other stuff I was looking at and his work also reminded me of the work of another hero of mine, the legendary, Michael Moorcock.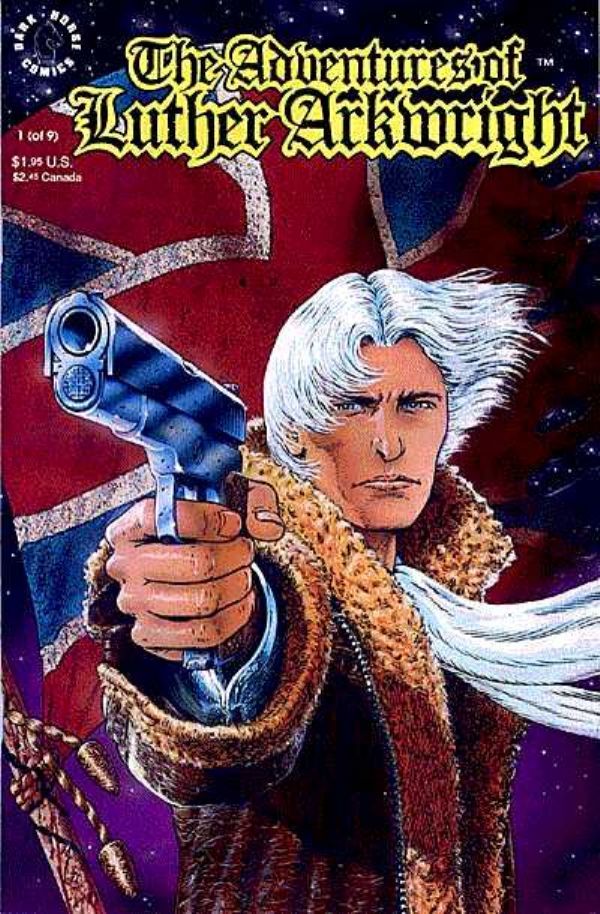 The Adventures of Luther Arkwright - Issue #1 of 9 - Cover - Story and Artwork: Bryan Talbot
In 1982 Bryan produced many illustrations for pop music magazines and 100 illustrations for a series of German role-playing-game books. He also wrote and drew the underground-style SF comedy-adventure strip Scumworld for a year in the weekly rock music newspaper Sounds.
In 1983 he began working for the weekly SF comic 2000AD. In collaboration with writer Pat Mills, Bryan produced three books in the popular Nemesis the Warlock series, which were reprinted at the time by Titan Books and have been reprinted in November 2006 by Rebellion Books. His work on Nemesis won him four Eagle Awards. He also worked on Judge Dredd by Alan Grant and John Wagner, which included production of full-colour strips for the 2000AD annuals and a twenty page RPG strip in the first issue of Diceman.
This is when and where I began to see lots more of Bryan's wonderful artwork. It was shortly after this that I was introduced to him at one of the many UKCAC comic conventions back in the mid-late eighties. This was when I got to see Bryan's original artwork. Believe me when I tell you the comic versions do not do the work justice. The actual artwork is even more incredibly detailed and wonderful to pore over.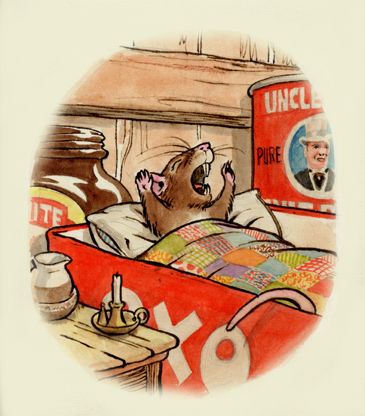 The Tale of One Bad Rat - Illustration - Story and Artwork: Bryan Talbot
Returning to The Adventures of Luther Arkwright, he completed the story in a 9 issue comic book version published by Valkyrie Press. This was followed by the three volume trade paperback reprint edition in Britain from Proutt and the American edition of the comicbook from Dark Horse. Nominated for eight Eagle awards at the 1988 UK Comic Art Convention, the Valkyrie edition won Bryan four. In 1989 Arkwright won the Mekon award given by Society of Strip Illustration for 'Best British Work'.
The story, with its blend of science fiction, historical, espionage and supernatural genres, its experimental, narrative techniques and avoidance of sound effects, speed lines and thought balloons was a seminal work. Garth Ennis, Warren Ellis, Grant Morrison, Steve Bissette, Neil Gaiman, Michael Zulli and Rick Veitch among others have all acknowledged its influence. Prose stories based on Arkwright have been written by SF authors John Brunner and Colin Greenland. It now has a strong cult following and has inspired fanzines devoted to the Arkwright mythos. The Luther Arkwright Role-Playing Game was published in 1993 by 23rd Parallel Games and a brand new Arkwright RPG by Hogshead Games is currently in production. The whole story was reprinted in a single volume by Dark Horse, and is now in its 4th printing. Last year saw the sale of the film option to Koukou Productions and the three-hour audio drama adaptation by Big Finish was released, staring David Tennant as Arkwright. It is presently being published in eight different countries.
Over the last 15 years Bryan has produced work for the American company DC Comics on titles such as Hellblazer (with Jamie Delano), Sandman (with Neil Gaiman) and the 200 page prestige format creator-owned series The Nazz (with Tom Veitch). The Spanish edition of the Constantine story The Bloody Saint won the Haxtur Award for best short story. The Sandman Special #1, The Song of Orpheus, was nominated for a Harvey Award. He wrote and drew Mask, a two-part Batman story for Legends of the Dark Knight. Nominated for two Eisner awards, it was reprinted in 1996 with the addition of one extra page in Dark Legends. The Spanish edition of Weird Romance, his four-part story arc for The Dreaming, won the Haxtur Award for Best Writer.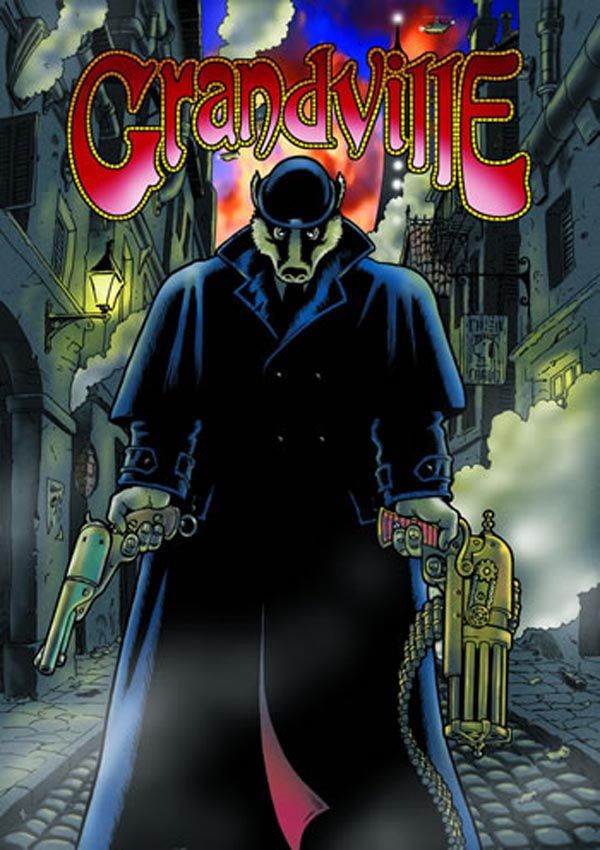 Grandville Graphic Novel - Story and Artwork: Bryan Talbot
In the late nineties, he worked on two six-issue miniseries, drawing Teknophage (Writer Rick Veitch) and writing Shadowdeath (Pencils David Pugh – Inks Tim Perkins), published by Tekno Comix. For Cult Press, he produced the covers for the cyberpunk comic series Raggedy Man.
Over the past twenty-five years Bryan has created a variety of comic strips and illustrations for publications as diverse as Imagine, Street Comics, Slow Death, Vogarth, the Paradox Press Big Books, Stardust, Transmetropolitan, The Radio Times, Wired, Spin, Knockabout, i.t. and The Guardian. For Xpresso he teamed up with top European writer Matthias Schultheiss to create Brainworms. He has produced illustrations, including covers for DC Superheroes Monthly, Octobriana, Wizards of the Coast, Nemi and Computer and Video Games, art prints, posters, badges and logos. In 1992 he was honoured to be one of the contributors to the first Arzak portfolio published by Moebius' Starwatcher Graphics. In 1997 Knockabout Comics published X-directory - the Secret Files of Bryan Talbot, a thirty-two page collection of black and white short strips.
He's also worked as a full-time graphic designer for the Longcastle advertising agency and British Aerospace.
In 1981 he worked with Science Fiction writer Bob Shaw on the Granada TV Arts programme Celebration to produce Encounter with a Madman (Director, David Richardson) and in 1994 he produced the concept illustrations for a TV movie adaptation of a Ramsey Campbell story, Above the World.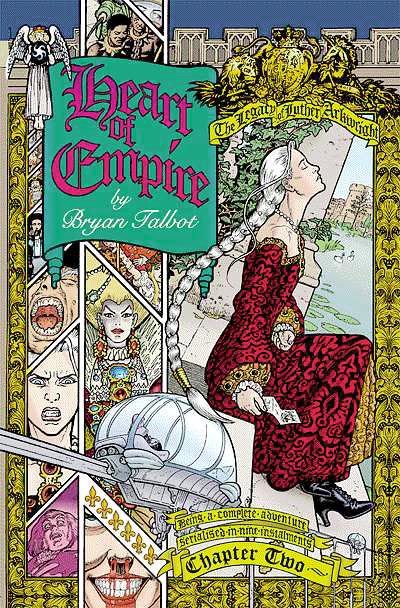 The Heart of Empire - Chapter Two - Cover - Story and Artwork: Bryan Talbot
Bryan has held six one-man Comic Art exhibitions in Lancashire, London, Tuscany, Finland, Sweden and New York, appeared in numerous others and is a frequent guest at international Comic festivals. In 1998, he taught a five-day comic course at Ouro Preto University, Brazil and in 2004 he lectured at the Comic Art School in Florence. In December 2006 he was the graphic novelist-in-residence for a GN creative writing course for the Arvon Foundation.
His graphic novel, The Tale of One Bad Rat, won an Eisner Award, a Comic Creators' Guild Award, two UK Comic Art Awards, two US Comic Buyers' Guide Don Thomson Awards , a Parent's Choice Award and a Squiddy - the Internet Comic Award - for Best Graphic Novel. It was nominated for The National Cartoonists' Society of America's Rueben Award, a Harvey Award, a James Tiptree Jr. Award and a British Library Award. In 1998 it appeared in the New York Times annual list of recommended reading and is a set text in some schools and universities. It has been published in ten countries, with a Norwegian edition appearing in early 2008.
The book deals with the psychological after-effects of child sexual abuse. It is used in several child abuse centres in Britain, America, Germany and Finland.
His 284 page Luther Arkwright sequel, Heart of Empire, was published in nine parts by Dark Horse, winning an Eagle Award and nominated for two Eisners. It was published in one trade paperback volume and a signed, limited edition hardback in 2001 along with A CD-Rom version complete with over 65,000 words of commentary and a wealth of extra visual features. The Spanish edition won a Haxtur in 2003 and was nominated for an award at the Barcelona Festival in 2004. In 2008, Big Finish will release the audio drama version, with David Tennant reprising his role as Arkwright.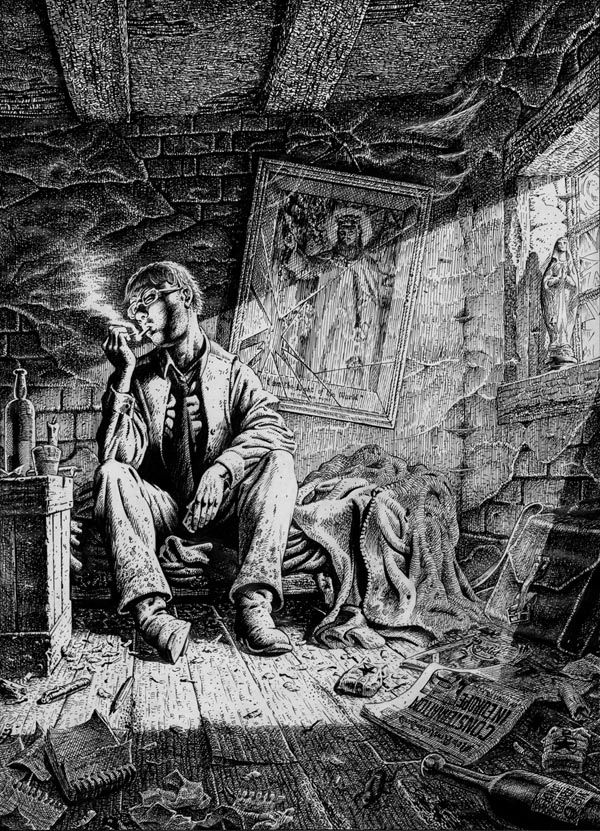 Light of the World - Artwork: Bryan Talbot
Since finishing Heart of Empire and writing the annotations for the CD-Rom, Bryan has produced several illustrations and covers for various magazines and Internet web sites, including character sketches and frontispieces for Gwyneth Jones's, Bold as Love series of novels, and has drawn and painted Sire – a four-page Vampire strip for France's Editions Carabas. He pencilled the 4 issue miniseries The Dead Boy Detectives and the Secrets of Immortality, written by Ed Brubaker, and pencilled and inked Bag O' Bones, written by Bill Willingham, for the Fables series by DC Vertigo and wrote and painted Memento, a twelve-page full colour "silent" strip for 2000AD
He has written Cherubs! a four-part miniseries, drawn by hot indy artist Mark Stafford for Desperado Comics, which is being published in January 2008 and a book of prose anecdotes about the comic industry, The Naked Artist: Comic Book Legends, illustrated by Hunt Emerson, for Moonstone, which was published in June 2007.
His new graphic novel is entitled Alice in Sunderland and was published in March 2007 by Jonathan Cape in the UK and Dark Horse in the USA and is now in its 3rd printing. The Art of Bryan Talbot, a trade paperback collection of many of Bryan's book, poster, and magazine illustrations was published in December 2007 by NBM.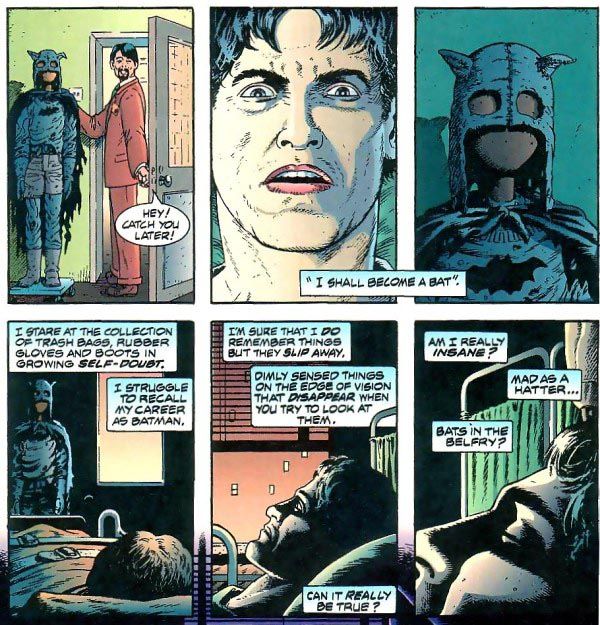 Artwork: Bryan Talbot
In 2000, he received the annual San Diego Comicon Inkpot Award for "Outstanding Achievement in Comic Arts". In Adult Comics by Roger Sabin (Routledge 1993) he is cited as one of the creators of the Graphic Novel form.
Bryan is currently writing and drawing a new graphic novel for Jonathan Cape called Grandville: a steampunk detective-thriller.
After my initial introductions to Bryan and learning he lived, at the time in nearby Preston, I attended some of his Speculative Fiction events. The highlight of these events, at which guest speakers came along, following a meal at one of the local restaurants, usually Indians, was after the event, when a close knit group of fellow comic creative folks, fans and friends would retire back to Bryan's house, speaking until the earlier hours, discussing pet projects, comics in general and the meaning of life.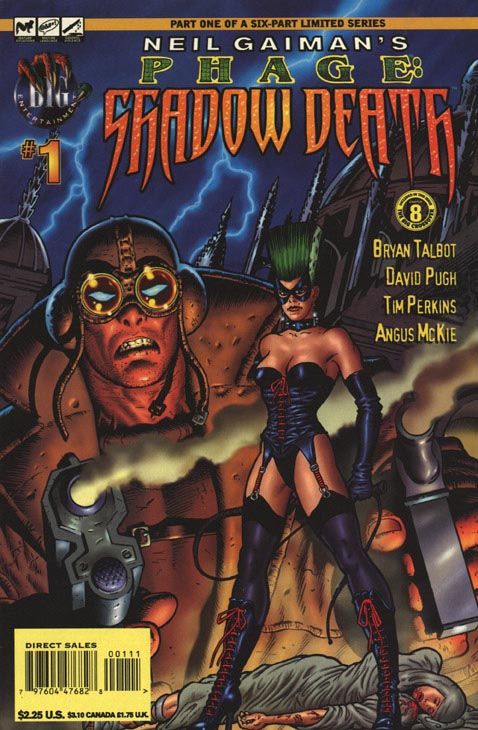 Phage Shadowdeath - Issue #1 of 6 - Story and Cover Artwork: Bryan Talbot
Back in 1996, following one such Preston SF event, whereby I had been showing some of my latest black and white work to John Ridgway and a few others, Bryan asked me whether I would like to ink Shadowdeath, which was being written by Bryan and pencilled by David Pugh. It was a real honour to do so and to think that Bryan liked my work enough to ask me to work with him on it.
Bryan continues to be instrumental in introducing comics creators to others in the fraternity, especially when first entering the field. His work continues to inspire people of all ages. His passion for the medium of comics is without doubt undiminished over time and he constantly strives to push the boundaries of comics in ever increasing directions. His anecdotes and gentle tones captivate his audience as well as does his work.
For me, one of the most courageous and well produced, thought-provoking works that Bryan has ever produced is his "The Tale of One Bad Rat", which to my mind is a true work of beauty. The subject matter is treated with the greatest respect and empathy and shows Bryan's storytelling off at it's best. It's a great privilege to know Bryan and to have worked with him too is an honour.
Bryan signs another One Bad Rat Graphic Novel for a fan at Bristol International Comics Expo in 2007
I would like to say a very heartfelt thank you to Bryan for both his inspiration and also his agreeing to be one of the first to come aboard as a part of my Hall of Fame earlier last year in February 2007.
His Fantastic Website can be found here: