Frank Brunner.
Frank Brunner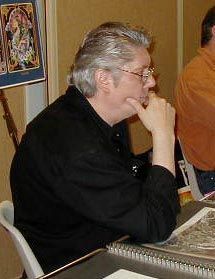 Frank Brunner was born in February 1949 in Brooklyn, New York in the U.S.A. He studied at the New York University Film School and also at the School of Visual Arts in New York City, where he studied under the comics master, Burne Hogarth. His other major influences include; Frank Frazetta, Wally Wood, Al Williamson and Neil Adams, who he worked alongside in the formative days of Neil's Continuity studios.
Frank's comics career was relatively short, but he was very influential on later artists, myself included, and his wonderfully inventive and beautifully rendered artwork is very highly respected by collectors worldwide. It has a kind of neo-gothic style, features beautiful women and a great attention to detail and design, and he became a fan-favourite artist when he hit his stride as the artist on "Dr. Strange" in the early '70s, where joined the ranks of Steve Ditko, Gene Colan, Bill Everett, Marie Severin, and Barry Windsor-Smith as a top artist on the Master of Mystic Arts.
Right from the off when I first saw his artwork I was instantly enthralled by Frank's wonderfully rendered, fantastically paced artwork, with its sprawling and elegant panel layouts on each page. There was a grandeur and eeriness to his art and yet a spectacle of fantasy too. At the time I was beginning to look at detailed artwork as well as Jack Kirby's dynamics and straight away I added Frank to my list of such artists, along the lines of Barry Windsor-Smith, Bernie Wrightson and Neil Adams. To my mind back then, and still to this day, he was also, as well as a great comic artist, a great fantasy artist.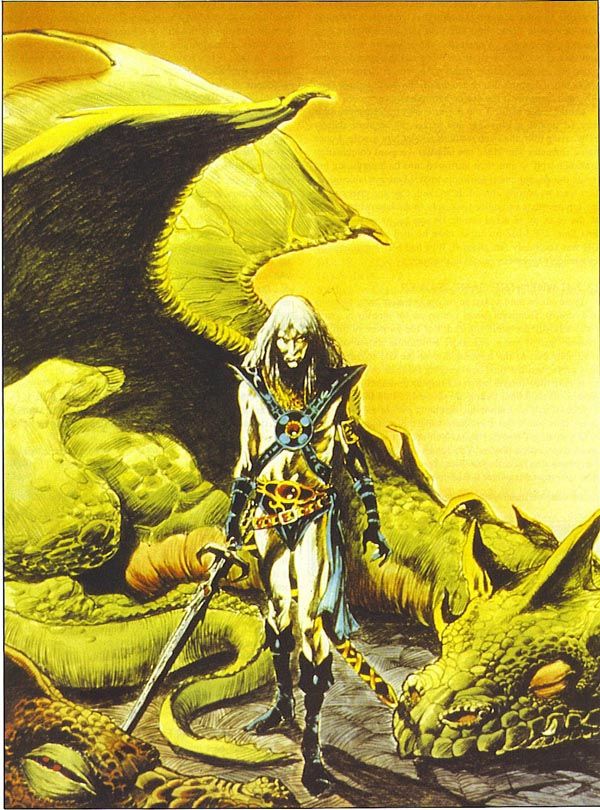 Dragons Dream - Elric - Artwork: Frank Brunner
His backdrops are exotic and lush, his women are curvaceous and beautiful, his men are strong and heroic – he is a true master of heroic design. Yet his work also carries with it at times, a soft, lyrical and whimsical side to it.
Frank first broke into comics as a horror artist and writer for Web of Horror, for Major Publications. He then went onto work in the same vein on Creepy, Eerie and Vampirella for Jim Warren at Warren magazines. He is, however, best known for his collaboration with writer Steve Engelhart on Doctor Strange in Marvel Premiere in 1972-3, and in the re-launched Doctor Strange title in 1974. His first issue of Dr. Strange was issue #4 of Marvel Premier, written by Gardner Fox, although the majority of the work he did on the title was with Steve and their collaboration began with issue #9.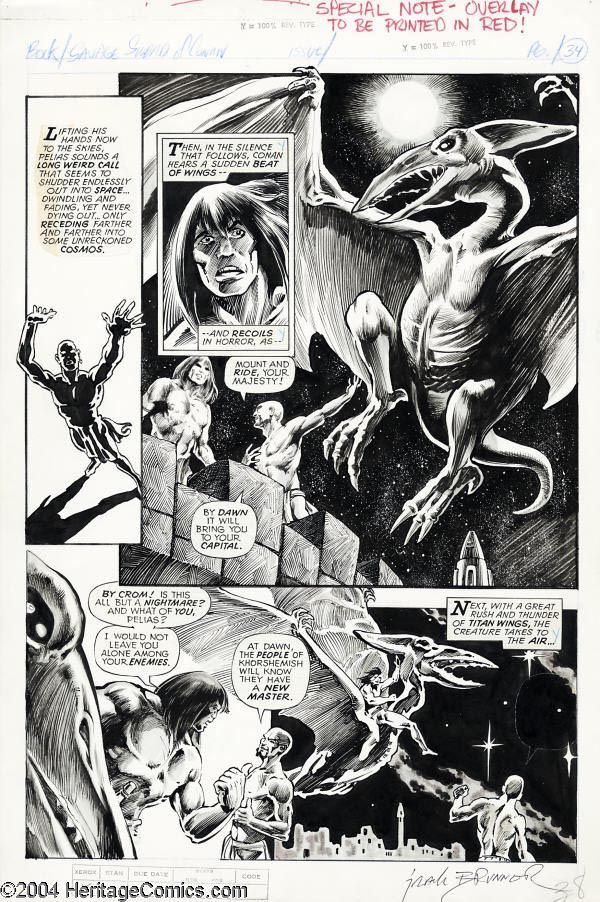 Savage Sword of Conan - Issue #30 Page 38 - The Scarlet Citadel - Artwork: Frank Brunner
Frank explored a great many facets of theology and brought "Cosmic Awareness" to the field of comics with Steve, something that had not been really touched in previous comics up to this point. His stint on Dr. Strange was so popular that the title immediately went monthly and firmly established Dr. Strange as a one of the top characters at Marvel Comics.
I remember seeing his work with Steve on Dr Strange and thinking that, here was something incredible that I wanted to see through to the end of the voyage. Every issue was filled with incredible vistas and thought provoking ideas.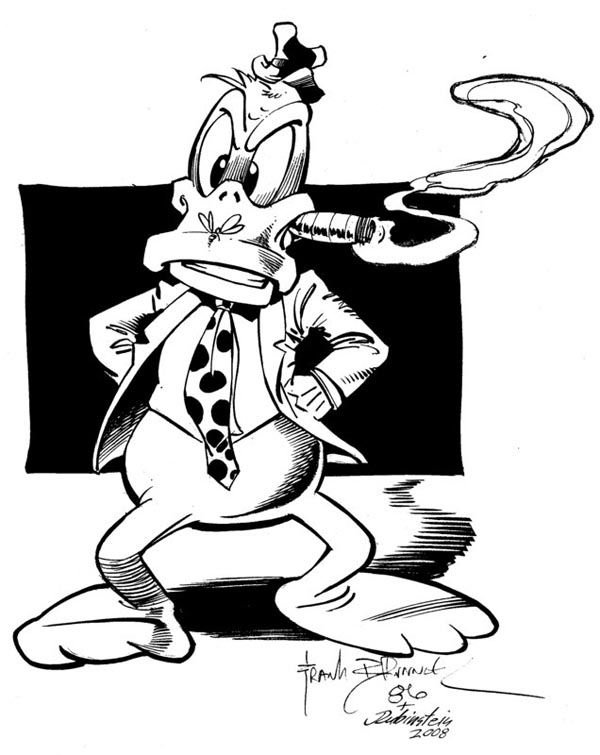 Howard The Duck - Pencils: Frank Brunner - Inks: Joe Rubinstein
He then went on to co-create the immediate success of a new and very different character, Howard the Duck with writer Steve Gerber. Visually the character at first glance could have been a pastiche of Donald Duck, but here was a duck with a difference. Sure he spoke, like the other duck, but this one smoked cigars, had a New York accent, wore a Derby hat, ran for President of the USA and also ended up with a human girlfriend.
Again I remember thinking wow here is this artist guy Frank Brunner again and look at what he is doing this time around. The artwork just kept on wowing me with its beauty. After he left the book, sales gradually dwindled but Howard remains a Marvel legend!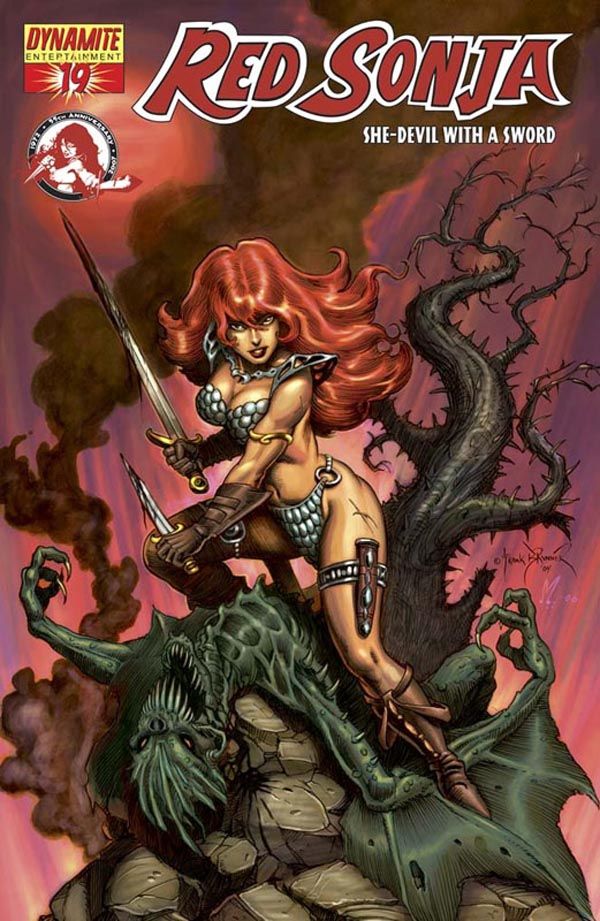 Red Sonja Cover - Pencils and Ink: Frank Brunner
Also for Marvel, he adapted Robert E. Howard's famous Conan the Barbarian in a 42 page epic "The Scarlet Citadel" and his work on many covers (Man-Thing, Unknown Worlds of Science Fiction, Red Sonja, Savage Sword of Conan) are much sought after with many collectors.
To my mind, Frank's work on the Scarlet Citadel remains as a benchmark for the character, up there with the Barry Smith, John Buscema/Alfredo Alcala Conans. Even today I will pull out that issue of the Savage Sword of Conan and take another look at the exquisite artwork. This single issue did more to influence my take on fantasy subjects alongside the aforementioned Barry Smith, John Busema/Alfredo Alcala Conans and the Weird World work of Mike Ploog than any thing.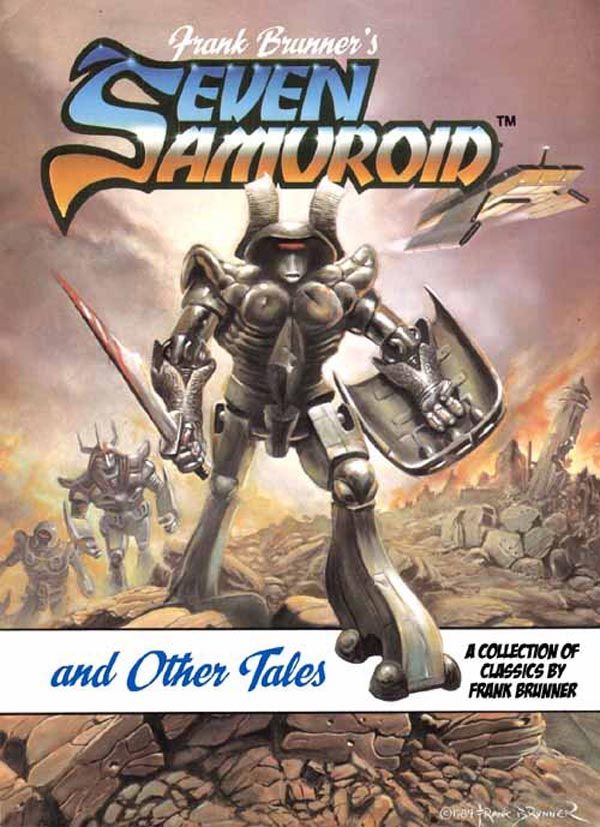 Seven Samuroid - Graphic Novel - Stroy and Artwork: Frank Brunner
Frank then joined ranks with another hero of mine when he shared his talents with novelist Michael Moorcock and brought Elric to life in Heavy Metal magazine, with a fully hand-painted adaptation of the Albino Prince's first adventure, which was then subsequently reprinted in Star Reach Greatest Hits.
Again this had a profound effect on me, due to the fact I was now seeing Frank's fantastic artwork in fully painted colour. The Conan and Elric books have always been favourites of mine and their stories adorn my studio bookshelves in both book and comic formats, along with all of Frank's other books. Frank's artwork, for me, worked just as well with the Elric character as with Conan, and the affinity shown by him towards these characters is self evident. He just has what it takes to pull off "believable" fantasy characters and settings, perfectly, every time.
Also during the 1970s, Frank turned his hand to the world of novels where he was a prolific illustrator of paperback covers. As a cover artist, he was also hired by Star Reach Productions and DC Comics. Towards the end of the 1970's like his contemporaries, Barry Windsor-Smith, Bernie Wrightson, Jeff Jones, and Michael Kaluta, he had moved into the world of the limited edition print, and portfolio market, which was where the fans saw his Faeries, Nudes, Dragons, Wizards, Bran Mak Morn and Alice in Wonderland, a fully grown, curvaceous woman in his version, for the first time.
Frank returned to comics in the mid 1980s, all too briefly, as the artist on the First Comics title Warp! Which was based on the science fiction stage play of the same name that ran briefly on Broadway in the early 1980s. He additionally drew for Star-Reach titles like 'Star-Reach' and 'Quack' and he appeared in Marvel's Epic Illustrated. He produced graphic albums like 'Voyages' for Dragon's Teeth Productions, and 'Thieves' World Graphics' for Donning Publishing, and appeared in Eclipse titles like 'Alien Worlds'.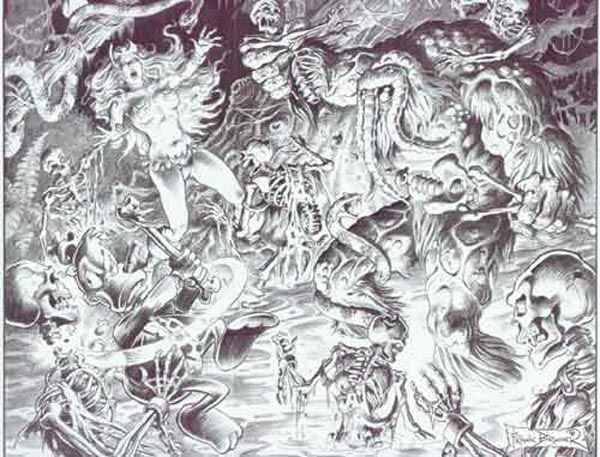 Man-Thing Howard the Duck Spread - Pencils: Frank Brunner
He then created his own graphic novel The Seven Samuroid in 1984, a science fiction based homage of the movie classic Seven Samurai, which was published by Image International Publishing Corporation, not to be confused with Image Comics.
He then turned his sights to ventures outside of comic books when he moved to California. Hollywood beckoned, and he began a career in Movies and TV animation, where he worked on a great many shows such as for the Hanna-Barbera studios where he worked on Jonny Quest, Walt Disney Imagineering, and Warner Bros and DreamWorks on Invasion USA. He was also the head of character design for the very popular animated series X-Men. Some other animated series he worked on are: Batman – the animated series, Skeleton Warriors, Dark Stalkers, Robocop, Alpha Commandos, Extreme Ghostbusters and in feature animation "Once upon a Forest" for H-B and 20th Century Fox in 1993.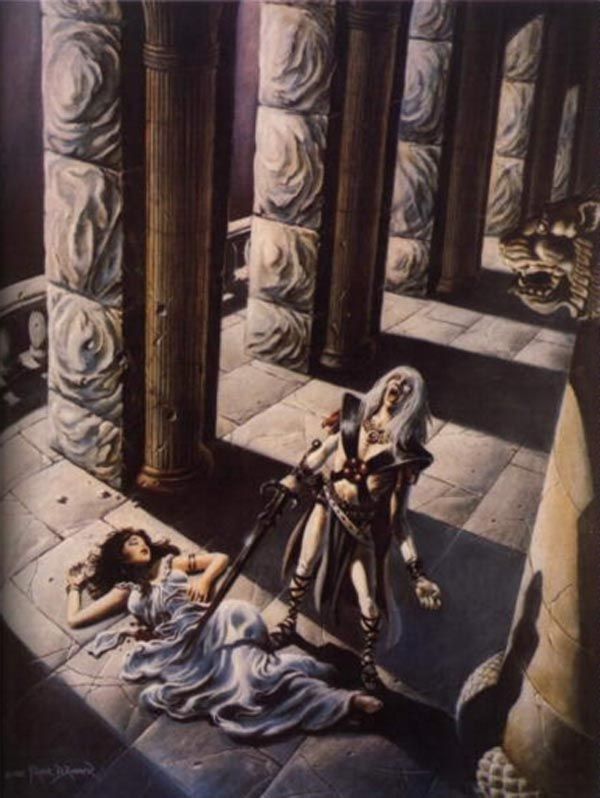 Cymoril - Elric - Artwork: Frank Brunner
Most recently he has devoted most of his time to commissions and fine art painting, although he has produced covers for comics titles such as Red Sonja for Dynamite Entertainment.
Frank has had a collected works book published, entitled "Eyes Of Light: the fantasy art of Frank Brunner" published by Vanguard Publications in 2002, which showcases much of his beautiful artwork, and a new full colour book: "MYTHOS, The Fantasy Realms of Frank Brunner" was published on Halloween 2007 also by Vanguard Publications.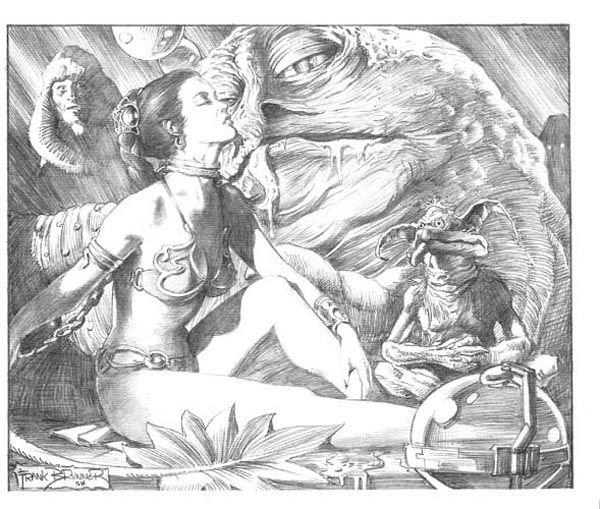 Princess Leia and Jabba the Hutt Spread - Pencils: Frank Brunner
I met Frank at the 1979 Comic Convention at the Metropole Hotel in Birmingham's NEC exhibition complex, which was organised by Colin Campbell of Bytoo Books fame with my younger brother Chris, whilst I was still an art student. He was there along with a contingent of UK and US artists and writers, among them; Rodney Matthews, Steve Leialoha, Denis O'Neil, Joe Staton, John Bolton, Jim Steranko, amongst others. For most of the weekend he was sketching and talking to fans. I asked him for his autograph on an issue of Dr. Strange and also if he could draw me a Conan head sketch, which to this day adorns my studio wall.
He was gracious, very pleasant to speak to and very enthusiastic about comics and art in general. He very kindly looked through my portfolio and gave me some very sound and encouraging advice about my work on display and also about the business in general, to which I will be eternally grateful.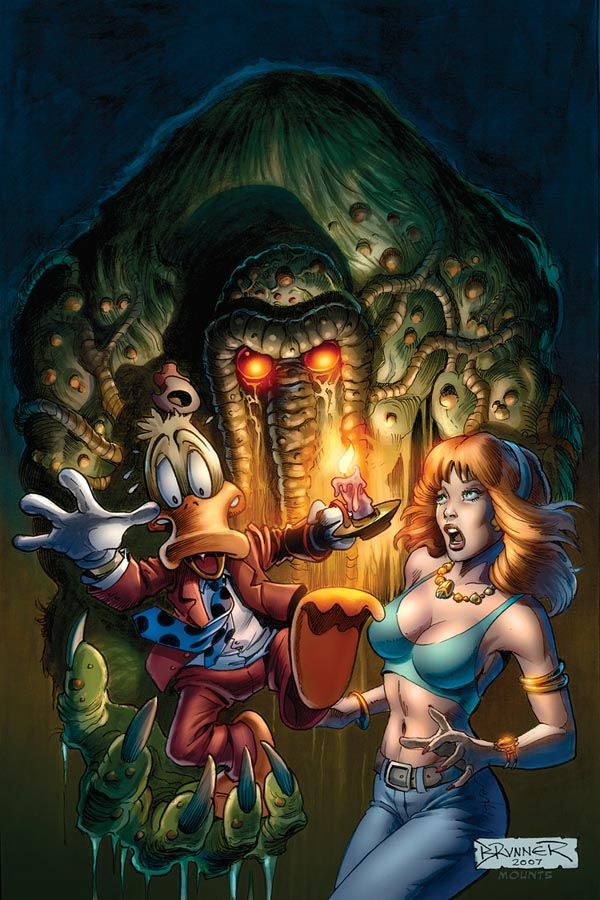 Man-Thing and Howard the Duck Illustration - Pencils and Inks: Frank Brunner - Colours: Paul Mounts
I would like to say a very heartfelt thank you to Frank for both his inspiration and also his agreeing to be one of the first to come aboard as a part of my Hall of Fame earlier last year in February 2007.
His Fantastic Website can be found here: