The Destroyer - Oils - Artwork: Frank Frazetta
Standard saw that there was raw talent there and decided to employ him as an apprentice, where he drew backgrounds, ruled borders, and cleaned up other artists' pencils. Graham Ingels would become famous several years later for the horror strips he signed "Ghastly" for EC Comics. Frank worked for Mayo and Standard for a few years, doing things like "Looie Laziebones" and all the funny animal stuff.
Between 1946 and 1952 Frank worked for companies such as, Prize Publications, Standard Publications, D.S. Publishing and Magazine. It was when Frank started working for Magazine Enterprises and National, now known as DC Comics that he graduated to the adventure titles and drew stories for Durango Kid, Manhunt, Adventure Comics, and Blackhawk. His covers for Ghost Rider received tremendous recognition and in 1951 Frank created his own comic for Magazine Enterprises, Thun'da, a Tarzan-like character who becomes trapped in a lost world. Gardner Fox was hired to write the script based on Frank's idea and the first story in the book did that. Then the editor, Ray Krank, had Gardner take everybody out of the prehistoric setting by the end of the third story in the book and ruined the entire concept, whereby they turned it into just another cardboard jungle comic. Thun'da #1, published in 1952, was the only complete comic book Frazetta ever drew.
Following this, he ghosted a few weeks of Flash Gordon for Dan Barry and tried unsuccessfully to sell the syndicates several other ideas for newspaper strips. He also worked for E.C., Toby Press, and Prize Publications. His Buck Rogers covers for Famous Funnies are considered some of the finest comics work ever published and many prominent filmmakers have cited them as a visual influence on their movies, including George Lucas, who has claimed they were the inspiration for the Star Wars Saga.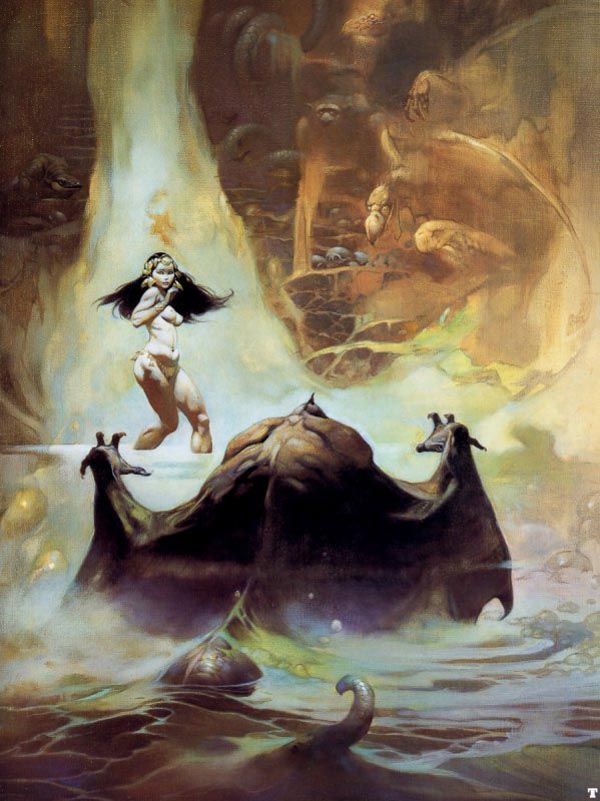 At The Earth's Core - Oils - Artwork: Frank Frazetta
In 1952 he met Eleanor Kelly and after four years of dating they were married on November 17th, 1956. He began drawing his own newspaper comic strip, Johnny Comet for McNaught Syndicate, who had seen advance pages from Thun'da, and offered him a strip about automobile racing, but the title never really found an audience and was cancelled after a little over a year.
In 1953 Al Capp hired Frazetta as one of his uncredited ghost artists for the popular comic, Li'l Abner. The pay was wonderful and it took Frank only a day to pencil his Sunday page and he had the rest of the week off, what more could any artist ask for? When his employer attempted to cut his salary in half in 1961, Frank angrily quit, believing that he could take up his comic book career where he had left off, but his best stuff was rejected as being too "old style". In 1963 his best friend, Roy Krenkel introduced him to Ace Paperbacks and work on "Tarzan of the Apes" a dream of his since childhood. The public responded well and other paperback firms started noticing. A back cover for Mad Magazine, a caricature of Ringo Star was noticed by United Artists Film Studios who had Frank do the poster for "What's New Pussycat?" For it, Frank received $4,000.00, a whole year's pay earned in one afternoon! It finally started to pay off.
Next was a series of paintings for Jim Warren's Publishing Company, which provided total freedom for Frank to utilize his talents to the fullest. At the same time, Lancer Paperbacks were publishing Robert E. Howard's Conan series and they hired Frank to do the covers. When they hit the bookstands, they became one of the greatest selling series in history, upwards of 10 million copies. Many people bought the books just for the cover art. Frazetta's covers sold books so he became more selective about the material offered to him. He retained ownership of all original art and permitted only first printing rights, which started a new trend in the paperback industry.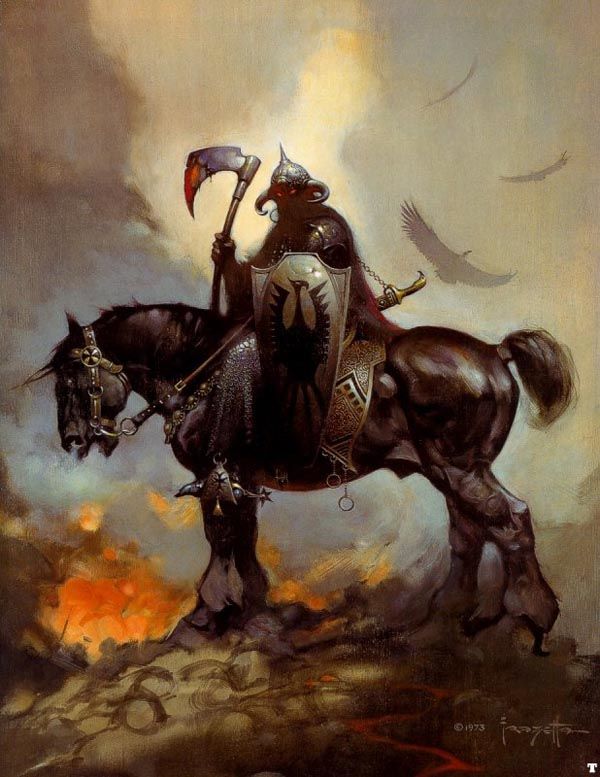 The Death Dealer - Oils - Artwork: Frank Frazetta
The brush and ink technique he used in the pages of Creepy caught the attention of Canaveral Press. The goal of the publisher was to produce a series of high quality Burroughs reprints. He was fresh from Ace still hungry for Tarzan with a ton of experience now under his belt.
Following Creepy's success came Eerie in 1965. As with Creepy, Frazetta could paint whatever he pleased without any intrusion from an editor or art director. Many times editor Archie Goodwin would write a story based on the magazine's cover.
His speed was legendary and he once completed three covers for Ace's first Burroughs series in two days. In 1967 had Frank back in the swing of paperback covers when he was commissioned by Lancer to paint covers for their series of Conan books. Frank obviously took a tremendous amount of pride in his paintings for the Conan books and the appreciation he received from Lancer spurred him to new levels of excellence.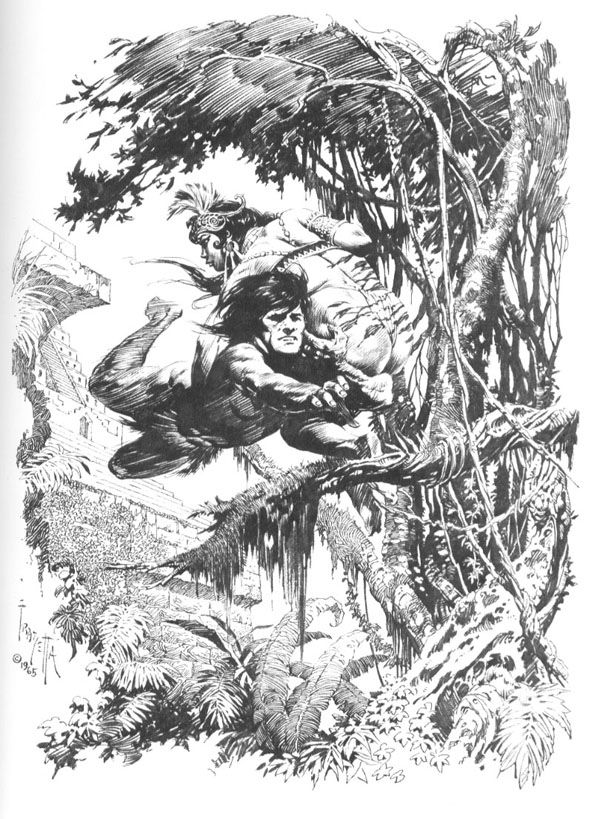 Apeman - Brush/Pen and Ink - Artwork: Frank Frazetta
Conan the Adventurer was the first book published in the series in 1966, as was the case with the Sphere books here in the UK, although based on the "history" established by the editors it was chronologically out of sequence, and it was an immediate success. Frazetta's portrait of Howard's character was menacingly unique and with a single painting Frazetta defined the look for an entire genre.
This was the very first Frazetta image I saw and it's impact remains as vivid now, as though it was only yesterday. As a fan of Robert E. Howard's work I have always felt he captured THE definitive Conan, with his surly, battle scarred, rugged looks, captured beneath a black mane, which is very much how Howard described him. Conan was a no-holds-barred, no-nonsense, fighting man, who could lead armies into battle and be the only guy left standing on either side, he was hardly likely to look angelic, look at most boxers. It remains my favourite image from Frank and despite there being so many others.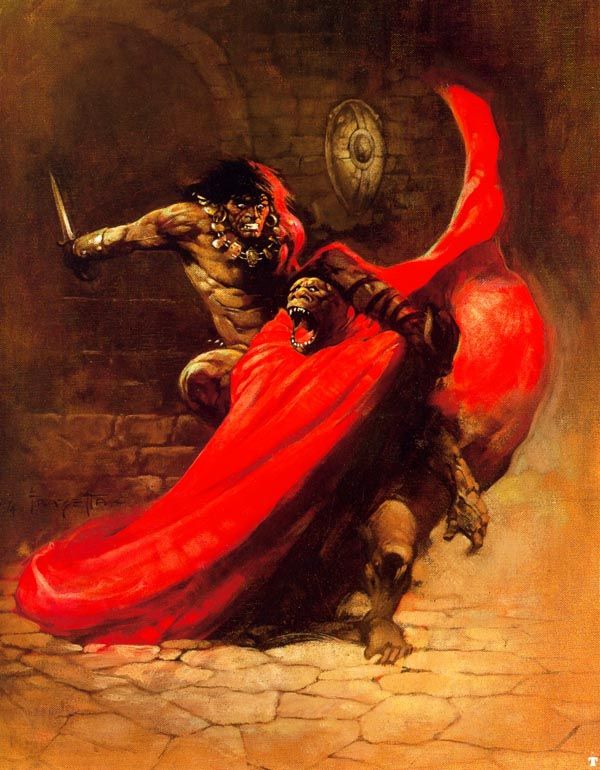 Man-Ape - Oils - Artwork: Frank Frazetta
Ace decided to re-enlist Frank to provide covers and frontispiece illustrations for yet another reissue series of Burroughs novels. This time though Frank kept the originals. Dell Books hired him as well. He then moved on to Warner Books to provide seven covers for their company. In 1970 Doubleday's Science Fiction Book Club published Edgar Rice Burroughs' interplanetary adventures and Frazetta was the only logical choice to illustrate the series, where he painted "A Princess of Mars".
It was at this time here in the UK that I first became aware of Frank Frazetta's work. Firstly in the reprints of the Lancer books by Sphere, which showed me the Conan covers for the first time and a UK reprint issue of Eerie, which reprinted funnily enough the content, for the most part of the US version of Creepy issue #1. Inside this was the story entitled "Werewolf", which is now a classic Frazetta comic strip. The cover paintings totally blew me away. I had never seen such power in a "realistically" painted illustration before and I had looked at the great masters works in books. The black and white ink drawings were so fluid and controlled and yet carried that same emotive power that was contained within the paintings. The work of Frank Frazetta, along with the Philippine artists and that of Bernie Wrightson, also seen here in the Hall of Fame, are my main influences in my approach to inking, when working in black and white.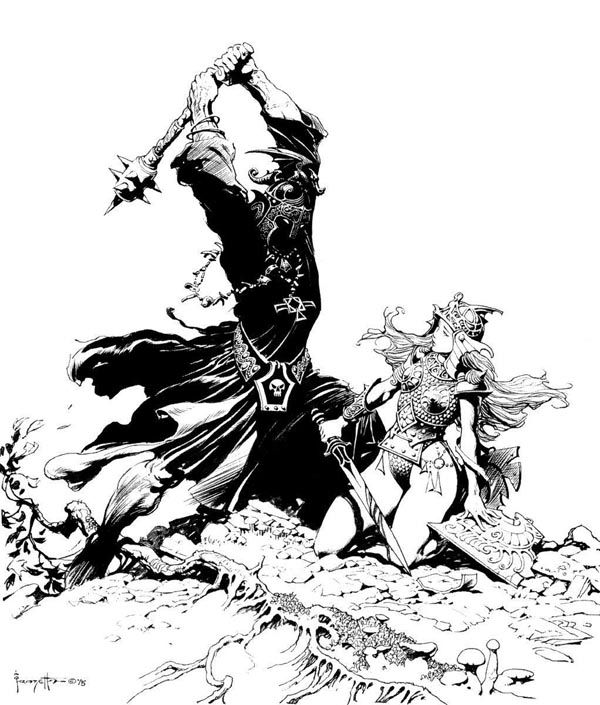 Scene from: "Lord of the Rings" - Brush/Pen and Ink - Artwork: Frank Frazetta
In 1974 Ian Ballantine published a book on Frank's art. The blockbuster, which went into six printings, was followed by five further volumes. It was these books that made the most impact for me. It was Christmas 1974 and my parents knowing I was such a big fan of Frank's bought me the first and second of the volumes that Christmas. They adorn my studio bookcases still to this day, in pride of place next to my other Frazetta volumes. The impact his artwork had on me as a young teenager was unlike any other and one, which few other artists have matched, Jack Kirby being another, hence the Hall of Fame being created. I can still after all this time pull out the books and marvel at the vistas Frank lays before us, as much now as when I first saw them as a kid.
Clint Eastwood, who, I feel, resembles Frank, visited him and commissioned him to do the poster art for his movie, "The Gauntlet" and the 80's saw a collaboration between Frank and Ralph Bakshi to co-produce a new animated film based on Frazetta concepts, "Fire and Ice". He also purchased a 10,000 sq. ft. building in downtown East Stroudsburg which was turned into the Frazetta museum.
In 1986 when he had three jobs going on at the same time and he was burning the midnight oil he began to notice health problems. Coincidentally he had bought some really inexpensive turpentine. Once the proper medication was determined for his malfunctioning thyroid, Frazetta began the road to recovery and to draw and paint again. Some of his originals were sold at auction at Sotheby's and Christie's, where they went for high five-figure sums and he finished "The Princess and the Panther". Kitchen Sink Press published Small Wonders in 1991, reprinting many of Frazetta's funny-animal drawings from the 1940's, which again sits proudly on my bookshelf in my studio. This was closely followed by the publication of Kitchen Sink's Pillow Book, a collection of Frazetta's watercolours from many stages of his career. Most of these watercolours were personal productions designed to be given as presents on certain holidays.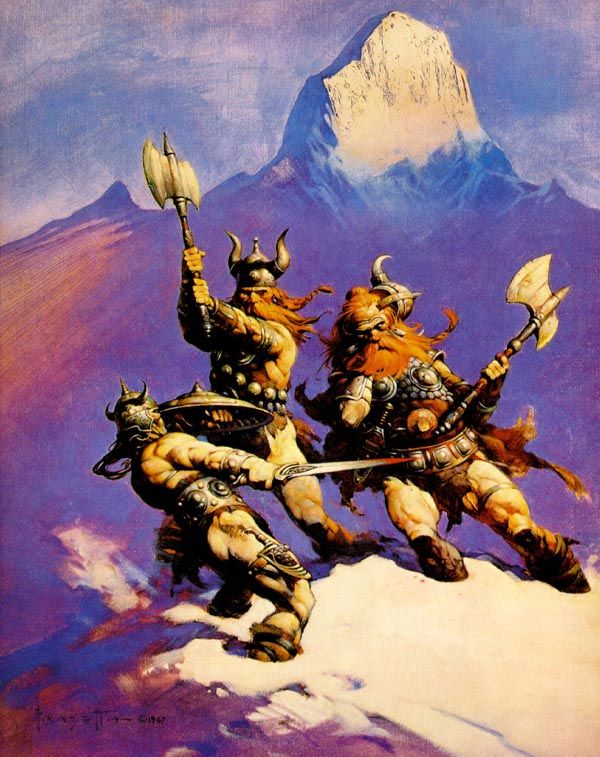 The Snow Giants - Oils - Artwork: Frank Frazetta
In the middle 90's Randy Bowen convinced Frank to help him co-create a bronze sculpture of Frazetta's signature oil, The Death Dealer. Glenn Danzig, a long-time Frazetta fan, collector, and emerging rock star, decided to begin his own publishing company, Verotik. He commissioned Frank to produce a book of pencil drawings based on monsters and demons, entitled, Illustrations Arcanum, which immediately became a wild hit and it too sits on my studio bookshelf. Danzig followed this success with a series of Death Dealer comics, other assorted fantasy-supernatural theme productions, a series of sculptures based on Frank's Fire and Ice models, and a new character entitled, Jaguar God, for which Frazetta painted several amazing oils.
In 1995 he and his wife travelled to the San Diego Comic Convention. Frank met a number of long-time fans such as Boris Vallejo, Julie Bell, Dave Stevens, Simon Bisley, William Stout, Mike Kaluta, Mark Schultz, the Brothers Hildebrandt, Sergio Aragones, and many, many others. Frank was awarded a lifetime Hall of Fame award during the show, which led to a flood of private commissions and more business connections. Other projects included three new books collecting his art, ICON, LEGACY, and TESTAMENT. He was presented with the first Spectrum Grand Master of Fantastic Art award in late 1995, but when returning from San Diego, Frank suffered a series of debilitating strokes.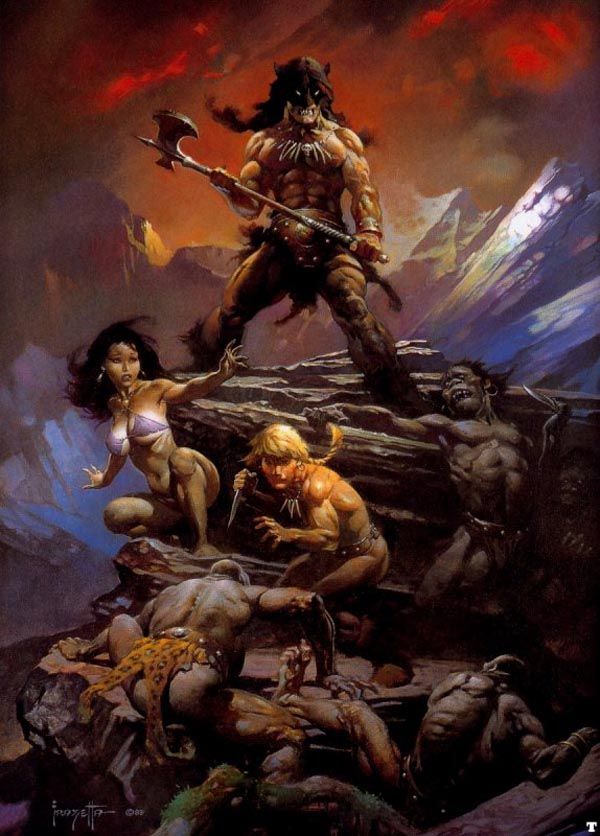 Fire & Ice - Oils - Artwork: Frank Frazetta
In 1996 - 1997 the museum was relocated to Boca Grande, Florida, but it was inaccessible for fans to readily visit so they decided to relocate to the new Frazetta Museum, which is, at this writing, in the final stages of production, and will be located on the Frazetta estate in East Stroudsburg, PA.
I have often heard people speak of Frank's work saying it is blood thirsty and full of blood and gore. When this has happen I have stopped and asked to take another look at Frank's work for they will find any blood on the paintings is the merest hint of red on a blade or a spatter here or there, but certainly no rivers of blood. Another thing I have always admired about his work is the fact that in the movement, caused by his powerful characters actions we see quite often there are no finely detailed feet or hands, and this all adds to the motion captured by Frank's brush strokes. After all why paint or draw hands fully rendered, when our eyes would not catch them as such in real life when moving with such speed.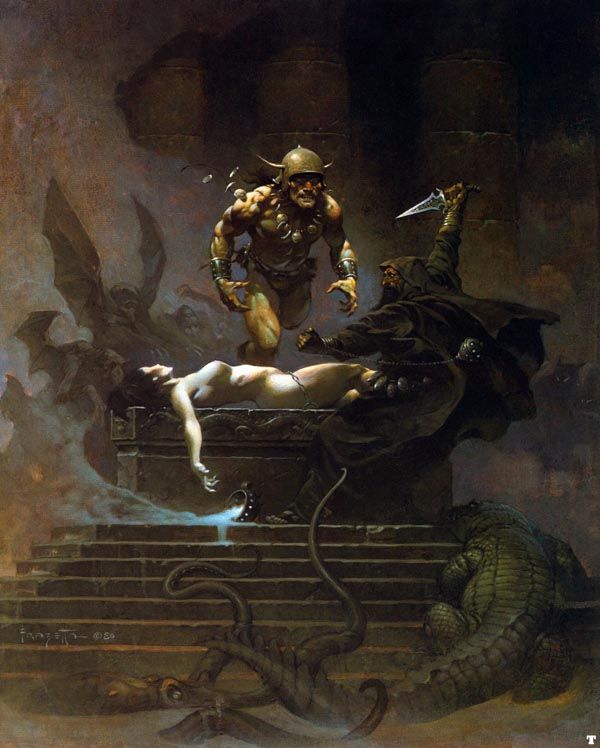 Sacrifice - Oils - Artwork: Frank Frazetta
Personally, for me, there is only one master of Fantasy art and that is THE Frank Frazetta.
I would like to say thank you to Frank Jr. who very kindly spoke to his father and gave me permission to add his father's name to this Hall of Fame.
I would like to say a very heartfelt thank you to Frank for both his inspiration and also his agreeing to be one of the first to come aboard as a part of my Hall of Fame earlier last year in February 2007.
His Fantastic Website can be found here: