Joe Sinnott
Joe Sinnott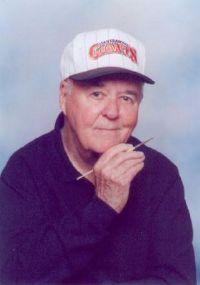 Joe was born on October 16,1926 in Saugerties, N.Y. to Edward and Catherine McGraw Sinnott. He is one of 7 children including Frank, Leonard (deceased), Ann, Edward, Jack (deceased) and Richard (deceased).
His childhood dream was to be a cowboy. After High School Joe joined the U.S. Navy Seabees in Okinawa during WWII. Joe married Elizabeth (Betty) Kirlauski in 1950. Betty passed away in 2006 after 56 years of marriage. They had 4 children, Joe Jr., Linda (deceased), Kathy and Mark; Four grandchildren, Chris, Malissa, Erin, Trevor and three great grandsons, Bernard Vincent, Joseph Christopher and Tyler Cole.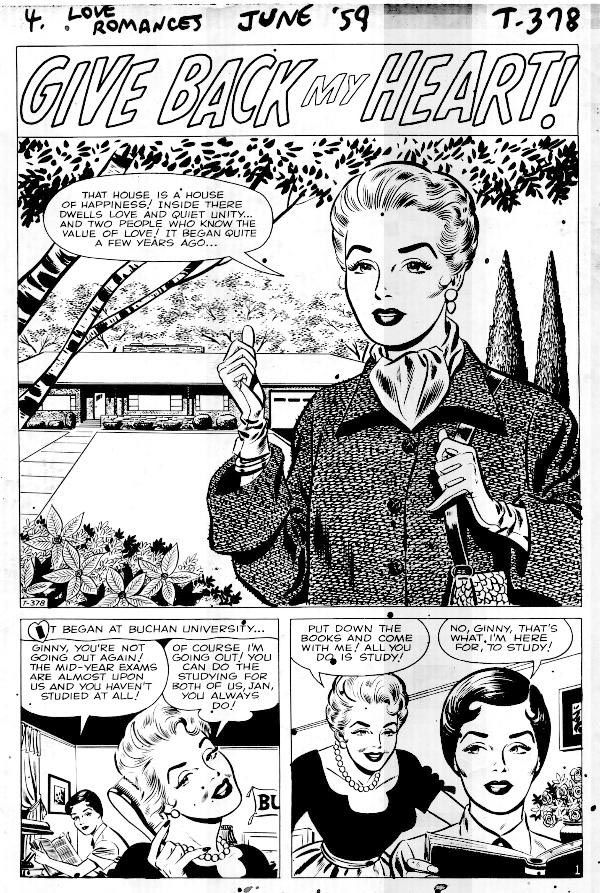 Love Romances - Issue #4 - Page 1 - Pencils and Inks: Joe Sinnott
Joe worked for 3 years in a cement factory before entering the Cartoonists and Illustrators School in 1949, which is now the School of Visual Arts, in New York City, run by Tarzan artist Burne Hogarth. Whilst there, he published his first comic book work Trudi, a 5-page filler story in Mopsy #12 published in September 1950, for St John's Publishing. He also did work for one of his instructors at the school, Tom Gill, a long time Lone Ranger artist.
He began working for Stan Lee at Timely comics, who would later become world renowned as Marvel comics, in 1950, pencilling and inking crime, horror, war, westerns, sci-fi and romance books.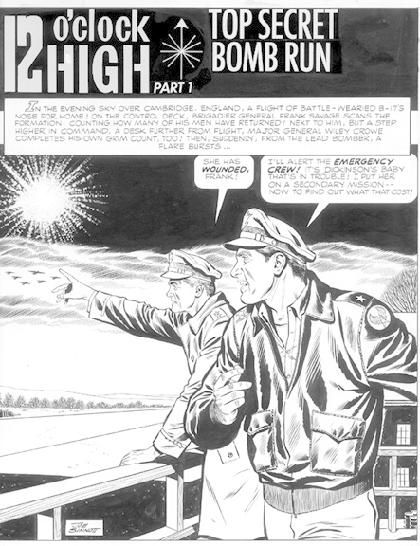 12 o'clock High - "Top Secret Bomb Run (Part 1) - Page 1 - Pencils and Inks: Joe Sinnott
He has also illustrated material for Dell, Charlton, Treasure Chest and Classic Illustrated. He has illustrated the life stories of Babe Ruth, John Kennedy, Gen. MacArthur, Eisenhower, Pope John XXIII, The Beatles, Pope John Paul II, Mother Teresa, Mickey Mantle and many other famous people.
In November 1965, a fan-favourite team up saw, Joe begin working regularly with Jack Kirby on the Fantastic Four. It is that book that Joe is most well known for. He also worked on many other Marvel books such as Thor, Silver Surfer, Captain America, The Avengers, West Coast Avengers, The Hulk, The Defenders, The Invaders, Rom, The Thing and Nick Fury to name a few. His favourite character to draw is The Thing!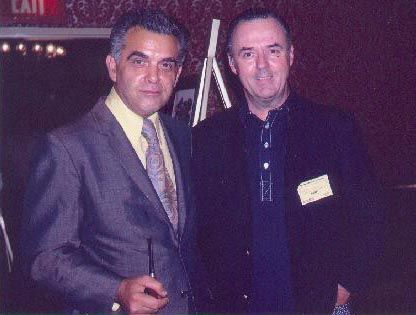 Jack Kirby and Joe Sinnott - Perhaps the greatest team-up in comics ever
It was around this time I began to see his work in comics, although I was too young at the time to realise that the guy that was inking a lot of the comics I loved was called Joe Sinnott. Joe's work has probably inspired more inkers in the industry than anyone else, among them Mark Farmer and myself, when working on superheroes. His slick, clean, smooth feathered line work adorns and embellishes, whoever's work his inking touches. He is a true master of the inked line.
Some of my all-time favourite stories where inked by Joe, examples being: Conan the Barbarian issue #46, "The Curse of the Conjurer", Issues one through three of the Silver Surfer, respectively, "The Origin of the Silver Surfer" "When lands the Saucer" and "The Power and the Prize", all pencilled by John Buscema and the Fantastic Four King size Special #6 "Let There Be…Life" and issue #94 "The Return of the Frightful Four, which introduced us to Agatha Harkness, the child-minder, come Witch, that he and Jack Kirby worked on together.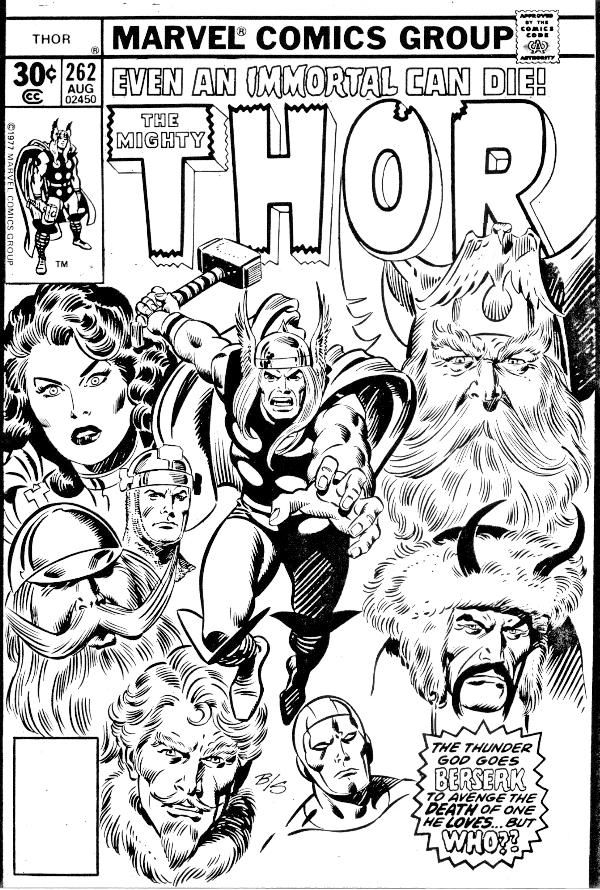 The Mighty Thor - Issue 262 Cover - Pencils: John Buscema - Inks: Joe Sinnott
Joe has deservedly won three Alley Awards as the comic industry's best inker and an Inkpot Award at the 1995 San Diego Convention among numerous other awards. Joe semi-retired in 1992 from doing comic books to do the inking on the Sunday Spider-man comic strip which he is currently working on with Alex Saviuk for Stan Lee and King Features.
He has also recently completed work on the "Final and Missing" Fantastic Four story over jack Kirby's pencils. The story behind this comic is, that back when Jack Kirby was moving from Marvel to DC comics the issue of the Fantastic Four that was supposed to be scheduled to run as issue #102, which would have been Jack Kirby's last issue prior to launching New Gods, Mr. Miracle, Forever People, and The New Adventures of Jimmy Olsen (better known as the Forth World series) at DC, the story was rejected by Stan Lee at the pencils stage, then shelved and cut up later to form part of issue #108. This was released following Jack leaving Marvel and was interspersed between the newly drawn panels created with the reworked story, drawn by John Buscema, who had taken over pencilling the Fantastic Four when Jack relinquished the chores and inked by Joe.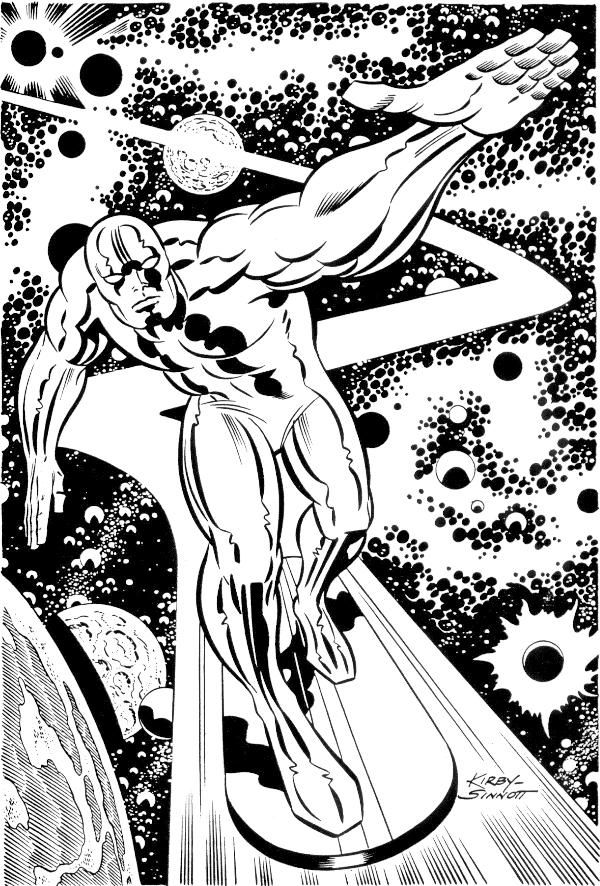 The Silver Surfer - Pencils: Jack Kirby - Inks: Joe Sinnott
John Morrow of TwoMorrows Publishing having tracked down most of the missing pencils to the unused version of Jack Kirby's pencils and reassembled them, indeed published them in issue #9 of The Jack Kirby Collector, back in 1996 has now arranged something even better.
Marvel Comics editor, Tom Brevoort, in an inspired move, arranged for Stan Lee to finally dialogue Jack's pencils, with Joe inking them. John Morrow says he has seen the inks and to quote him "Joe hasn't missed a beat in the 37 years since he was inking Jack on the FF".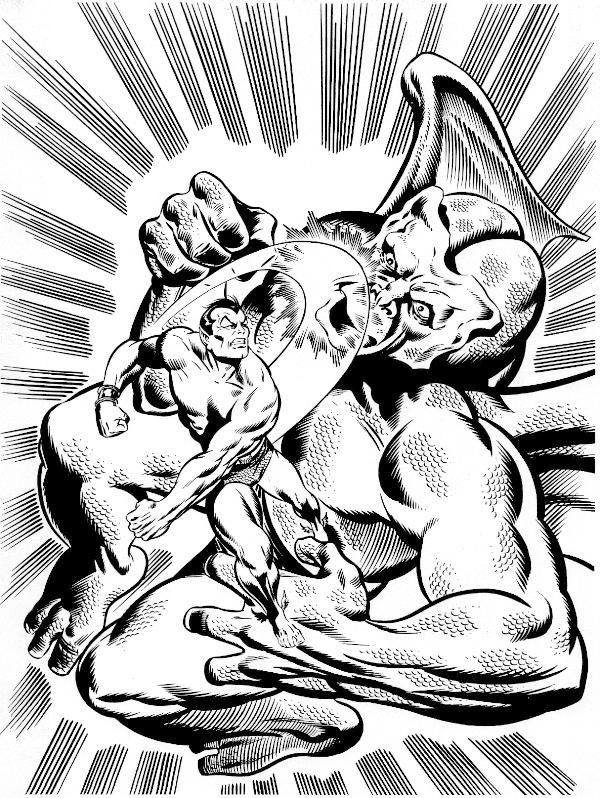 The Sub-Mariner Versus The Dragon Man - Pencils and Inks: Joe Sinnott
I could not wait to see the completed book. Joe's exquisite line work, always a joy on the eyes, making sense of otherwise confusing storytelling at times, also prepared perfectly for print the comic pages he worked on, especially in light of the technology as it was back then with print bleed and filling in of line work, top of the list for problems with the finished printing of the comic books. With today's digital technology all of Joe's beautiful brush strokes are seen in all their true glory.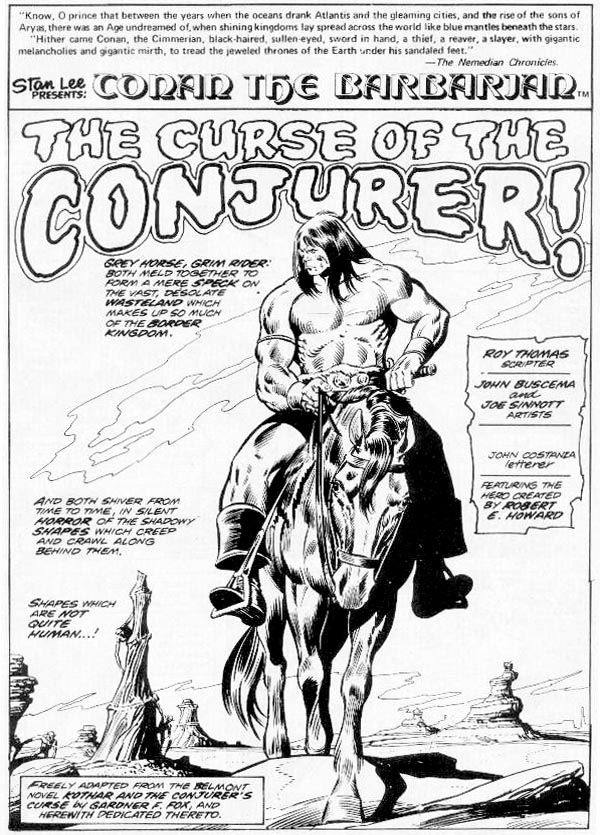 Conan the Barabrian - Issue #35 - Page 1 - Pencils: John Buscema - Inks Joe Sinnott
Joe's inking was some of the first that I saw, which made me want to ink with a brush, rather than a pen, and although nowadays I ink with whatever is to hand, I still prefer to see my work inked with a brush, something I think I owe to seeing Joe's incredible inks back when I was a kid.
Joe has many other interests besides superheroes. He is a big SF Giants fan and he also follows many other sports. In his youth he was very athletic himself and was elected into the Saugerties Sports Hall of Fame. He is related to the former NY Giants manager and Hall of Famer John McGraw. Joe interest in sports has extended into his artwork and he has produced many sports cartoons over the years. Three of them are hanging in the Baseball Hall of Fame in Cooperstown, NY. They are of: Roberto Clemente, Monte Irvin and Josh Gibson/Babe Ruth.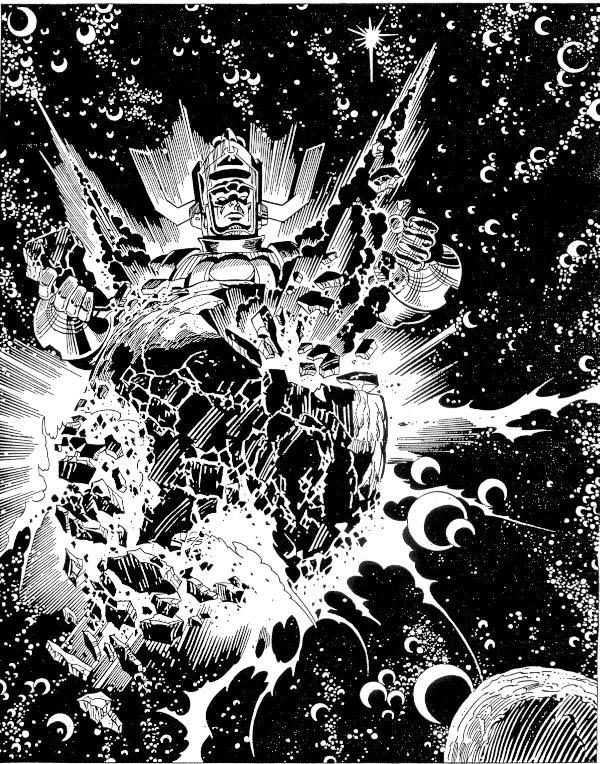 Galactus - Pencils: Ron Frenz - Inks: Joe Sinnott
One of Joe's other interests is Bing Crosby, something he has in common with my Dad. He is a big collector of Bing Crosby memorabilia and has illustrated several Bing Crosby album covers. He has also co-hosted several Bing Crosby radio shows! Joe is an avid Civil War and General Custer buff. He enjoys sketching cowboy characters in his spare time.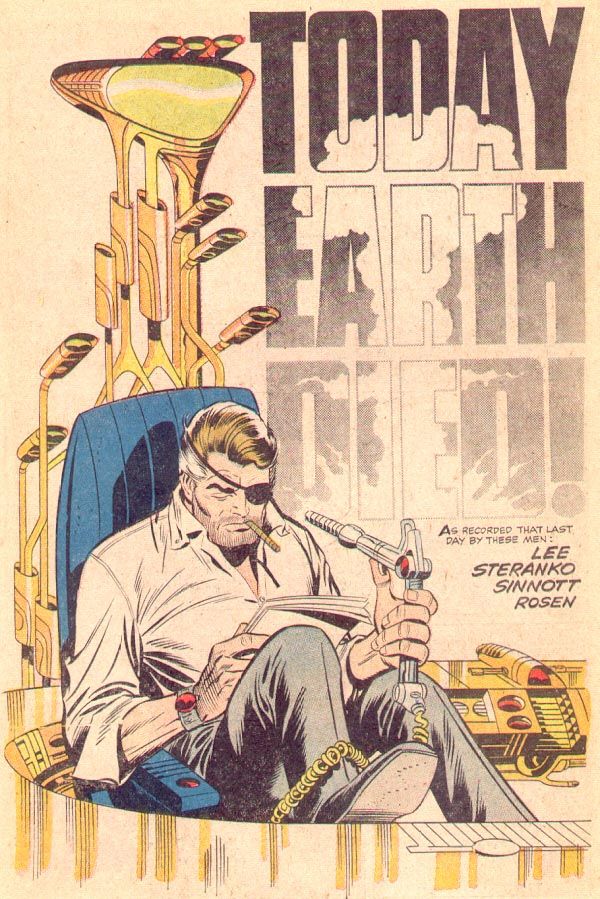 Nick Fury Agent of Shield - Strange Tales - Issue #168 - Splash Page - Pencils: Jim Steranko - Inks: Joe Sinnott
I have in recent years been in contact with Joe through his son Mark, who I would like to thank for enabling me to showcase Joe's work and say thanks for all the pleasurable years of marvelling at his work here on the website.
I would like to say a very heartfelt thank you to Joe for both his inspiration and also his agreeing to be one of the first to come aboard as a part of my Hall of Fame earlier last year in February 2007.
His Fantastic Website can be found here: