Jon Haward
Jon Haward
It gives me great pleasure to introduce you guys to a good mate of mine in the comics industry, who is taking over the role here on the Guest Artist Page vacated by John Ridgway, who's work is now residing inside the new Hall of Fame.
Jon Haward was born in Norwich, Norfolk in the nineteen-sixties. As a child, Jon grew up reading comics filled with great art. The main artists to attract Jon's eye were: Frank Bellamy ,Don Lawrence , Ron Embleton, Frank Hampson, Mike Western, Mike Noble, Martin Asbury, John M. Burns, Brian Lewis, Dave Gibbons, Jack Kirby, John Buscema, John Romita, Frank Frazetta, Neal Adams, Frank Miller, Gene Colan, Gil Kane. It was looking at the work of these artists that made Jon decide to take up drawing.
Following his schooldays he completed a graphic design course at Lowestoft College. After a spell of being an illustrator and designer in an advertising and marketing firm based in Norwich, he decided to go freelance. When he was trying to start his career in comics Alan Davis and David Lloyd very kindly gave him advice that helped to pave his way into the field.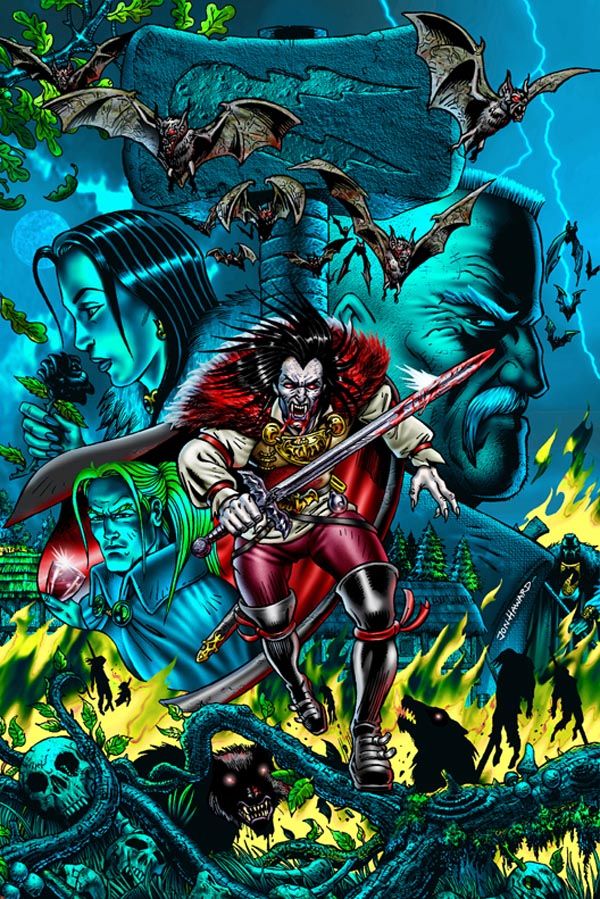 Warhammer Monthly - Ancient Blood - Pencils and Inks: Jon Haward - Colours: David Pugh
Over the years he has worked for children's books, joke books, activity packs, comic books, newspaper strips, cards games, board games, computer game character design, story boards for films and posters, including one to promote groups. He has also drawn religious illustrations for cards and illustrated album covers and for musicals.
He has created characters for advertising companies, banks, children's books and comic books. These include: Stripy and Curly, Victor Vampire, Bony Skeleton, Shock Hockey, Shag, produced for Smut comic, Chip the Plate Man, Sid Sausage, Donna Disco, Mighty Metro, World Saver, Fit Club 5.
I first met Jon at one of the UKCAC comics conventions back in the middle nineties. I was immediately drawn to the varied styles he adopted for different companies, genres and age groups, which was something similar to my approach to comic books. We hit off straight away and have been good buddies ever since. We have worked together on several projects over the ensuing years and he is a joy to ink.
In 1997 he held his first, highly successful, one-man-art-exhibition in Lowestoft, Suffolk, UK, where on show was a great variety of his artwork, including a huge fully painted Hulk illustration, which Jon had created the frame for, and in such a way, as it looked like the Hulk was smashing out of the frame, like on a traditional looking comic book cover.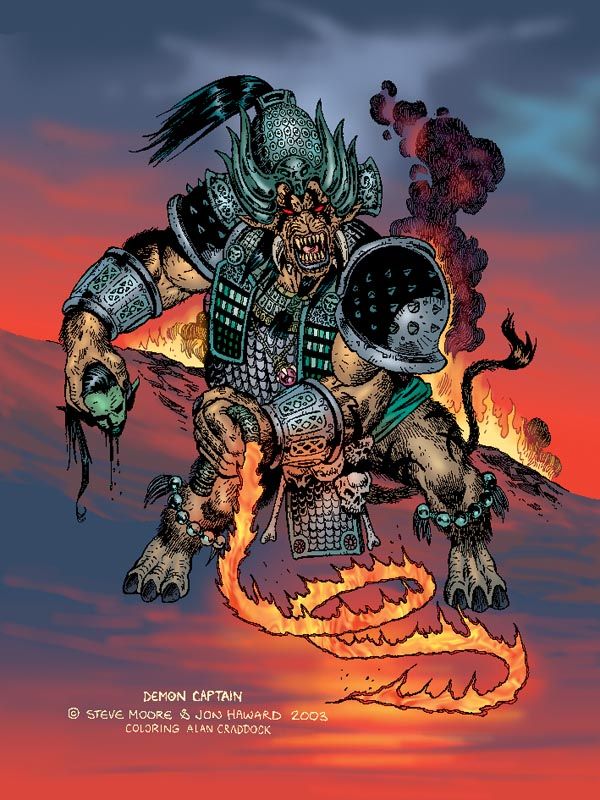 Demon Captain - Pencils and Inks: Jon Haward - Colours: Alan Craddock
He is a traditionalist as far as comic books are concerned and this is reflected in much of his work, where he occasionally pays homage to his heroes from the comic books of his youth and also from nowadays too, if the opportunity arises. His storytelling is clean and easily read, vital for the comic book format to work at its best.
In 1999 he launched his own characters in America, which he co-created with leading UK comic book writer, Alan Grant, who is also a well-known writer for characters such as Batman, Judge Dredd and Ace Lightning in the USA, called "The Hell Crew". They appeared in issue #7 of the Frank Frazetta Fantasy Illustrated Magazine. Their first adventure was entitled, 'Hell Comes To Elf Town'.
Some of the well-known characters that he has worked on in the past include the following:
Charlie Chalk (Annual and Postman Pat Picture Paper 1989) - Sylvanian Families (Activity Books and Colouring Books 1987) - Postman Pat (Storybooks, Activity Books including a travel pack, and Jumper Design Book 1989-1990) - Sooty (Sooty Annual 1992) - Biker Mice From Mars (Biker Mice From Mars comic 1995) - Dan Dare (Eagle Comic1990) - Teenage Mutant Hero Turtles (Teenage Mutant Hero Turtles - The Comic 1991) - Thunderbirds (Thunderbirds the Comic 1992) - Masked Rider (Young Telegraph 1996) - Judge Dredd (2000 AD 1993 + 1999 CCG Card Game) - Shinobi (Sonic the Comic / Sega (1993 - 1995) - Warzone Mutant Chronicles (Target Games) - Action man (2001 Hasbro/Panini) - Spectacular Spiderman (2001-2006 Marvel/Panini) - Marvel Rampage (2005-2006 Marvel/Panini) - Marvel Pocket Books cover artist - Uncanny X-Men - The Amazing Spiderman - Fantastic Four - Silver Surfer - Venom - The Incredible Hulk - Iron Man.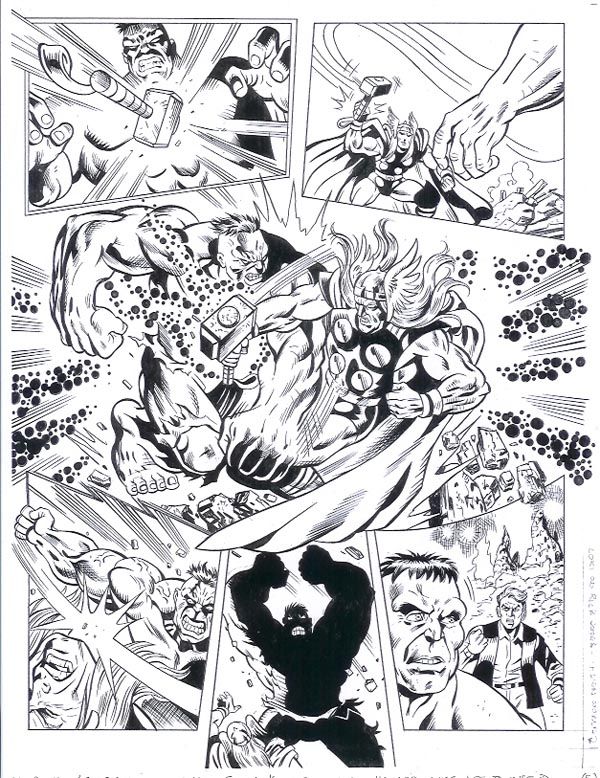 Marvel Rampage (Panini) Issue #17 - Hulk Versus Thor - "Gods and Monsters" - Pencils: Jon Haward Inks: Lee Townsend
His artwork has been deservedly reprinted throughout the world and has been reproduced for many countries in Europe and others such as, Australia, Russia, America and Canada.
In 1999/2000 he worked for Promethean Designs, a computer games development company, working in design and also as art director for GAMECOMICS.COM, drawing an on-line comic based on the Promethean game Picassio.
He has worked, in recent years, designing and drawing for Norfolk, based, Rex Studios here in the UK, creating character and set designs for Themed attraction rides.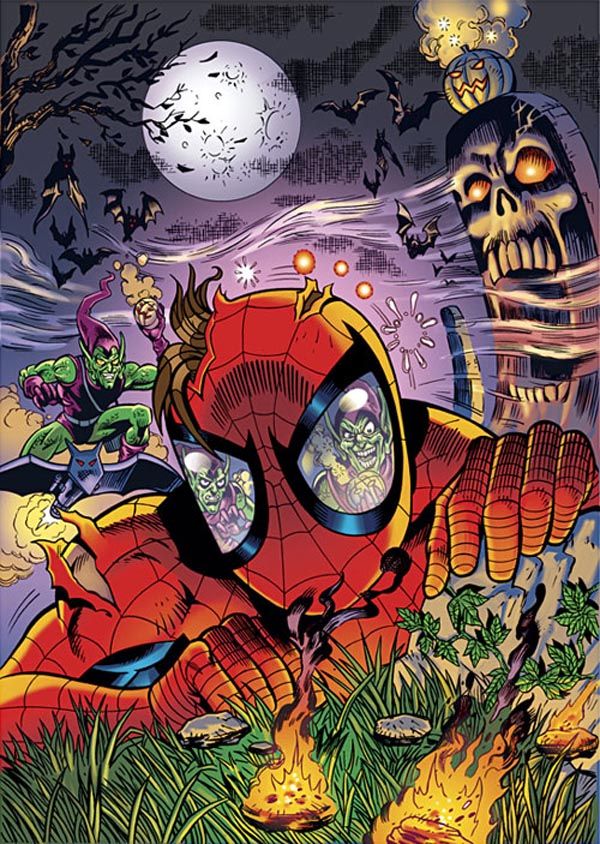 Spectacular Spider-Man (Panini) - Issue #142 - Cover - Pencils: Jon Haward - Inks: Lee Townsend - Colours: John Charles
Over the past few years his comic book work has included, "Tales of Telguuth" for 2000AD, "Of Ancient Blood" in Warhammer comic for Games- Workshop and Spectacular-Spiderman, and Marvel Rampage magazine, for Marvel/Panini.
Current comic work includes, covers for Marvel Pocket books (Marvel UK/Panini).
He has just finished the pencils and inks on a 132 page graphic novel version of "Macbeth" for Classical Comics. His latest work can be seen in his second graphic novel for Classical Comics, Shakespeare's "The Tempest". Another role at Classical Comics is as art director on the forthcoming Frankenstein graphic novel, which is being drawn by Declan Shalvey.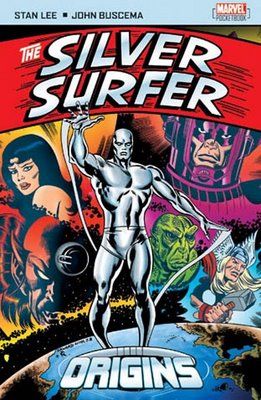 Marvel Pocket Books - The Silver Surfer - Origins: Pencils: Jon Haward - Inks: David Roach - Colours: Junior Tomlin
His CV of work above shows the versatility and talents not just as a comic artist, but also as a designer and illustrator as well. His pencil work, ink work and colour work is exemplary and sets a great standard for present day comics here in the UK. He is a vastly underrated artist in my opinion and if ever the title "Hot artist" was deserved then it is in my opinion, due to be given Jon.
His ability to work with licensed characters, humour comics, adventure comics, children's pre-school comics, superheroes and now classical Shakespearian characters shows just how wide a style range Jon can cope with, with his storytelling.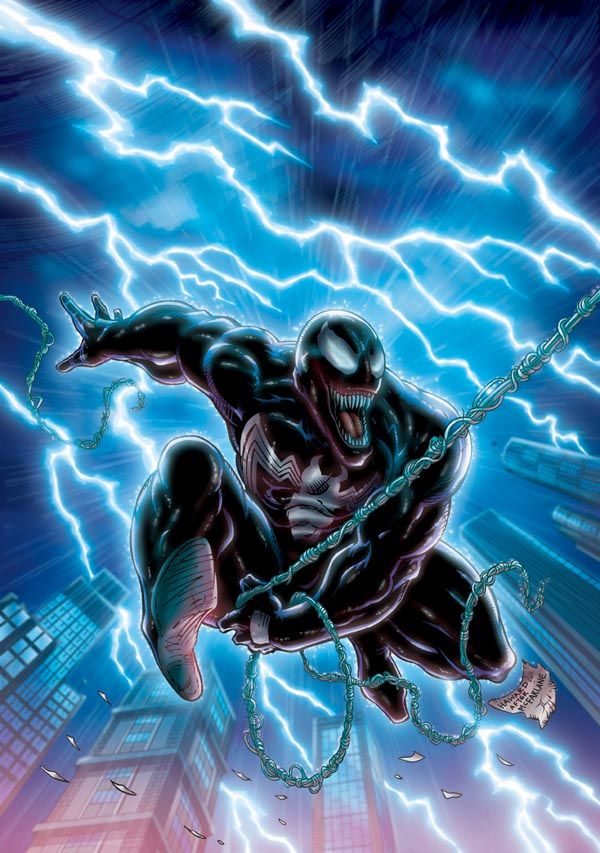 Spectacular Spider-Man (Panini) - Venom - Cover - Pencils: Jon Haward - Inks: Lee Townsend - Colours: Jason Cardy
I would like to say a very heartfelt thank you to Jon for both his friendship and also his agreeing to be one of the first to come aboard in the role of Guest Artist.
Copyright Disclaimer:
Warhammer and all characters represented here on the Warhammer Artwork is Copyright 2008 Games Workshop

Spider-Man, Hulk, Thor, Green Goblin, Venom, Silver Surfer, Galactus, and all characters represented here on the Marvel characters Artwork is Copyright 2008 Panini UK licensed from Marvel Comics

Demon

Captain is Copyright 2003 - 2008 Steve Moore and Jon Haward