Nestor Redondo
Nestor Redondo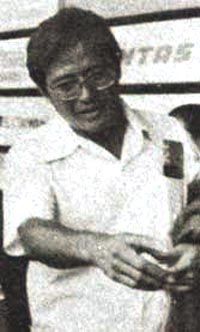 Nestor Redondo was born in Candon, Ilocos Sur, in the Philippines on the 5th of April in 1928. From a very early age he drew comics, He was exposed to comics even before he could read and write, when his father would bring him imported comics like Donald Duck and Bugs Bunny. He was very influenced by American comics such as 'Tarzan', 'Flash Gordon', 'Buck Rogers' and 'Superman' The Lone Ranger and Captain America.
Whilst at school his addiction to comics was so strong that he sacrificed his lunch money to buy more of them.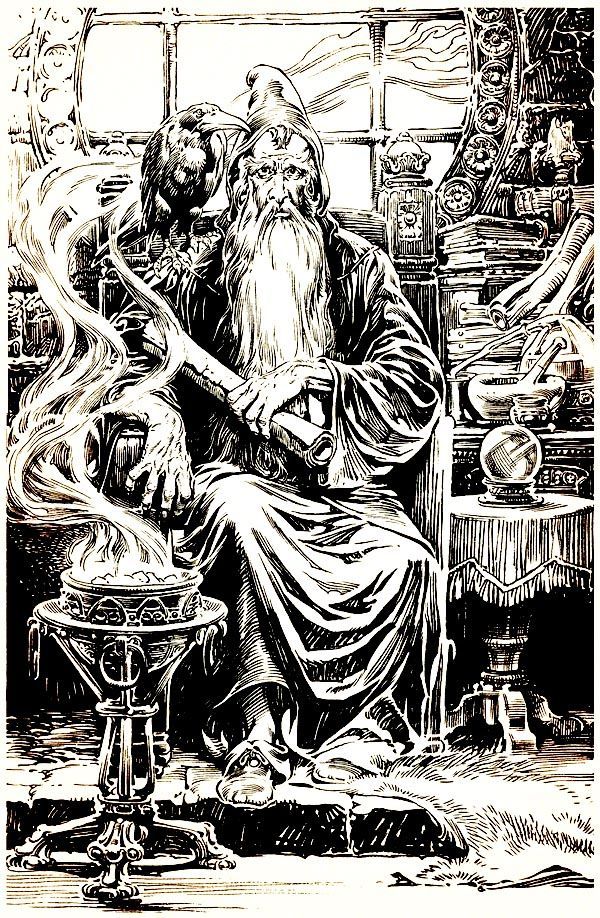 Merlin - Pencils and Inks: Nestor Redondo
Because his elder brother, Virgilio, was already a comic book artist, illustrating comics for Bulaklak Publications, his parents felt that he should take up architecture instead, which he did at the Mapua Institue of Technology. They believed that one comics artist in the family was enough.
After trying it for a year, Nestor Redondo turned away from architecture anyway, because the pull of comics was too strong and the young artist found himself eventually drawing comics. His first professional job was with Bulaklak Komiks. It soon became apparent that Nestor was a better draftsman than his brother, and Virgilio turned his talent to writing comics instead. The two of them teamed up and produced some of the best series ever published in the Philippines, especially on Palos, Tagisan ng Agimat, Diwani ang Gagamba.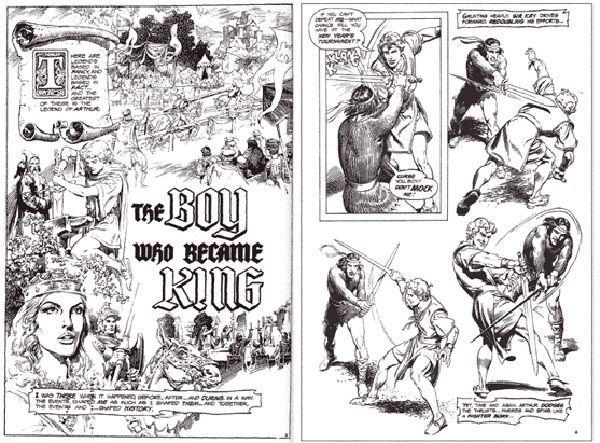 The Boy Who Became a King - Pages 1 & 2 - Pencils and Inks: Nestor Redondo
Nestor's popularity really skyrocketed and he became a household name when he was commissioned to illustrate the blockbuster series, the first story of the Mars Ravelo superheroine 'Darna' in the early 1950s. Darna became a monster hit, spawning several sequels, and several motion pictures. It became a television-fantasy series in 2004.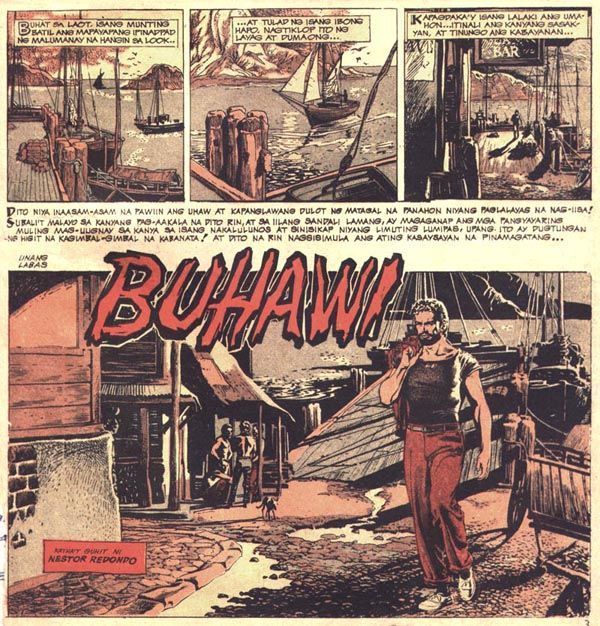 Buhawi - Page 1 - Pencils and Inks: Nestor Redondo
In 1953, MGM Pictures commissioned ACE Publications to create a comic book preview of their international all star cast blockbuster QUO VADIS starring Robert Taylor, Deborah Kerr, Peter Ustinov, set to be shown in the country that year. Ace Publications assigned the job to Nestor who drew a 16-page preview written by Clodualdo Del Mundo, and serialized in Tagalog Klasiks issues #92-93.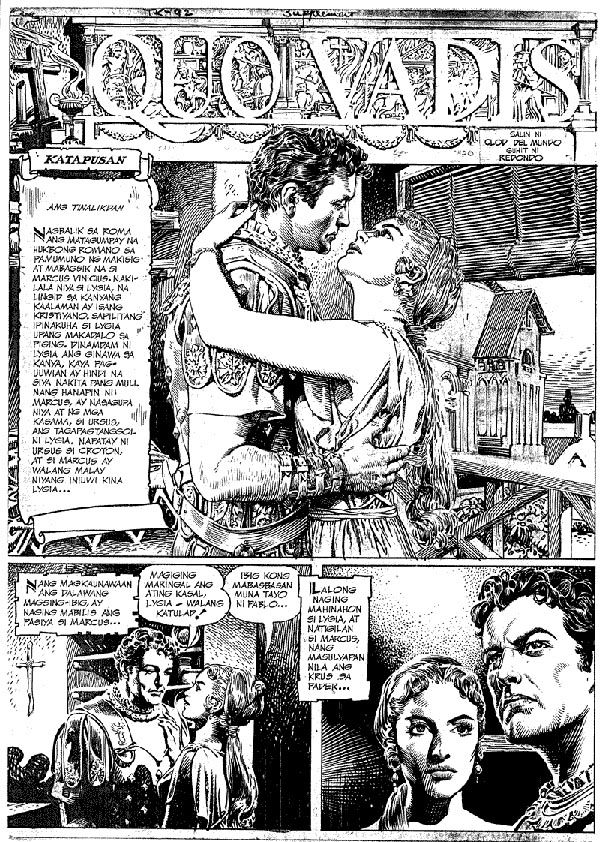 Quo Vadis - Page 1 - Pencils and Inks: Nestor Redondo
The adaptation, so deftly drawn by Nestor, was so impressive that MGM sought to hire him as in house artist on the spot, and offered to fly him to the States. Nestor declined, who was at the time 24, and felt he was not yet ready to make the move.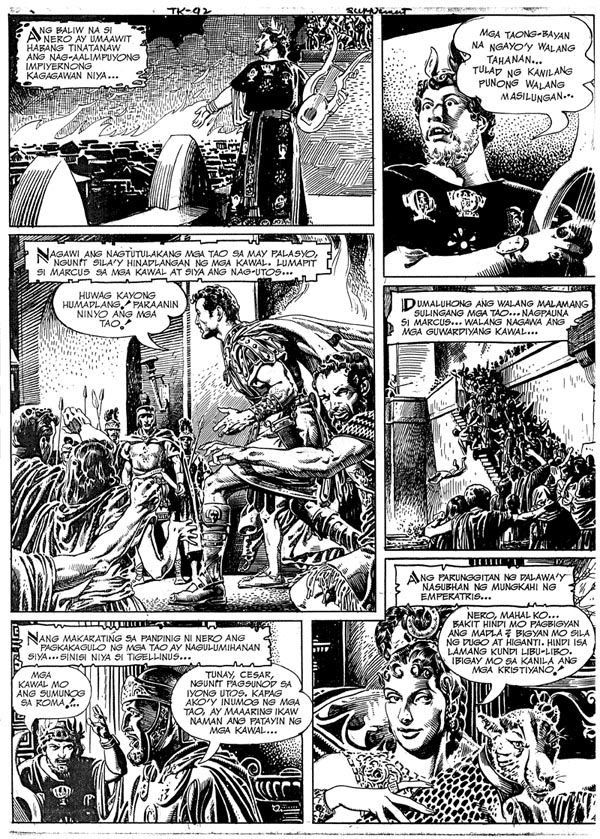 Quo Vadis - Pencils and Inks: Nestor Redondo
Nevertheless, Nestor's talent was by this time undeniable, having developed an illustrative style, which so appealed to readers that a whole generation of komiks artists including Tony Caravana and Jim Fernandez sought to emulate.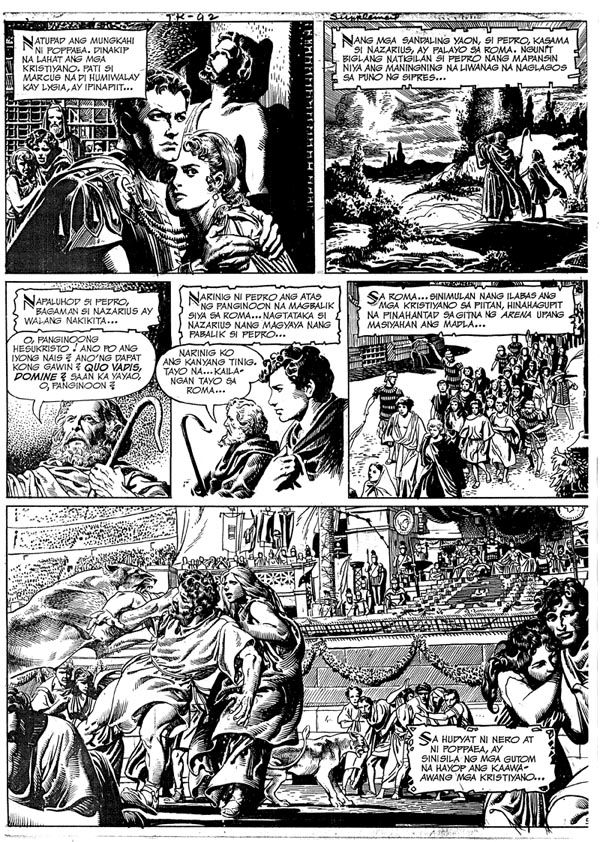 Quo Vadis - Pencils and Inks: Nestor Redondo
By the late 1950s, Nestor Redondo was illustrating for several comic books at the same time, 'Pilipino Komiks', 'Tagalog Klasiks', 'Hiwaga Komiks' and 'Espesial Komiks'. Each of these series came out bi-weekly, and Nestor would have two or more series going at the same time on any of these four titles. Nestor Redondo did all the pencilling and inking himself. Besides doing dozens of pages every week, he also made a lot of book covers.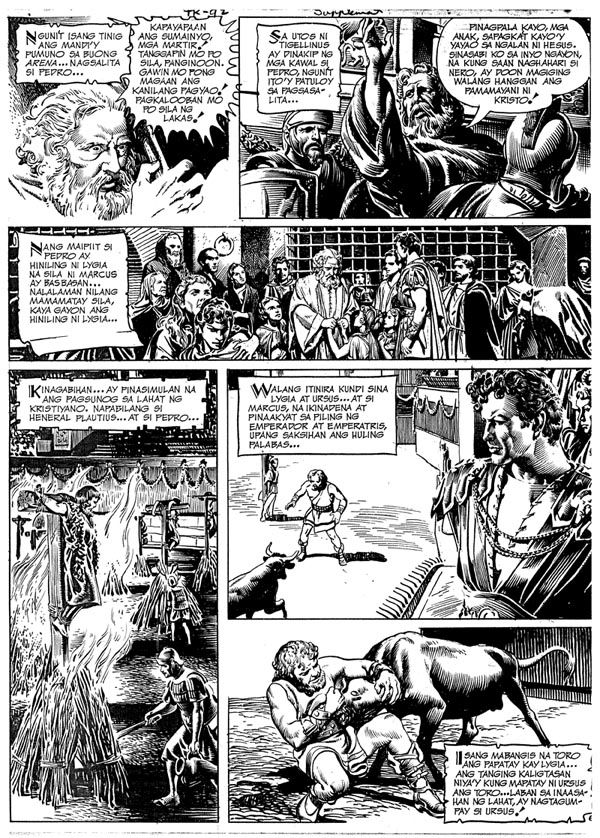 Quo Vadis - Pencils and Inks: Nestor Redondo
By the early 1960s, Ace Publications, the biggest comic book publisher in the country, started having financial problems. Eventually they closed their doors, so in 1963, Redondo and five colleagues (Tony Caravana, Alfredo Alcala, Jim Fernandez, Amado Castrillo and brother Virgillio) founded CRAF Publications, Inc., where young artists and writers were provided with the rare opportunity of having on-the-job training in the komiks arts. The social and economic turbulence of the late sixties and the early seventies, however, proved too much for the young company, and it folded not long after.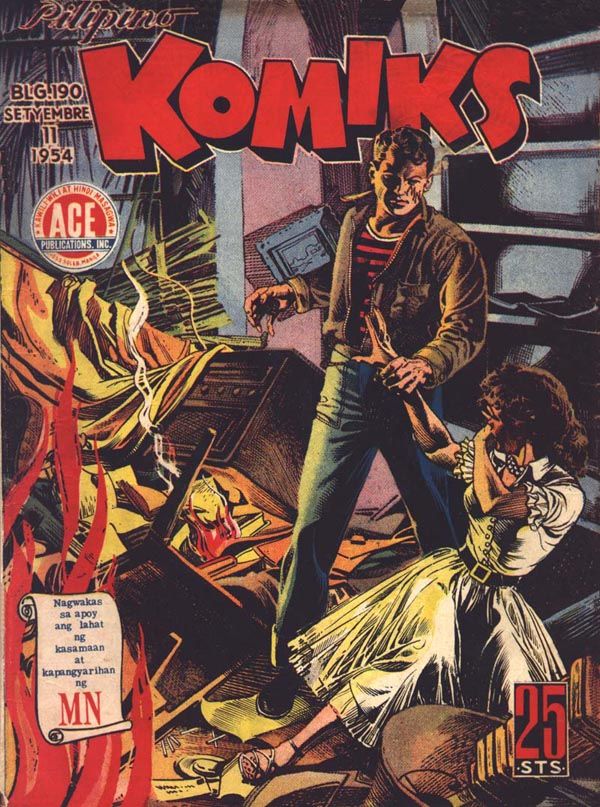 Pilipino Komiks - Issue #190 - Cover - Pencils and Inks: Nestor Redondo
Bigger things however, were in store for Nestor. He established contact with American comic book and magazine publishers through the help of US Based Tony De Zuniga in 1972.
Fortunately, American editors from D.C. and Marvel Comics noticed the talents of Nestor Redondo. He was asked to take over Swamp Thing from Berni Wrightson, and over the years worked on just about all D.C. titles. He soon began working on titles like House of Mystery, House of Secrets, Rima, The Unexpected, Weird War Tales, and of course the title in which he would leave an indelible mark: Swamp Thing.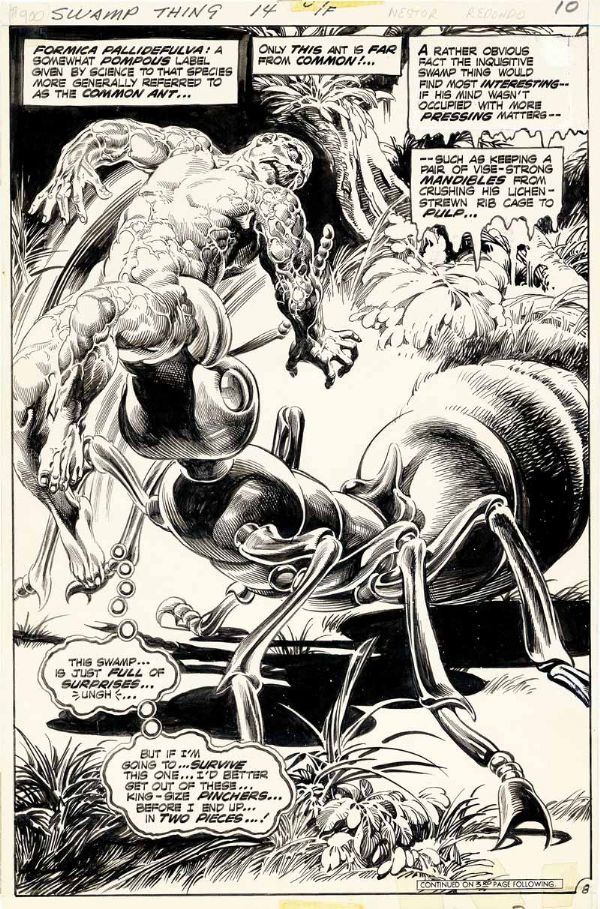 Swamp Thing - Issue #14 - Page 8 - Pencils and Inks: Nestor Redondo
Taking over the book after Berni Wrightson, it seemed like an impossible task. But fans who loved Wrightson's work, ready to dismiss any artist who followed him, were surprised at the quality of Nestor's work, and quickly accepted him as the new Swamp Thing artist.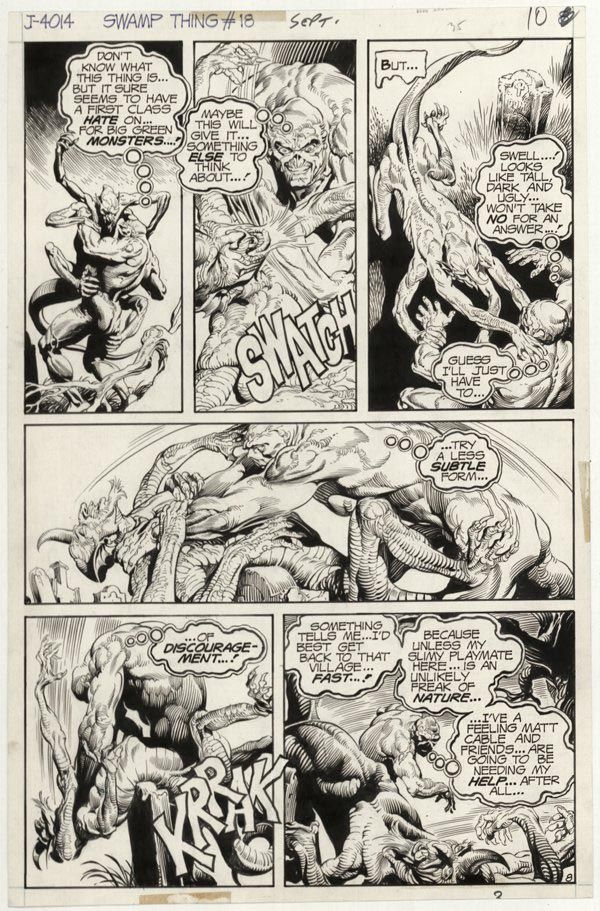 Swamp Thing - Issue #18 - Page 8 - Pencils and Inks: Nestor Redondo
It was on Swamp Thing that I first saw his work and it blew me away. As much as I had loved Berni Wrightson's work the shift in artists was a smooth transition. Nestor's work was equally as fine and moody, and well drawn.
I could not get enough of his work, once I had discovered the artist. I was lucky enough to come across his Bible stories in a DC Limited Collectors Edition oversized book, which was the same format as Marvel's Treasury Editions, albeit not square bound as they were. The book was supposedly the first of a series, but unfortunately no other issues were ever released, probably down to the many cut-backs in the nineteen seventies.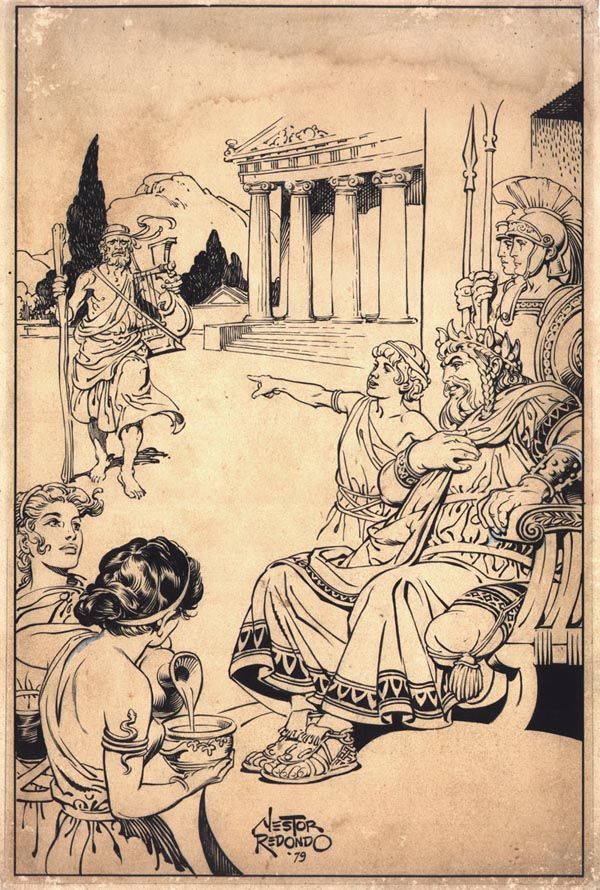 Illustration - Pencils and Inks Nestor Redondo
There was also another book, which was advertised in DC's other comics as a four part series, The Legend of King Arthur and the Knights of the Round Table. For years I asked at conventions and search comic shops, before I found out that although some artwork was produced the book never saw print, but there are some examples of that artwork here in Nestor's Hall of Fame page.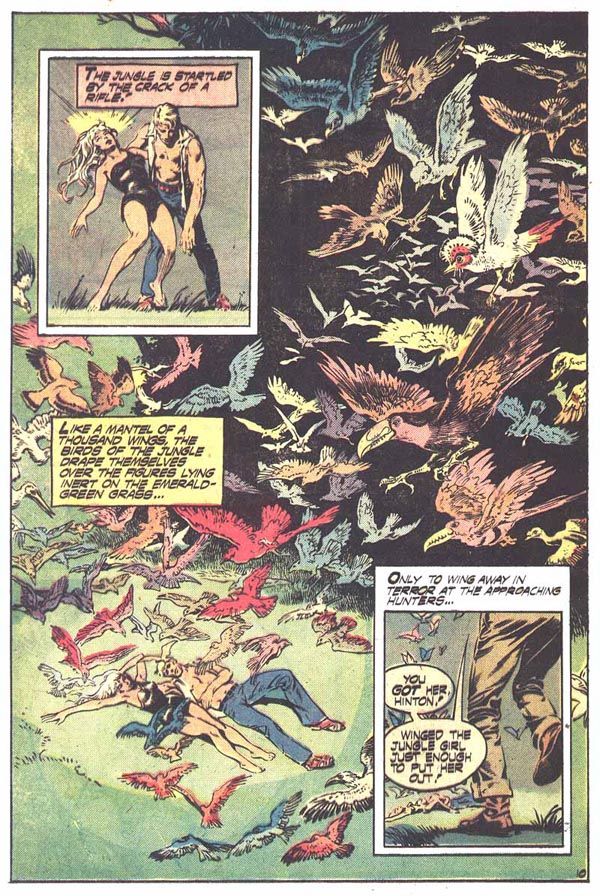 Rima - Pencils and Inks: Nestor Redondo
For me personally his wonderfully lush slick line work is truly a thing of beauty and as with all the Filipino artists his work is not as talked about or given the due credit it deserves. Their inclusion here in the Hall of Fame is my small way of making their work available to see. Most folks that know me or know of me will know how much I hold their artwork in high esteem and how much it has influenced my own black and white line work.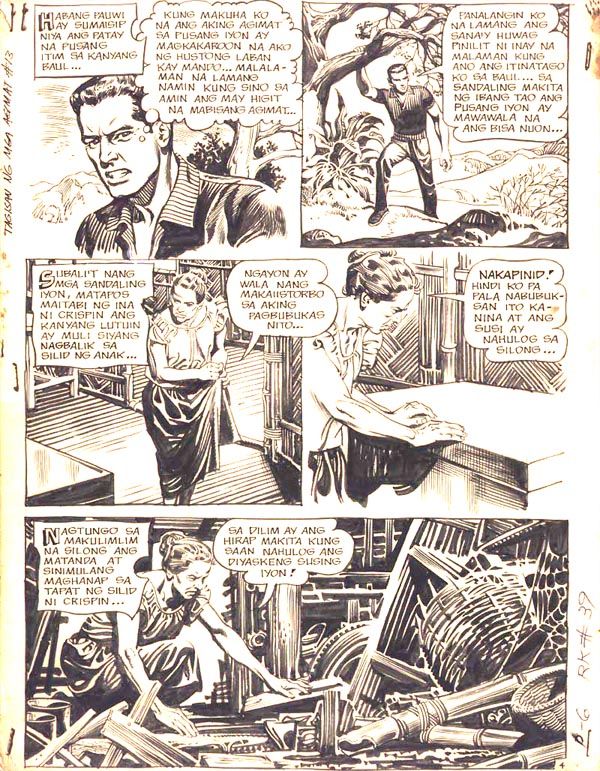 Tagisan ng Agimat - Issue #13 - Page 4 - Pencils and Inks: Nestor Redondo
In 1979 Nestor received the prestigious Ink Pot Award at the San Diego Convention.
In 1985, he started working for Marvel Comics, illustrating Conan in the Savage Sword of Conan and painting covers. He also did animation work for the Marvel Animation Studios in Los Angeles.
Fantasy Illustration - Pencils and Inks: Nestor Redondo
Nestor Redondo was a gentle man who was always approachable for aspiring young artists who wanted advice or encouragement. In spite of all the awards and accolades he received, which always made him uncomfortable, he remained one of the humblest people.
A deeply religious man, Nestor treasured as one of his more meaningful works his illustrations of the Bible and other religious material which a Netherlands-based organization, the Open Doors, distribute to countries where religion is discouraged or suppressed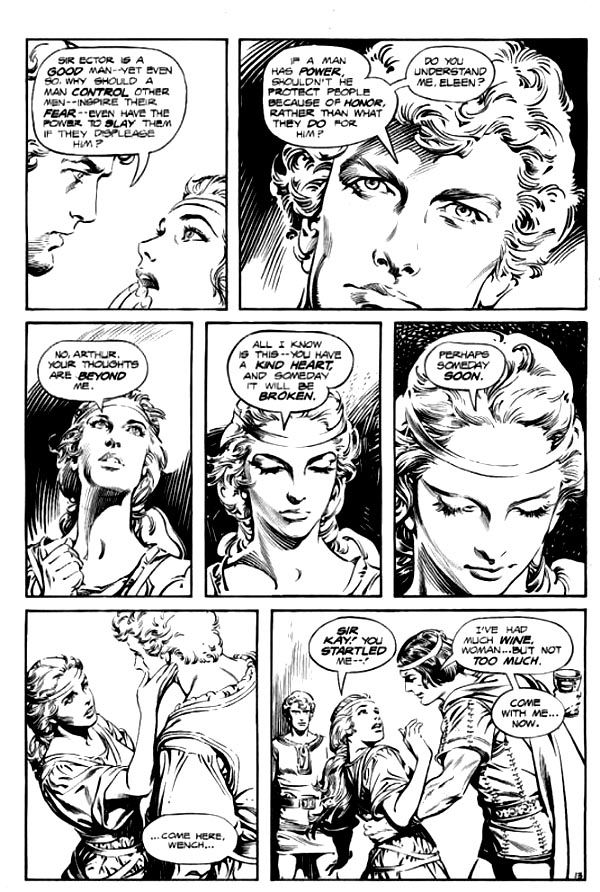 King Arthur - Issue #1 - Pencils and Inks: Nestor Redondo
When he sadly passed away in 1995, a void was felt throughout the comic book industry.
You can read further regarding Nestor's views on drawing realistically by visiting this website here:
http://www.christiancomicsinternational.org/Redondo.html
I am greatly indebted to Gerry Alanguilan, who spoke to me about Nestor Redondo's addition here to the Hall of Fame, and who assured me his family would be proud of his inclusion within it.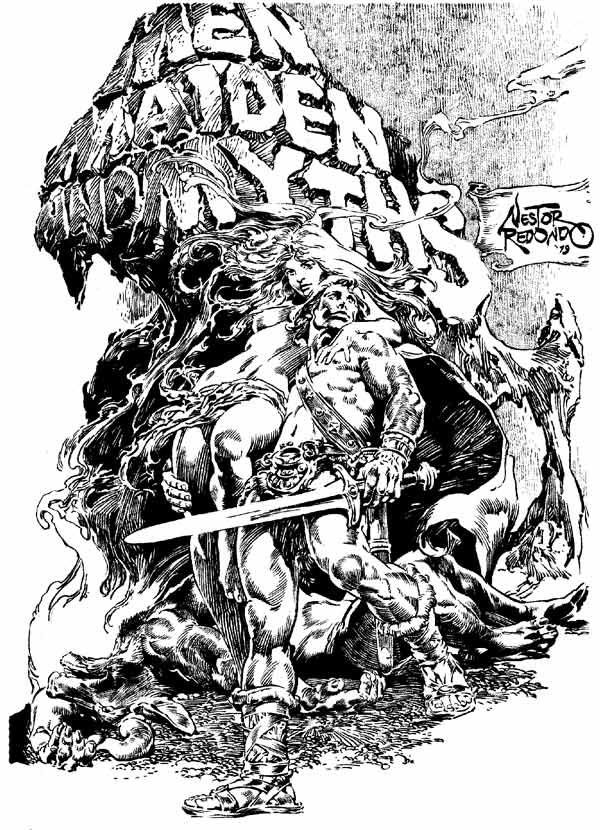 Men, Maiden, and Myths - Pencils and Inks: Nestor Redondo
I would like to say a very heartfelt, posthumous thank you to Nestor for his inspiration all these years. I feel proud to be able to include him in my Hall of Fame.
His Fantastic Artwork can be found here: