Rudy Nebres
Rudy D Nebres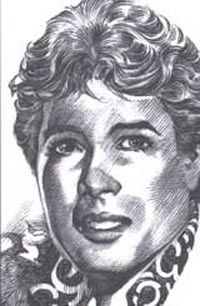 For obvious reasons, Rudy Nebres knew at an early age that he had a talent for drawing. He took formal training in Fine Arts and to support his studies, and he did freelance work illustrating comics stories for Bulaklak Publishing.
Further honing his technique through study and experience, he found work with ACE Publications and Graphic Arts Service (GASI), where he worked on various stories including Babaing Bakulaw for Espesyal Komiks with writer Galo Burgos, Ang Paborito ni Linda on Hiwaga Komiks with writer Mer. A Abella, Nakabakas sa Langit for Pioneer Komiks with writer Angel Ad Santos, Suicide Sammy for Aliwan Komiks with writer Greg Igna de Dios and many, many more.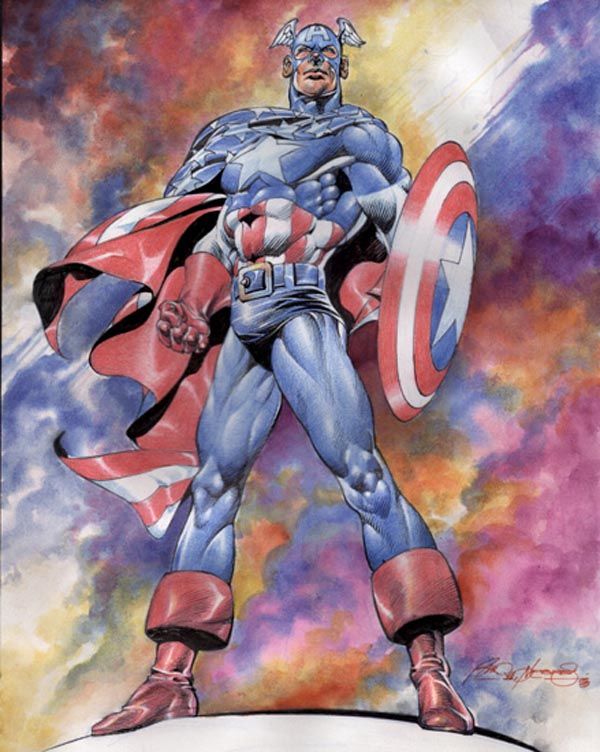 Captain America - Commissioned Artwork: Rudy Nebres
Rudy Nebres found work with DC Comics when DC Comics publisher Carmine Infantino and Editor Joe Orlando visited the Philippines on a scouting trip in the nineteen seventies. He was one of the first Filipino artists to be given work by DC comics at the time. He was given assignments on such DC mystery titles as, The Unexpected, House of Secrets and Ghosts, but otherwise did fewer work for DC than might be expected.
Rudy migrated to the US in 1975 and promptly found much more success when he started working for Marvel Comics on such prestigious titles as, Dr. Strange, The Avengers, Deadly Hands of Kung Fu, King Kull, Conan, The Savage Sword of Conan, King Conan, Red Sonja, Hulk, John Carter of Mars, and Shield.
Rudy was yet another very prolific, yet incredibly detailed artist and inker. I remember seeing his artwork in an ever-increasing number of titles back in the seventies. He worked in every genre going too, martial arts, which where very popular at the time, sword and sorcery, superheroes, and many more.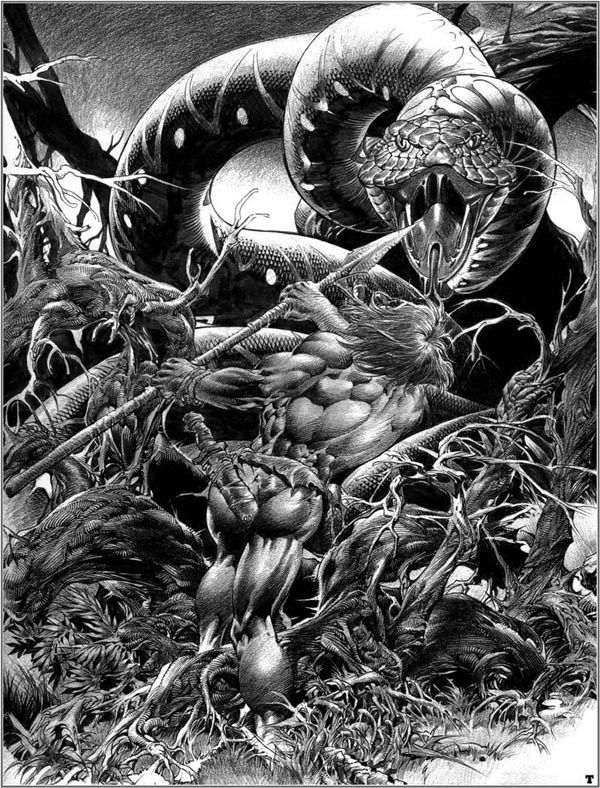 Barbarian and Snake - Pencils, Inks and Greytones: Rudy Nebres
His line work was very stylised and yet still had all the contemporary licks of his fellow Filipino artists. Instantly recognisable amongst the group his work flowed with the same lushness of line that the others had, but with a greater dynamic, which probably explained his use of super-heroic titles, when the others were considered, wrongly in my honest opinion, not to be suitable for superhero comics.
His work had an ornate almost carved feeling about it and I eagerly sought out any and all comics to whose pages where lucky enough to have his artwork grace them.
Some of my favourite projects are; an issue of King Conan #18 "The Devil of Darfar" where his exquisite inks over John Buscema really excelled, especially on the first page where Conan is riding his horse, although the entire comic is wonderfully drawn. John Buscema was a very fast and prolific artist who tended to do layouts rather than produce full pencil art, which is probably why the guys from the Philippines produced artwork, which looked very much like their own when inking him.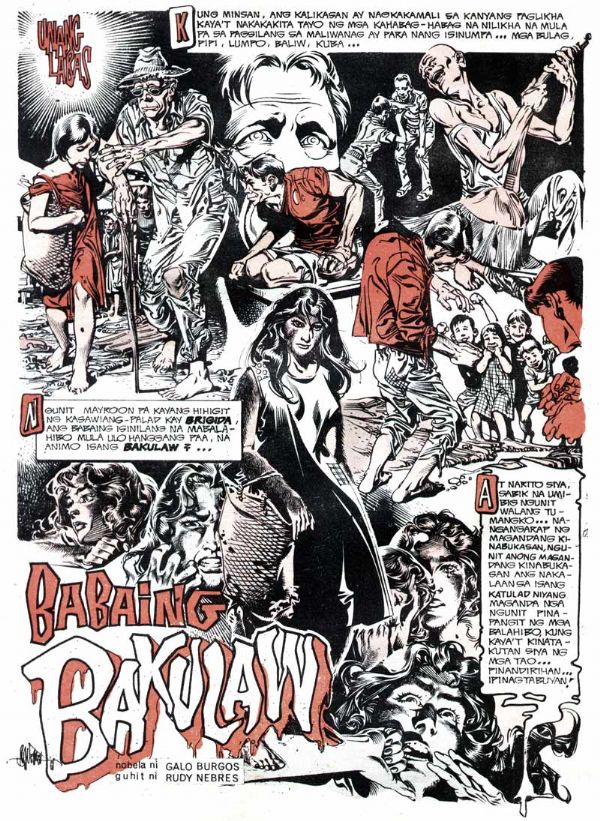 Babaing Balulaw - Pencils and Inks: Rudy Nebres
Another favourite and probably my all-time favourite of his inking can be seen ion the nineteen seventies mini series The Warriors of the Shadow Realm, which appeared in a three-part story inside of Marvel Super Special #11-13 (June-October 1979). The original title of Weirdworld was dropped and replaced with the new one, "Warriors of the Shadow Realm". It was felt that being a magazine with that title had strange connotations and so a decision was made by Marvel to drop the original and use the new one, which also had a ring to it similar to Lord of the Rings.
This time the original artist was replaced as Mike Ploog moved onto movies, having already pencilled a large part of another earlier version, leaving the comic business behind for a while. He was replaced by the late, great, John Buscema on pencils, Rudy D. Nebres on inks and the late Peter Ledger on painted colours with Doug Moench continuing to write his epic.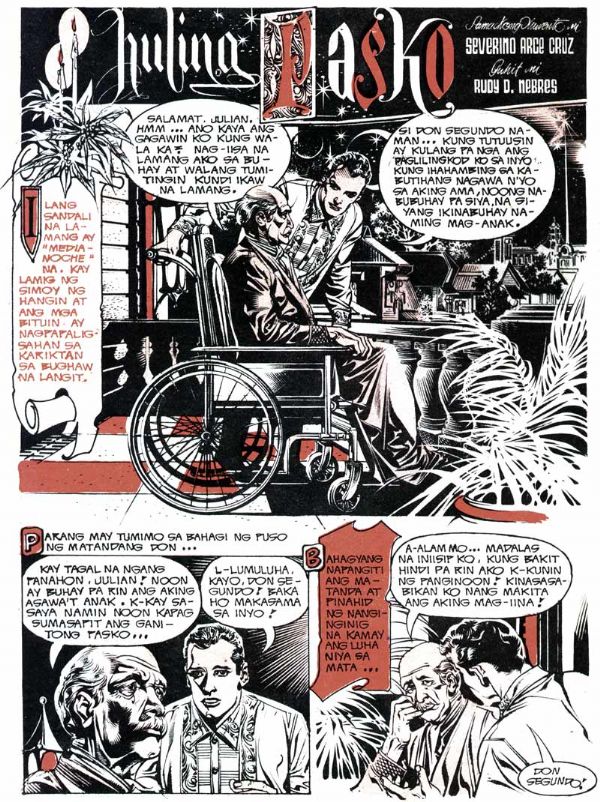 Huling Pasko - Pencils and Inks: Rudy Nebres
This was the first time that Marvel had used magazine styled stock and fully painted colour and Rudy's inks where this time not just black but coloured too to blend in elements into the different planes on the pages to separate objects and create distance and depth. The artwork was constantly passed between Rudy and Peter as they work on building up the artwork in layers of ink and acrylic paint.
I was an art student back when it came out and I remember buying them in 1979 when I attended the 1979 Comics Convention, run by Colin Campbell. It was my first ever convention, which I attended with my younger brother Chris and I remember the artwork blew me away.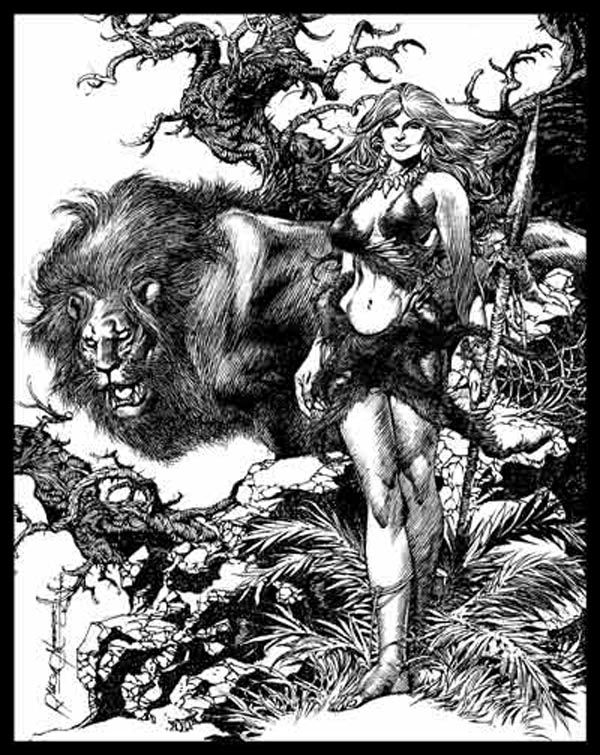 Warrior Woman and Lion - Pencils and Inks: Rudy Nebres
I have always loved heroic fantasy and this one had it all from the start when Marvel had produced the earlier Weirdworld stories. Now albeit with a new art team, it was being rendered in fully painted colour and Rudy's embellishment from his coloured inks set the book alight with energy. The team produced the perfect synergy and produced to me a perfect series of comic books that transcended the medium at the time, setting a precedent for the future in American comics.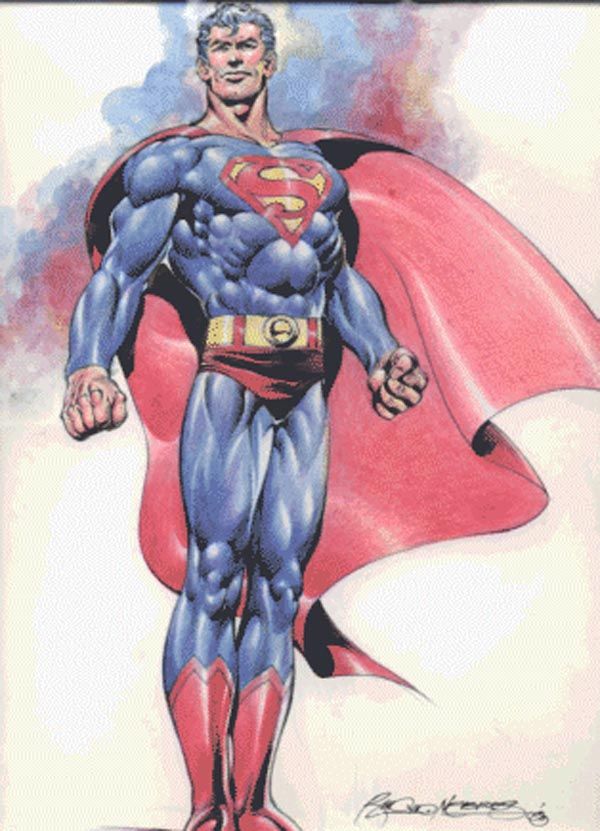 Superman - Commissioned Artwork: Rudy Nebres
Rudy found further acclaim when he started working for Warren Publishing on Vampirella, 1984, and 1994 where he turned in stories that represented an extraordinary evolution in his art characterized by profuse, graceful hatching, dynamic figure work and imaginative compositions.
He next spent 10 years working with Neal Adams for Continuity Studios doing storyboards and animatics, but was able to work on Continuity comics titles like Armour, Toyboy, Megalith, Ms. Mystic and Samuree as well.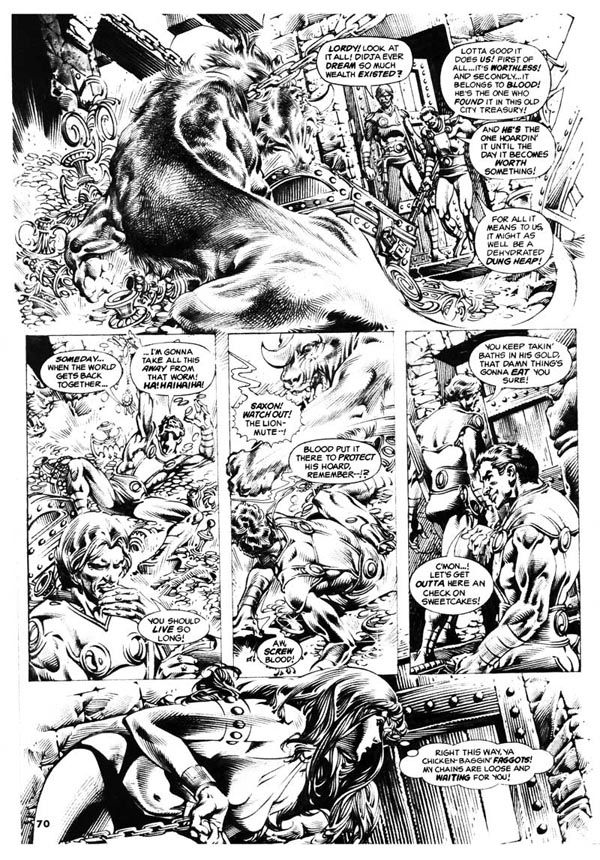 Vampirella - Pencils and Inks: Rudy Nebres
His work here at Neil's company is exemplary and his inks embellish the already superb Continuity style established by the owner Neil Adams, himself. The blend of house style pencilling and Rudy's inks is a masterstroke from Neil and display some of the best artwork from that period in the nineteen eighties.
He went freelance again afterwards and has since worked on a variety of titles for various companies, with characters such as, Spiderman, Conan and Punisher for Marvel Comics, as well as a Negation one shot in an issue of Crossgen Chronicles for Crossgen Comics in 2002.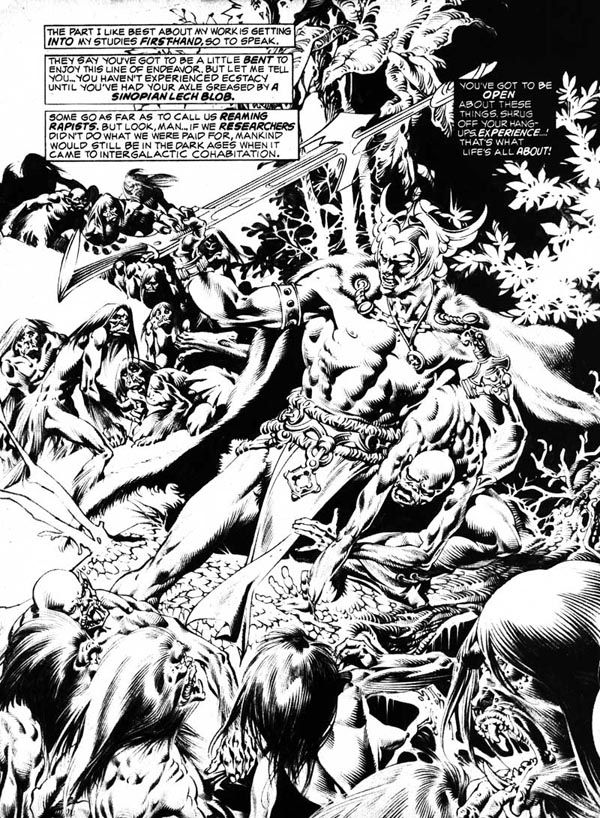 Fantasy Splash - Pencils and Inks: Rudy Nebres
Rudy released "The Art of Rudy Nebres", a collection of fan commissions in 2000 published by SQP Inc.
He currently resides in New Jersey in the USA with his wife Dolores. They have 2 children, Melvin and Edwin.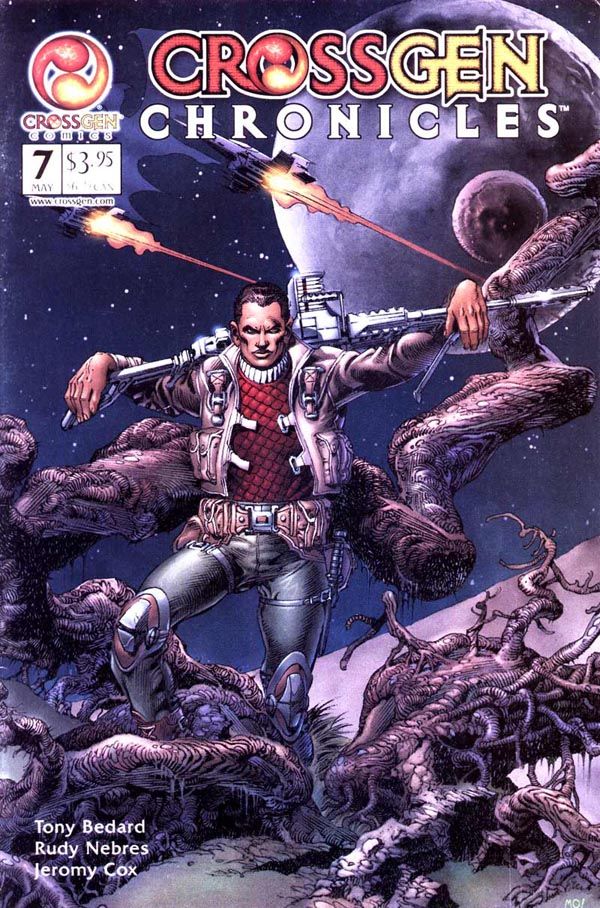 Crossgen Chronicles Issue # 7 - Cover - Pencils and Inks: Rudy Nebres
I am greatly indebted to Gerry Alanguilan, who spoke to me about Rudy Nebres'' addition here to the Hall of Fame, and who assured me that he and his family would be proud of his inclusion within it.
I would like to say a very heartfelt, thank you to Rudy for his inspiration all these years. I feel proud to be able to include him in my Hall of Fame.
You can commission Rudy to produce some of his Fantastic Artwork here: