Will Eisner
Will Eisner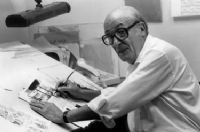 Will Eisner was born William Erwin Eisner on March 6, 1917 in Brooklyn, New York. By the time of his death on January 3, 2005, following complications from open-heart surgery, Will was recognized internationally as one of the giants in the field of sequential art, a term he coined.
Will was the son of Jewish immigrants and his early life and experiences growing up in New York tenements would become the inspiration for much of his graphic novel work. The years in which he grew up were also the formative ones for comics and the techniques and styles we know and see today were still in their infancy. Will read newspaper comic strips as a boy, but many of what are now considered the classics of the golden age had not yet debuted and the term "comic book" had not yet been coined.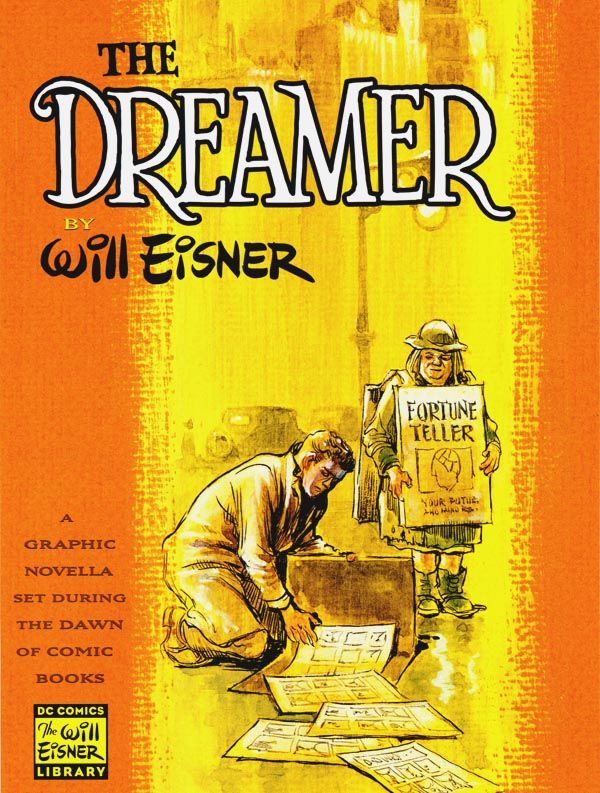 The Dreamer - Graphic Novel - Story and Artwork: Will Eisner
He began reading comic strips during a time when they had tremendous popularity and a powerful grip on the public's imagination, sadly, much more so than they have today. A popular strip such as The Gumps by Sidney Smith or Little Orphan Annie by Harold Gray could bring immense wealth and fame to its creator, and newspaper publishers who tried constantly to attract top artists.
His first true literary influences were the stories by Horatio Alger. This was the first reading he did where he remembered being aware of the story content and what was being said. Alger's message was that you could rise above your circumstances and find success through your own diligence and hard work and as a kid in the ghetto that spoke directly to him.
He was loved the movies, which back then were a very inexpensive form of entertainment. They showed the serials, which were very much like pulps, with characters like the Black Arrow and these started to formulate his sense of storytelling, but it was mainly his fascination with pulp magazines that gave him his true sense of storytelling.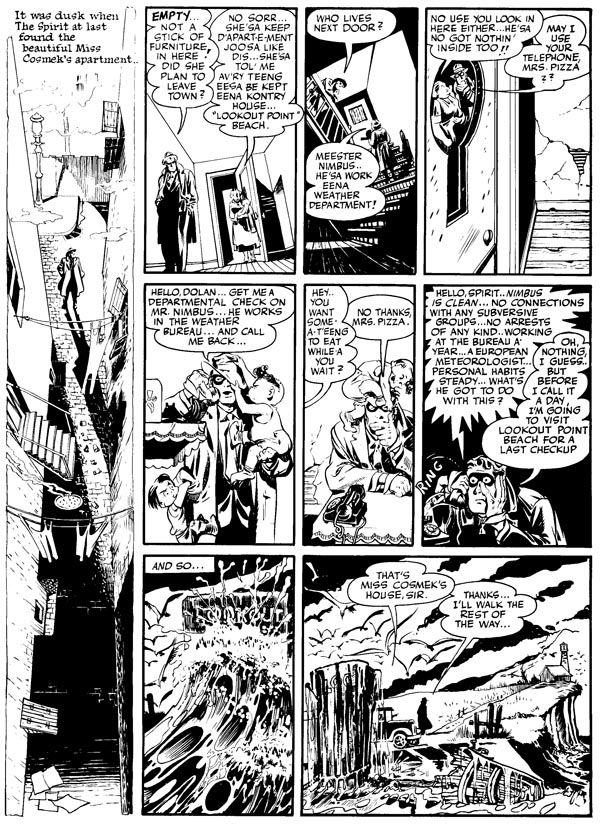 The Spirit - The Visitor - Page 3 - Story and Artwork: Will Eisner
His first published work was an illustration in the DeWitt Clinton high school newspaper, The Clintonian, to accompany an article on the Bronx's 'Forgotten Ghetto'. It was, however, when he attended the Art Students League one summer, that he was truly able to up the ante, because of his exceptional talent. While at the ASL, Eisner had the opportunity to study drawing under the direction of the legendary anatomist George Bridgman and painting under the redoubtable Robert Brachman.
At 19, the young Will Eisner left school and got a job in the advertising department of the New York American, where he worked the graveyard shift, from nine at night until five in the morning. This job had one important influence on him, the hours. He would sit, in the early hours, by a dock and watch the people working, watching all sorts of characters and learning a lot about shadows and lighting at the same time.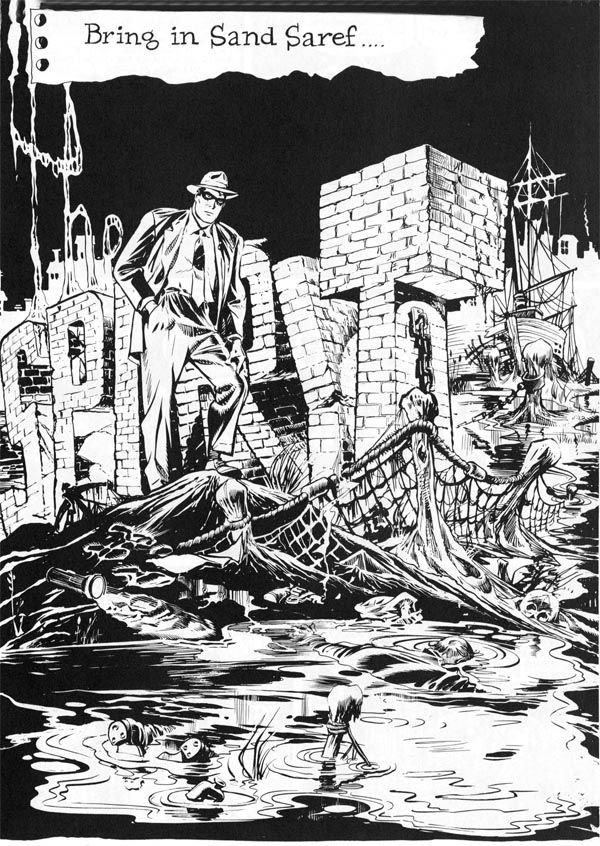 The Spirit - Bring in Sand Saref - Splash Page - Story and Artwork: Will Eisner
Will went along to the offices of John Henle 's "Wow!" magazine, portfolio in hand, and met with Jerry Iger, the editor, who Jerry was having a bad day with his engraver. Will was able to solve his problem on the spot, and Jerry offered him a job as his assistant. He turned down the offer, however, explaining to him that he was really wanting to produce comics, not work as an assistant editor. It was the beginning of a working relationship, as Will sold him a few features, the page rate was nothing the young artist was going to get rich on, but he felt like he was sitting on top of the world.
In the four issues published, Will had art in every issue and did the cover for the third. Will respected Jerry's abilities as a salesman and believed he shared Eisner's own belief that comic books were a medium with vast and as yet untapped, creative and commercial possibilities and he approached him with the proposal that the two enter into a partnership to produce material for the burgeoning field.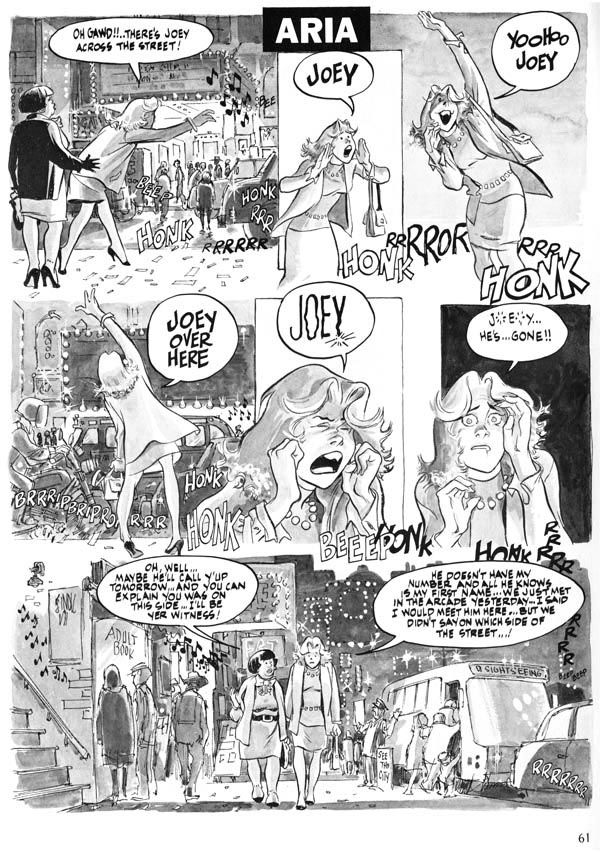 New York - The Big City - Aria - Story and Artwork: Will Eisner
So when WOW! Magazine folded after only four issues, the two formed a partnership and the Eisner-Iger Studio was born. The studio was a veritable comics factory, churning out strips in a variety of genres in the hopes of placing them with American newspapers. Towards this end, Eisner-Iger recruited a number of young artists who would go on to become comics' legends in their own right, the likes of which were: Bob Kane, the creator of Batman, Lou Fine, and Jack Kurtzberg (later Jack Kirby), and Mort Meskin.
The most enduring of Will's work to come out of this period was Hawks of the Seas. While partnered with Jerry Iger, he created Sheena, Queen of the Jungle, Yarko the Great and soon after, Dollman and Blackhawk. Eisner also famously turned down a crude submission called Superman by equally young creators Jerry Siegel and Joe Schuster.
Will covered the first few months' office rent on a 40th Street office in a building that still stands today, which enabled the partnership to get off the ground. The offices were very small, but the partners formed their shop at a favourable time, and it was this timing that helped pave the way to success for their young company.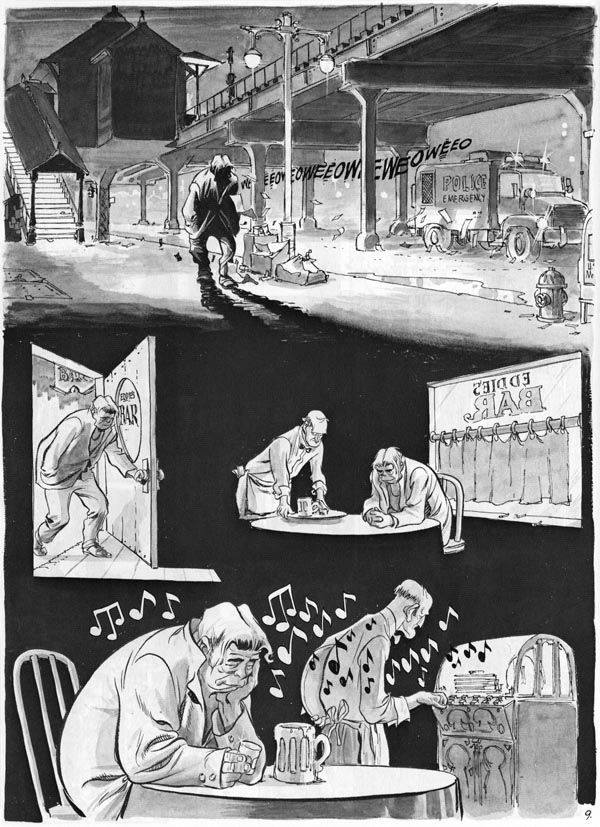 New York - The Big City - Opera - Page 3 - Story and Artwork: Will Eisner
At only 19, Will Eisner was in the forefront of the comics industry. Once the foundations were laid, Jerry set out to secure work that would keep the staff busy churning out material and very soon after, the contracts began rolling in. Building on their reputation developed by producing quality work for pulp publishers, he and Iger began creating stories for the first wave of comic book publishers.
Typically, when launching a new character, Will would work alone for the first couple of stories and then turn it over to one of his associates. This method was the only way Eisner was able to sustain the 100 pages at its peak, required of his company each month. Eisner was never reluctant to improve on what one of his shop men had done and would superimpose his own work onto sequences that he didn't feel passed muster. Despite this being the depression era, the Eisner and Iger shop was making money successfully and this helped his family back home.
Of the comics publishers of the late '30s, Quality Comics was one of the most important. In the early fall of 1939, over a lunch, owner, Everett M. Arnold proposed to Will the idea of a newspaper section. Arnold proposed that he package a 16-page, weekly, comic book section for Quality Comics, but there was one catch: It would be a full-time project, which meant he would have to quit Eisner & Iger. Arnold was not interested in dealing with a production shop; he needed to deal with a single creator.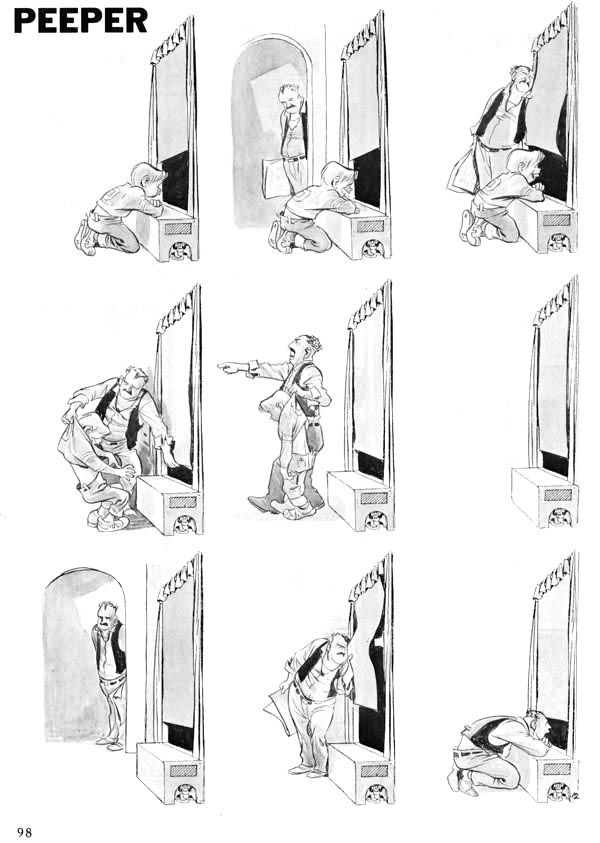 New York - The Big City - Peeper - Story and Artwork: Will Eisner
It was here at Quality that he created The Spirit and with foresight, he had insisted on owning the copyright to his new creation, a situation almost without parallel in comics at that time and almost without parallel on any popular basis for several decades to come. Since he knew he would be in comics for life, he had felt he had every right to own what he created. It was his future, his product and his property,
The pace was gruelling; besides single-handedly producing a page of art a day, including weekends, he also had to conceive Spirit stories and supervise Lady Luck and Mr. Mystic, the four-page tales in each Sunday section. Add to this his agreement to oversee production of three Quality comic books, and the 22-year-old artist was very busy.
Then as now, there were two comics "fraternities", books and strips, with only a slight overlap. The Spirit had given him standing in both groups. Late one night, when he had designed the characters and roughed out the first seven pages he began writing dialogue and it was then that he came to the realisation that no one had ever been in his particular position before. He was writing the rulebook, as the concept for The Spirit evolved.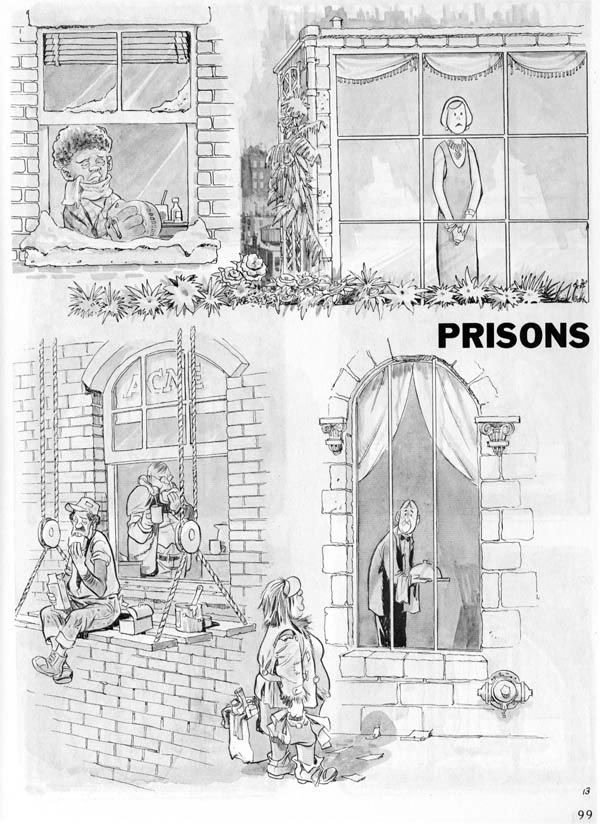 New York - The Big City - Prisons - Story and Artwork: Will Eisner
Expecting a costumed character, due to the tremendous popularity of Batman and Superman, Arnold and Martin had felt that the Spirit had needed to fit in with them. Reluctantly he agreed and compromised on the costume, adding a mask to The Spirit wardrobe, later adding the gloves on him. His work on the Spirit was interrupted in 1942 when he was drafted into the Army for service in World War II. The Army took advantage of his skills as a cartoonist, and during the war he was engaged in producing posters, illustrations and strips for the education and entertainment of the troops.
After the War, Will returned to work on The Spirit. In December 1945 he reintroduced the strip with a retelling of the Spirit's origin, and the Spirit was quickly back on track. Now with the support of other artists such as a young Jules Feiffer and later Wally Wood, Eisner continued the weekly instalments of the Spirit until 1952. These post-War Spirit stories featured him at the pinnacle of his powers.
While still producing The Spirit, Will founded the American Visuals Corporation, a commercial art company dedicated to creating comics, cartoons, and illustrations for educational and commercial purposes.
Will Eisner's other clients for American Visuals Corporation included RCA Records, an Oil Filter company, the Baltimore Colts, and New York Telephone. This work soon occupied most of his time, and in 1952, despite groundbreaking stories by Fieffer and Wood, The Spirit was abandoned in favour of this more profitable work, which continued until the late 70s.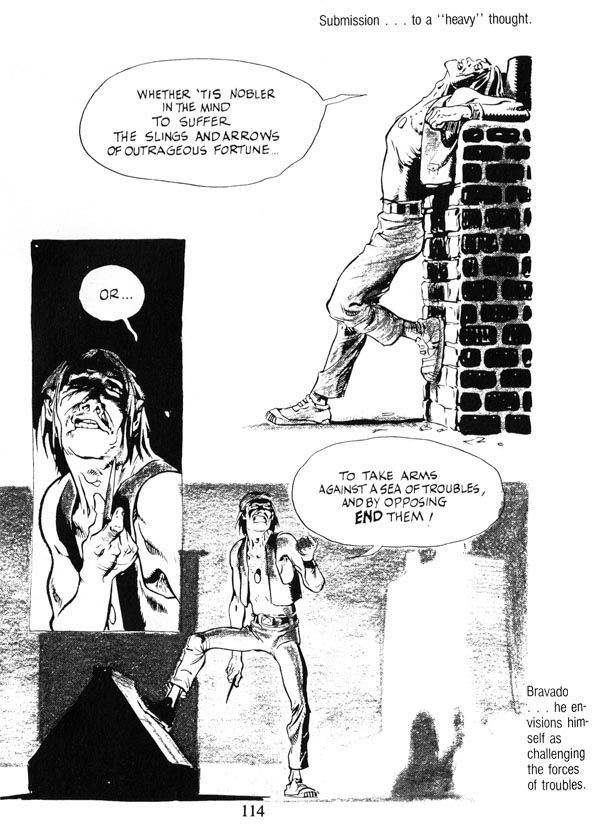 Comics & Sequential Art By Will Eisner - Hamlet on a Rooftop - Page 3 - Story and Artwork: Will Eisner
In the mid-60s, however, several articles renewed popular interest in The Spirit, and the strips were reprinted in a variety of forms that continues to this day. He was persuaded to create a small amount of new Spirit material at this time, but despite a growing fan insistence for more, he did not have much taste for revisiting what he saw as the heroic fantasies of his youth.
Seeking a more mature expression of the comics' form, Will spent two years creating four short stories of "sequential art" that eventually became A Contract With God, first published by Baronet Books in 1978. In this book, with its 1930s Bronx tenements and slice of life moral tales, he returned to his roots and discovered new potential for the comics form, the graphic novel. He followed this with a series of graphic novels published by the alternative comics publisher Kitchen Sink Press; The Dreamer, To the Heart of the Storm, The Building Invisible People, and Life on Another Planet.
Will Eisner also taught cartooning at the School of Visual Arts in New York. It's from these years of teaching that Eisner authored two definitive works examining the creative process, Comics and Sequential Art and Graphic Storytelling. A third and final book in this trilogy, on dynamic figure drawing, is due for posthumous release by W.W. Norton.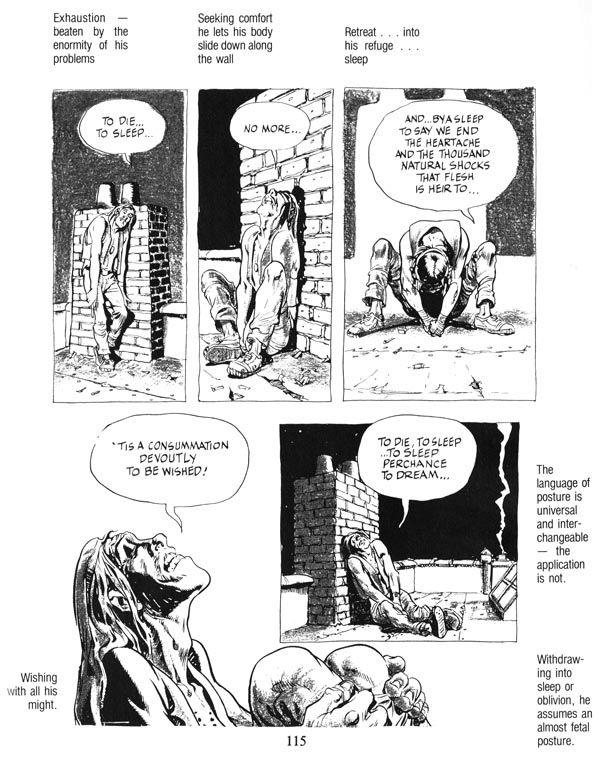 Comics & Sequential Art By Will Eisner - Hamlet on a Rooftop - Page 4 - Story and Artwork: Will Eisner
I first came across Will Eisner's work was in the seventies with a few reprints versions of the Spirit. My Dad had told me of a character called the Spirit and suddenly here was some of the work in my hands. There was something familiar about the stylistic cartooning and I soon found out that his style reminded me of Mike Ploog's, which I would later find out was because Mike worked under Will for a good number of years. I love Will's lush black and white renderings. His characters although cartoony had more realism within the storylines and body language than most of the other more realistically drawn strips.
The Spirit stories I was looking at covered a full gamut of different storytelling stylistics and genres and then I began reading his graphic novels, like, To the Heart of the Storm The Building, New York, A Life force, and The Dreamer. Here were different kinds of stories, here too were "real" real people, not the pseudo-realistic people rendered believably, but with reactions far different than real life, even when faced with real life situations. Will's world was the real world, populated by real people. The mundane has a place in his stories and quite often is the central focus of them. A kid looking out of the window, what is he looking at? The guys and gals walking across town, some in fear, others in a rush, others in a daze, but all of it real. The smells and ambiance are almost tangible. The trick to his stories for me is that we can all relate, no matter what creed, colour, religion or age to something in them. Will understood the real world and most of all he understood people.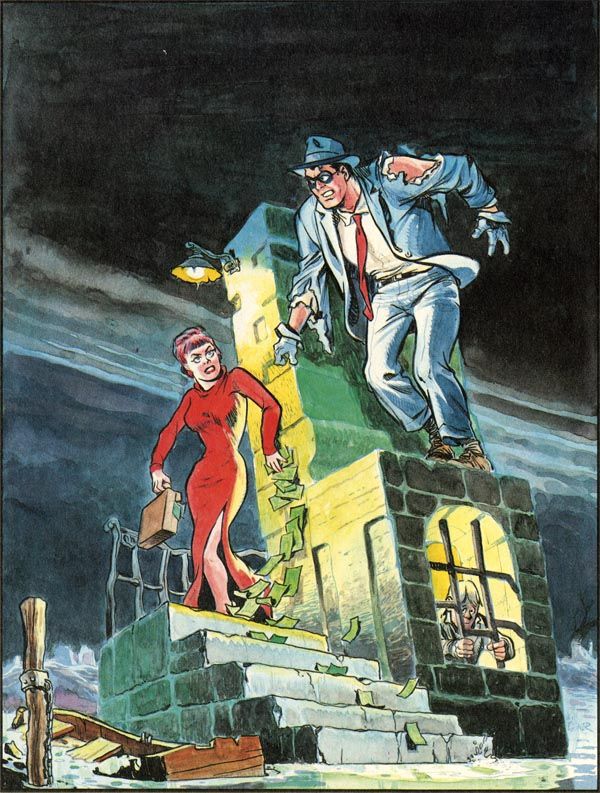 The Spirit - Will Eisner Colour Treasury - Artwork: Will Eisner
It was seeing these types of stories that helped me to define what it was that I had been wanting to do with my work, before getting into the comic business in the early mid-eighties. I saw that you could add realism and make it work, not the "realism" we see with most of today's hyper-violence riddled comics. For me they aren't real, if Will had touched on one such storyline, it certainly would not have been gratuitous, it would have shown the aftermath of the act, the pain, the sorrow, the humanity, or perhaps, better put the inhumanity of it all.
His artwork and his storytelling alone have been very influential in my look at sequential storytelling, but upon seeing his two books on telling stories I realised there was even more depth to his understanding of the art form, after all he was one of the pioneers of it all. His ability to take something and make something more of it is exemplary and his ability to do so in a thousand different ways is awe-inspiring. His two books, Comics and Sequential Art and Graphic Storytelling are a must-have item for any budding storyteller/artist/writer coming into the field and a must-have item for anyone already working in the field of comic books. Nowadays I point my students in Will's direction whenever they start my courses for the first time, they are never disappointed.
Will Eisner's legacy lives on through his detective character The Spirit, his numerous graphic novels, and his educational books on graphic storytelling and sequential art, and will continue to touch, influence and inspire those wishing to tell stories for as long as people need and read stories.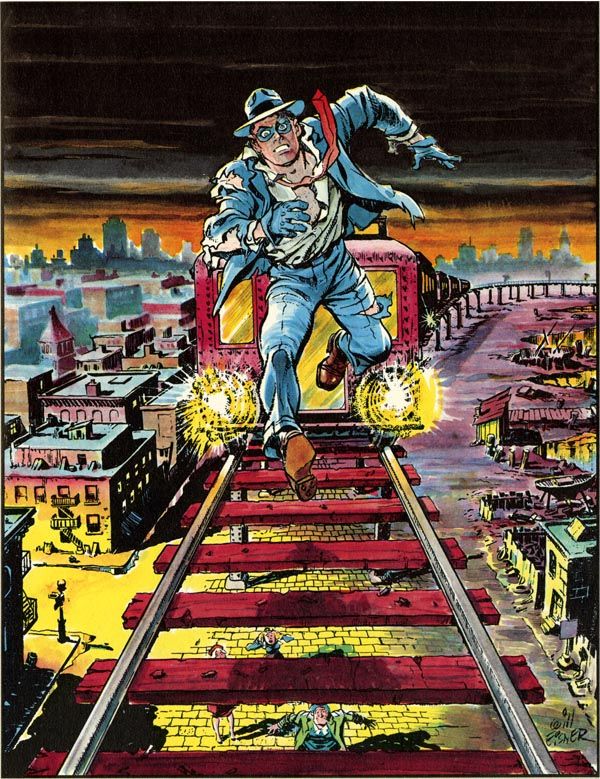 The Spirit - Will Eisner Colour Treasury - Artwork: Will Eisner
An incomplete Will Eisner Bibliography:
We hope to make this a more complete listing over time
Comic Book and Illustration/Design work:
Captain Scott Dalton – WOW, What A Magazine!

The Flame – WOW, What A Magazine!

Harry Karry – WOW, What A Magazine!

The Brothers 3 – Funny Picture Stories

'Wild Tex' Martin - The Law of Caribou County – Western Picture Stories

'Wild Tex' Martin Keen Detective Funnies

Muss 'em Up –

Detective Picture Stories

Wags

Okay Comics

Yarko, The Great - Wonderland

Heroes of Sport – Jumbo Comics

Sheena, Queen of the Jungle – Jumbo Comics

Speed Comics

Feature Funnies

K-51 – Smash Comics

ZX-5 – Smash Comics

Espionage starring the Black Ace – Smash Comics

Hawks of the Sea

Hit Comics

National Comics

Police Comics

Military Comics

Crack Comics

Dollman – Quality Comics

The Hawk – Jumbo Comics

Wonderman – Wonder Comics

The Blackhawks – Military Comics

The Spirit

Mr Mystic

Lady Luck

Military Staff Artist on – The Flaming Bomb

Military Staff Artist on – Pvt. Joe Dope Posters

Pvt. Joe Dope – Army Motors Preventative Maintenance Magazine

Connie Rod – Army Motors Preventative Maintenance Magazine

Pvt. Joe Dope – Cartoons for Fighters - Armed Forces Edition

Pvt. Joe Dope - P*S Magazine – The Preventative Maintenance Monthly

Connie Rod - P*S Magazine – The Preventative Maintenance Monthly

Baseball

Kewpies

Nubbin the Shoeshine Boy

John Law
Other clients included:
Collected Spirit:
Will Eisner Colour Treasury

Spirit Colour Album volume 1

Spirit Colour Album volume 2

Spirit Colour Album volume 3

Outer Space Spirit

Christmas Spirit

Spirit Casebook

All About P'Gell: Spirit Casebook II
The Spirit Archives:
[No Eisner work in vols. 5–11 due to Will Eisner enlisted during wartime]
Volume 1

Volume 2

Volume 3

Volume 4

Volume 12

Volume 13

Volume 14

Volume 15

Volume 16

Volume 17

Volume 18

Volume 19

Volume 20
Collected John Law Stories:
Will Eisner's John Law: Dead Man Walking
Graphic Novels:
This is when Will Eisner reinvents himself
A Contract With God And Other Tenement Stories
A Life Force
Life On Dropsie Avenue
New York, The Big City

The Building

City People Notebook

Invisible People
New York: the Big City
The Building
City People Notebook
Invisible People
The Dreamer

Fagin The Jew

Family Matter

Hawks Of The Seas

Last Day In Vietnam

The Last Knight: An Introduction To Don Quixote

Life, In Pictures

Life On Another Planet

Minor Miracles

Moby Dick

The Name Of The Game

The Plot:

The Secret Story Of The Protocols Of The Elders Of Zion

The Princess And The Frog

Sundiata, A Legend Of Africa

To The Heart Of The Storm
Other Reading
How to Books:
Comics and Sequential Art

Graphic Storytelling and Visual Narrative

Expressive Anatomy - In development when Will Eisner died. This book is being finished with the assistance of Peter Poplaski
As of this July and August, W.W. Norton is actually publishing new and updated editions of "Comics and Sequential Art" and "Graphic Storytelling and Visual Narrative" as well as the new third textbook, "Expressive Anatomy For Comics And Narrative," which Will was working on in January 2005 when he passed away.
I am greatly indebted to Will Eisner's nephew Carl Gropper who enthusiastically gave his permission to showcase his uncle's work here in my tribute to him.
I would like to say a very heartfelt, posthumous thank you to Will for his inspiration all these years. I feel proud to be able to include him in my Hall of Fame.
Copyright Disclaimer:
Will Eisner artwork © Will Eisner Studios, Inc. and used with Permission

THE SPIRIT is a Registered Trademark of Will Eisner Studios, Inc. ALL RIGHTS RESERVED
As such, NO artwork can be reproduced in any manner, by either printed, digital, electronic, photographic, or other means.
His Fantastic Website can be found here: