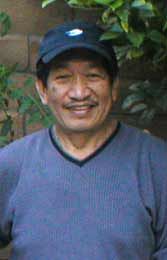 Alex N. Niņo was born in 1940 in Luzon, in the Phillippines,
having dreamed of being a comic artist since he was a small boy
. He attended college with the intention
of becoming a doctor, but his love for comics ensured he soon left school to pursue his lifelong interest in art.
His first comics stories were published in 1959. He combined the prevalent art style of the Filipino comics master Francisco Coching, along with further influences from his other contemporaries Jess Jodloman, Ruben Yandoc, Alfredo Alcala and Nestor Redondo, where he developed his own distinctive, though ever-evolving, style.
It was in 1959, whilst still a medical student and in his late teens that Alex walked into the office of Extra Komiks, unfamiliar with the kind of people he would be dealing with in the business. He had decided to abandon his medical studies for what seemed to him a much more glamorous profession. With a sheet of rolled up Bristol board, on which he had drawn what he believed was a sample of his best works, tucked under one arm he entered the office where he was shown to the editor and, holding his breath, he eagerly unrolled his sample, an illustration of a Superman-type character as many artists have done before and since. The editor took a single, quick, skeptical look at Alex's drawing and handed it back to him, sarcastically remarking that he should go to America, as his work was more suited there. Little did the editor, Ramon Mercelino suspect, that 20 years later his prophetic words would come true.
In 1965, after having worked for a number of more obscure titles, he began a new collaboration with Clodualdo del Mundo on 'Kilabot Ng Persia' ('The Terror of Persia') for Pilipino Komiks. Later, he teamed up with Marcelo B. Isidro to create 'Dinoceras' for Redondo Komiks. In 1966, Alex came up with his own comic, 'Gruaga - The Fifth Corner of the World', for Pioneer Komiks. Again together with Isidro, he made the series 'Mga Matang Nagliliyab' ('The Eyes that Glow in the Dark'). He then freelanced for several comics companies, like PSG Publications, where he did a series of short stories about Bruhilda Witch and where a number of his collaborations with Pablo Gomez were made into movies.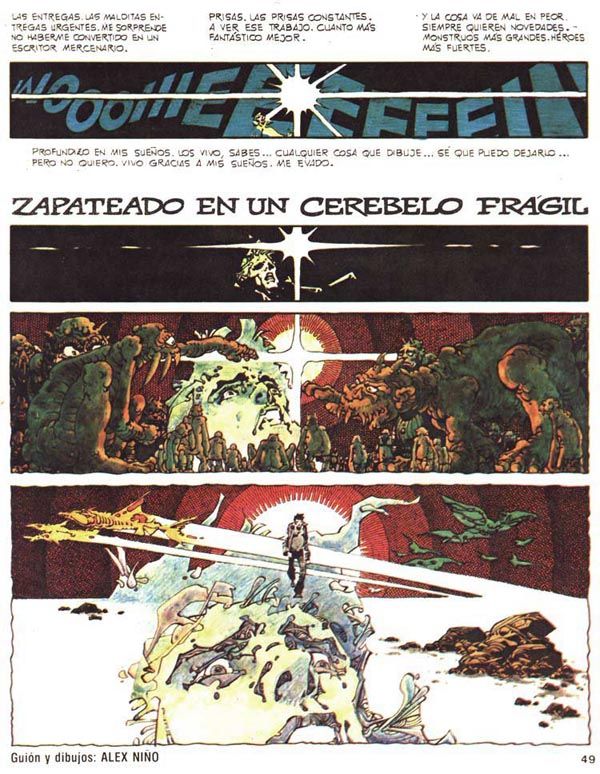 Zapateado En Un Cerebelo Fragil - Page 1 - Pencils, Inks and Colours: Alex Nino
Over the next fifteen years Alex illustrated over 300 stories for Filipino comics publishers. A limited-edition book entitled, Satan's Tears collects his early work. In 1971 he was introduced by Filipino artist Tony de Zuņiga to the US market and DC Comics, where he quickly gained a following with the fans. At the time he worked on mainly DC's horror anthologies line of comic books and produced a number of quite exceptional stories, and in 1973 was contracted by publisher Vincent Fago to do comics adaptations for Fago's Now Age Classics. It was at this stage in his career that he moved to the USA in 1974, where he has since worked for every major comics publisher in the country.
When Alex started to look at the American market and work for American publishers such as D.C., Educational Classics and Marvel he was looked on in a completely different way. Examples of some of the publications he worked on were 'Black Orchid', 'Captain Fear', 'Space Voyagers' and the Sunday 'Tarzan' strips, and it was following his move to the United States, when his career really took off. He has probably worked for every American comic publishing house, on prestigious titles such as 'House of Mystery', 'Bold Adventures', 'Star Reach Classics' and many, many others.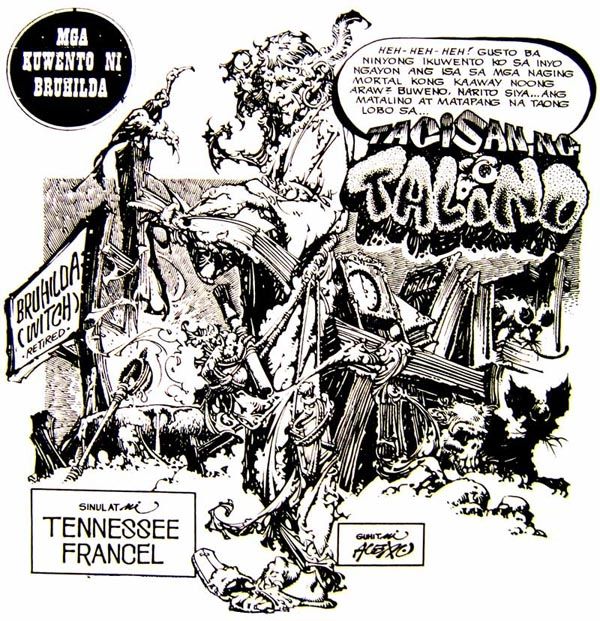 Tagisan Ng Talino- Page 1 - Pencils and Inks : Alex Nino
It was around this time I first began seeing his wonderful illustrative comics work at DC comics in the horror and war comics being published at the time. I then saw three of his Marvel stories, the first being, "Behold the Man" written by Michael Moorcock and adapted by writer Doug Moench, for the comic magazine, The Unknown Worlds of Science Fiction, issue #6, which had a Frank Brunner "Behold the Man" fully painted cover.
The second was the Robert E Howard, non-Conan, "People of the Dark" story that was adapted by writer/editor Roy Thomas, to fit Conan into the story, which saw print in, The Savage Sword of Conan, issue #6. The cover to this one was pencilled by Alex and painted by Frank Magsino.
The third story was "Man Gods from beyond the Stars", which saw print in Marvel Preview Presents, issue #1, which had a cover by Neil Adams. These three stories showed me just how great Alex's storytelling and layouts were. The next time I saw his work was inking Mike Ploog in an episode of Weird World called " that was published in issue #38 of Marvel Premiere Featuring Weirdworld in 1977, cover dated October. Another incredibly well drawn story was the controversial, "Repent Harlequin, said The Tick Tock Man", written by Harlan Ellison, which saw print in issue #3 of The Unknown Worlds of Science Fiction.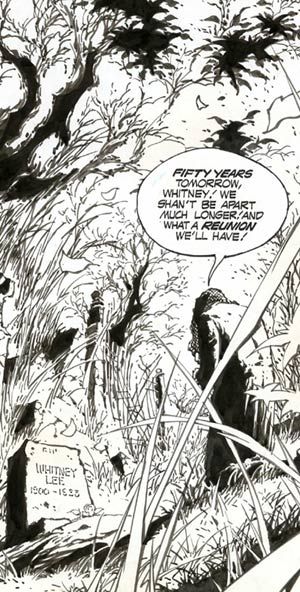 Panel Detail - Pencils and Inks: Alex Nino
Alex Niņo's illustrations for The Invisible Man originally appeared in Fago's series published in 1974 by Pendulum Press, which has been reprinted since in its original comics-for-children form by several publishers. The story appearing in the Graphic Classics completely revised version of the H.G. Wells story utilizes Niņo's fantastic illustrations in such a way as to present it for adult readers with an abridged restoration of Wells' original text.
Today, Alexander Niņo is considered to be one of the best comics illustrators in the United States, if not the world. If he is highly rated by both editors and critics in the USA, he is higher regarded also by his legions of fans, among whom are American illustrators influenced by his unique style. Much of his artwork hangs at the Comics Hall of Fame in San Diego, California; and his name is listed in the Who's Who In Comics, a publication of the American Comics Industry. In 1978 Jim Warren of Warren Publishing, publisher of Vampirella, Creepy, Eerie and 1984 among other magazines, presented Niņo with the Best All-Around Artist award.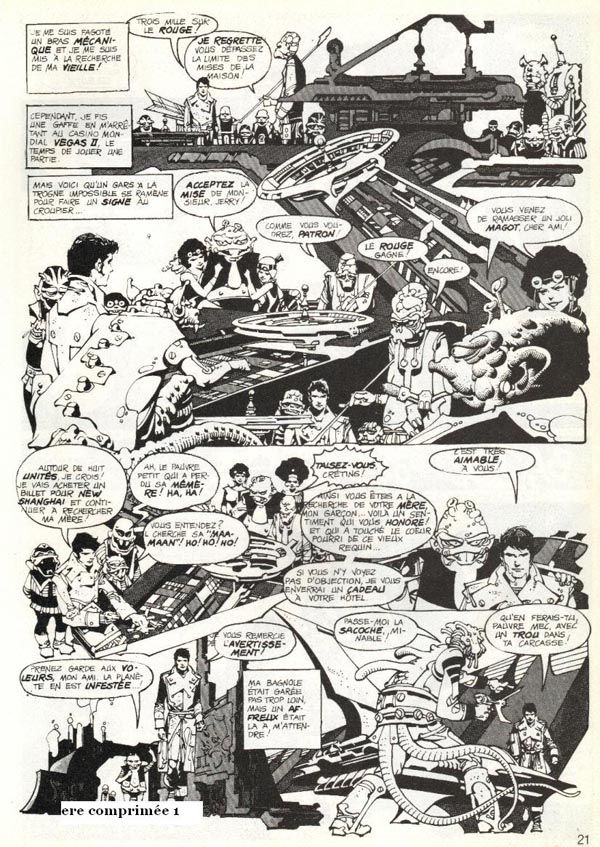 Science Fiction Strip - Pencils and Inks: Alex Nino
The Dark Suns of Gruaga, a 10-plate portfolio of his artwork, which was published by Shanes and Shanes of San Diego, California, and the book Satan's Tears, a compilation of his local and foreign works, which was published by the Land of Enchantment Publication of Detroit, Michigan, was eagerly bought by fans when they saw publication.
His work is highly sought after by collectors, be it in the form of comic books, prints, posters or original artwork and as a result of this is very hard to find, despite the technology of the Internet nowadays.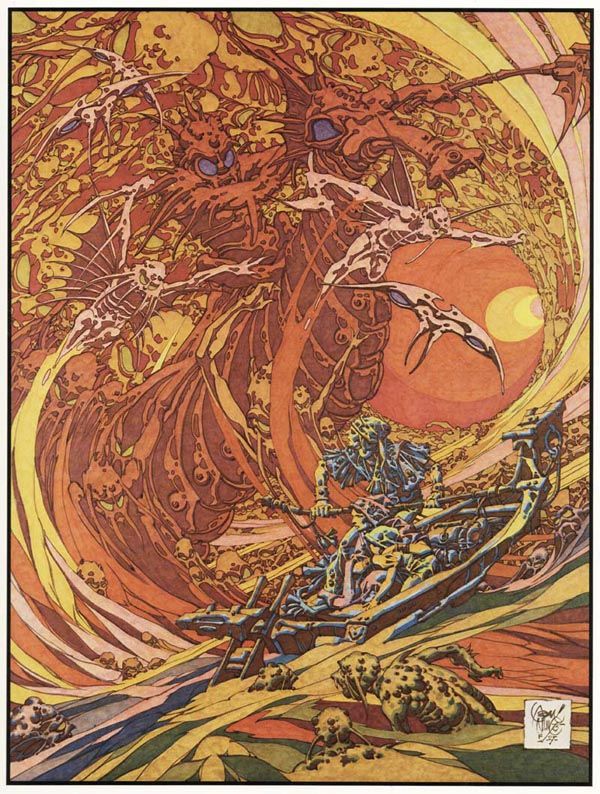 Science Fiction Spread - Pencils, Inks and Colours: Alex Nino
I have always thought of his work as highly ornate and stylised, with great characterisation and an incredible use of body language. His inking is likewise fantastic to behold and he does so with what seems like the greatest of ease. His lush line work seems to move across the page with a life of its own and perfectly suits whatever genre Alex is working in, although fantasy and horror, are my personal favourites.
Fanzine enthusiast Orvy Jundis writes in his article in Jassoomian, an Edgar Rice Burroughs publication: "Niņo's Gruaga is one of the most imaginative visualizations of a novel to appear in the Philippines". Gil Kane, a veteran comic writer and artist, in addition to being the creator of the newspaper strip, Star Hawks in the 1970's and the graphic novel, His Name is Savage in the 1960's, told Gary Groth in an interview "I think Niņo is absolutely marvelous."
Science Fiction Strip - Pencils and Inks: Alex Nino
But, for all the accolades in the USA and elsewhere, Alex was a near flop in his own country, something I personally find incredulous. Before the justification of his highly stylised artwork in the United States, almost all of the local Philippine editors and publishers downgraded his page rate, despite the level of exquisite craftsmanship on the beautifully rendered artwork.
In 1999 Alex produced two stories for the Frank Frazetta Fantasy Illustrated magazine. The first 19 page story, printed in issue #7 and entitled, "…just passing by!" is written and illustrated by Alex in black and white and is completely silent, except for the last seven pages, allowing the story to be told entirely through pictures. The story is finely detailed and shows off perfectly his mastery of line work, through his incredible penmanship.
Fantasy Spread - Pencils and Inks: Alex Nino
The second strip in issue #8 of the Frank Frazetta Fantasy Illustrated magazine is an eleven page story, and is again written and drawn by Alex, this time with dialogue throughout, and is painted in sepia tones and again shows his mastery of shape and pattern to give form to the characters. Both stories are masterpieces and incredibly beautiful to behold.
In recent years Alex has worked for Disney on such prestigious animated features as Mulan, Treasure Planet, and Atlantis, the lost empire, as a conceptual artist, although he still continues to work in the comic book field as well, recent work can be seen in such titles as: The Orc's Treasure for iBooks, The Incredible Hulk for marvel Comics, and Frankenstein Mobster for Image comics.
Alex has a sketchbook out called: Alex Niņo Drawings – A Catalogue of Original Art, from which it is possible to purchase the sketches. The book is available through Stuart NG Books in the USA.

Fantasy Strip - Pencils and Inks: Alex Nino
The work of Alex, along with the other Philippine artists seen here in the Hall of Fame are, along with Bernie Wrightson, and Frank Frazetta, my main influences in my approach to inking, when working in black and white.
I would like to say a very heartfelt thank you to Alex for both his inspiration. I feel proud to be able to include him in my Hall of Fame.
His Fantastic Website can be found here: