Alfredo Alcala
Alfredo Alcala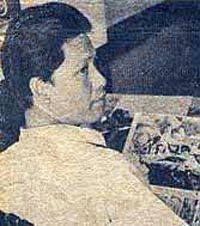 Alfredo P. Alcala, "Pidong", as those close to him knew him, was born on August 23rd 1925. He began life as an artist when at school, by drawing for his classmates. He was clearly born with an artist's eye for detail, and an extraordinary memory that enabled him to retain what he saw for future reference, with every single thing he saw.
Whilst in his pre-teen years, during the Japanese occupation of the Philippines, it was these skills that gave the young Alfredo an opportunity to act as a spy. He would ride his bicycle past Japanese camps, facilities where you'd be shot if they caught you with a camera. Once out of range, he would sit down under a tree, haul out a pad and draw maps of what he'd seen, from memory. Then he would bicycle over to the Allies' installation and turn in his sketches.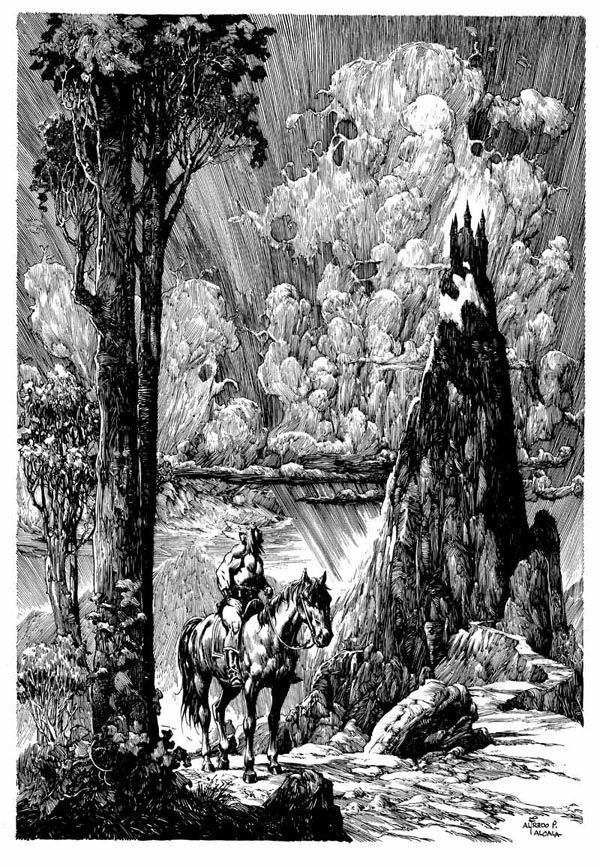 Voltar - Pencils and Inks: Alfredo Alcala
He later dropped out of school at a young age, intent on becoming an illustrator. Initially, he painted signs, but he then turned to designing chandeliers, garden furniture, table lamps and hat racks for a wrought iron shop. One such project was designing a church pulpit.
After working for hours in this way, Alfredo studied the illustrations of Harold Foster's Prince Valiant and Alex Raymond's Flash Gordon; often going sleepless in his burning ambition to become a comics artist such was his conviction and he filled thousands of pieces of paper with his studies, often working on wrapping paper or whatever drawing surfaces were available. Alfredo loved the line work of Lou Fine whose work on The Black Condor and The Dollman really influenced the young artist during the years of World War II in The Philippines.
He began to deluge publishers with submissions of anything of an illustrative nature they might buy, paintings, illustrations, and even comics. They were produced in a multiplicity of styles, many of them signed with pseudonyms, so that the editors wouldn't realize that they all came from the same drawing board.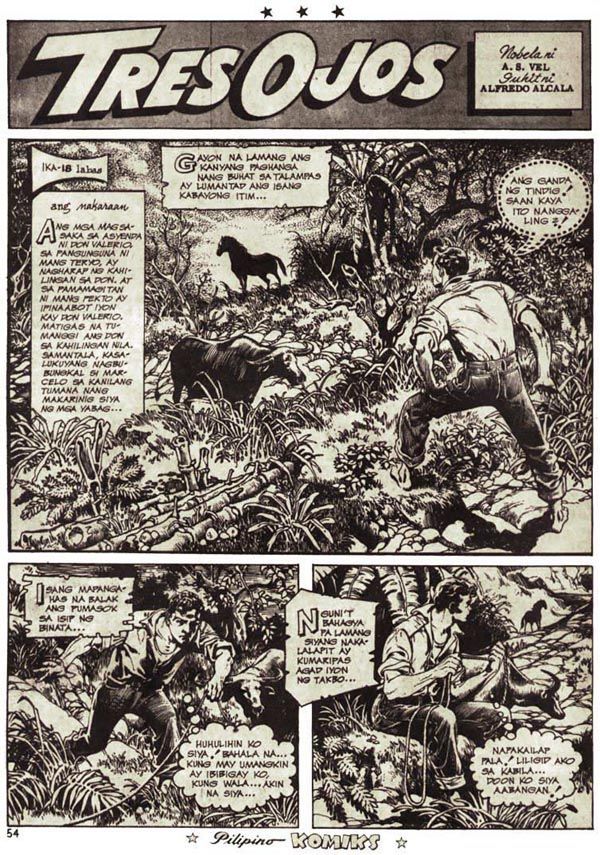 Pilipino Komiks - Tres Olos - Page 1 - Pencils and Inks: Alfredo Alcala
In 1948, Alfredo got his dream fulfilled when finally, shortly after his 23rd birthday, he placed a small illustration with Bituin Komiks, who commissioned him to illustrate a short story, followed immediately after that in November of the same year, by work for Ace Publications, the largest publisher in the Philippines, then under Tony Velasquez, and assigned to illustrate novels for Pilipino Komiks, Tagalog Klasiks, Hiwaga Komiks and Espesyal Komiks, which at the time were coming out every 2 weeks. Within months of his first work for Ace, Alfredo's work was gracing the pages of many titles, often published twice a month and he was becoming a legend for working up to 96 hours straight without sleep.
Like many comics magazines of the period, the Ace Publications titles were anthologies and featured many limited serials in various genres. Alcala drew for any genre in the early portion of his career, and developed the speed and work ethic for which he later become known. He said his fastest page rate was 12 pages in a nine-hour sitting, while in one 96-hour marathon he produced 18 pages, three wrap-around covers and several colour guides.
Alfredo also wrote novels himself, which he drew as well. Among the more memorable ones were Ukala, an epic set against the background of the American Northwest when the Europeans first intruded into the domain of the Indians, and his most famous, Voltar, a Viking saga. Both were so meticulously drawn that Alcala reaped praises from even the severest critics of the day. He also wrote and drew a series on the Japanese warships that became legends during WW2.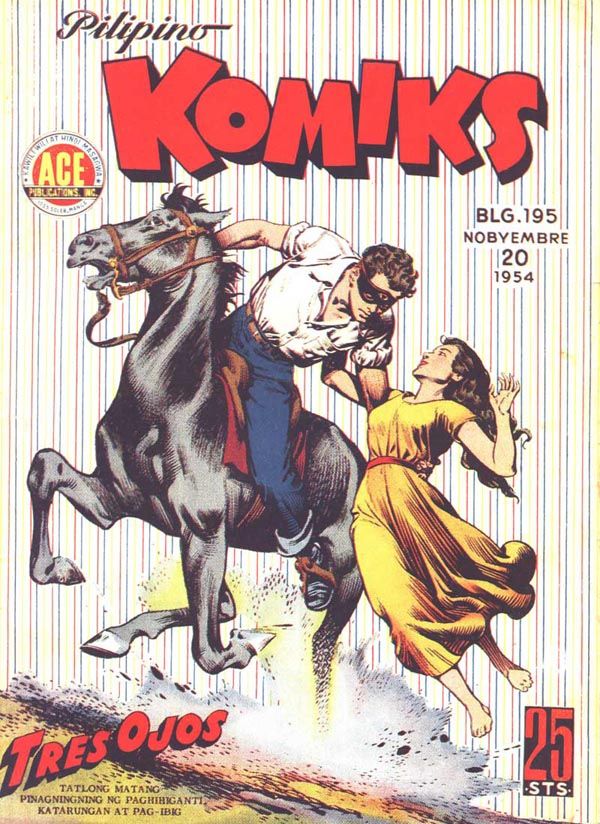 Pilipino Kommiks - Issue #195 - Cover - Pencils and Inks: Alfredo Alcala
In 1963, when ACE Publications ceased publication, giving many writers and artists no option, but to strike out on their own. Alfredo, along with Virgilio and Nestor Redondo, Amado Castrillo, Tony Caravana and others decided to form a comic book company on their own called CRAF Publications, a company that would usher in one of the most spectacular comic strips to ever appear in Philippine comics, Voltar, a story of Vikings. Every chapter contains a spectacular centre spread. Each panel is embellished in an etching style that rivals the works of the old masters. Inch for inch, it is probably the most detailed art ever to appear in comic books and was a great success. Voltar was an incredibly lavish, lushly drawn serial that showcased Alcala's diverse interests and influences.
By the time he had created Voltar, Alfredo was already turning to the study of the artworks of notable American illustrators such as Dean Cornwell, Robert Fawcett, Howard Pyle, N.C. Wyeth, Franklin Booth and J.C. Leyendecker. But, as Alfredo himself pointed out, it was the renowned British muralist Frank Brangwyn who greatly influenced him the most. Although Robert E. Howard's Conan novels where the inspiration for Voltar, Alfredo's barbarian hero first appeared in 1963 and was a full seven years ahead of Roy Thomas and Barry Windsor-Smith's adaptation, which was published at Marvel comics in 1970.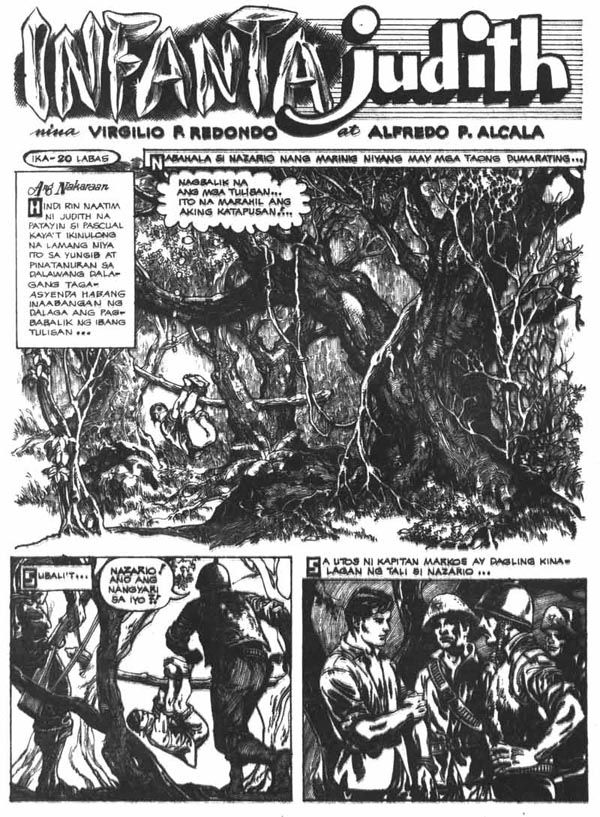 Infanta Judith - Page 1 - Pencils and Inks: Alfredo Alcala
Following publication of Voltar, Alfredo started to dominate the annual art awards presentations sponsored by the Society of Philippine Illustrators and Cartoonists and in 1971 a Voltar illustration was exhibited in a fantasy and science fiction event that was held in the United States and it took first place in the heroic fantasy division. A little later in 1974 Voltar was featured in The Hannes Bok Memorial Showcase of Fantasy Art, a book, which compiled many of the finest works in the field of fantasy.
In the early 1970's, an American comic book publishing executive, Joe Orlando, himself a comic book veteran, on a visit to the Philippines took an interest in Alfredo's artwork and he was recruited along with fellow Filipino Artists, Nestor Redondo, Alex Nino, Rudy Nebres and Tony DeZuniga amongst a whole host of others. Before long, he would find he was working for nearly every comic company in the USA, foremost being both Marvel and DC. By 1974, Alfredo's work had been seen in American comic books for a few years and in 1976, Alfredo arrived in New York City to make America his permanent home.
Legend has it that Orlando being naturally impressed with the quality of the work he was shown told Alfredo that DC would hire him and asked how many pages per week he could produce. When Alfredo told him forty, knowing that the quickest most prolific artists at DC at the time would be hard-pressed indeed to pencil and ink even ten pages a week, thought the artist meant either pencils or inks. When Joe mentioned that they wanted him to produce the full artwork package even the lettering, Alfredo thought a moment and repeated forty pages.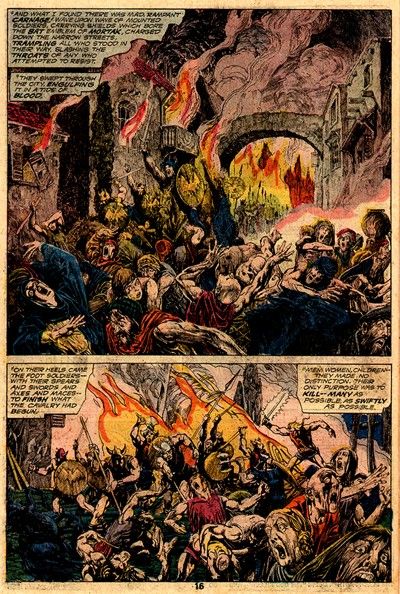 Giant Sized Man Thing - Volume #1 - Issue #3 - Pg 16 - Pencils and Inks: Alfredo Alcala
Joe stood there incredulous of the conversation; there was obviously some sort of misunderstanding here. He figured that Alfredo had to be thinking in terms of only very simply detailed pages. Joe had several dozen pages of original art, including pages by Neal Adams, Joe Kubert, Curt Swan and others. He explained to Alfredo that they wanted pages similar to these. Alfredo now told him the page count would be eighty. Being highly sceptical of this and rightly so, Joe placed Alfredo's workload down at 40 pages per week. It was assumed by some that "Alfredo P. Alcala" was the joint moniker of perhaps a half-dozen other assistants, but this was not so, as anyone who later saw Alfredo sketching at a convention could attest.
It was at this time on both the DC humour comic PLOP, were he pencilled and inked his own work and within the page of The savage Swords of Conan for Marvel comics that I first began to see Alfredo's truly breath taking and uniquely rendered artwork. His mastery of fine line work for black and white publication is legendary and to think he produced such fantastically detailed work at such colossal speed is almost unbelievable. The work of Alfredo, along with the other Philippine artists seen here in the Hall of Fame are, along with Bernie Wrightson, and Frank Frazetta, my main influences in my approach to inking, when working in black and white.
Most of his work at DC was for their line of ghost books, such as House of Mystery, and he did western and war stories, as well. Though some quibbled with the excess of detail and textures, the art was generally well-received by both editors and readers, some of whom were baffled that Alcala's work seemed to vary so much in approach from one job to the next. This contributed to the belief of some that a whole crew was producing the pages but, in fact, Alfredo was just a man of many styles.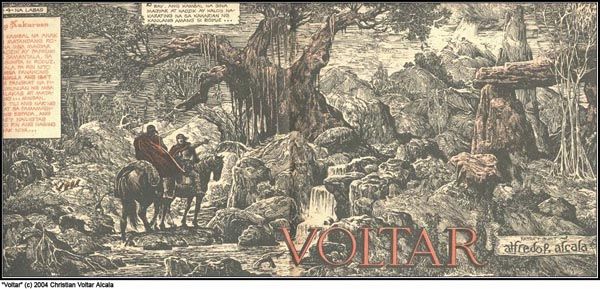 Voltar Spread - Pencils and Inks: Alfredo Alcala
This, however is what one former editor at Marvel Comics had to say about Alfredo: "In the late 1960s, all of us in the comic book field were suddenly knocked out to learn that there were so many talented artists, and indeed an entire comics industry, flourishing in the Philippines and no one made a bigger, or a more lasting impression on U.S. comic art than Alfredo Alcala."
Though he was intermittently busy throughout his time working on American comics, especially before Marvel abandoned its magazine line, it is no exaggeration to say that, for the rest of his life, Alfredo Alcala never found enough work in comics to keep him busy. Worse still, most of his freelancing involved inking or finishing other artists' work, a very frustrating comedown, in his mind, for a man who had once been among the great comic storytellers of his homeland.
In many cases, this involved embellishing some of the field's best illustrator, in particular, a long stint inking Batman, usually over the pencils of Gene Colan and the late Don Newton, amongst others and another on Swamp Thing, where he even inked John Ridgway, but he also sometimes found himself typed as an inker who could submerge, and therefore "save", a particularly poor pencil job. He was being asked to re-draw and fix things, but unable to draw the work from the start.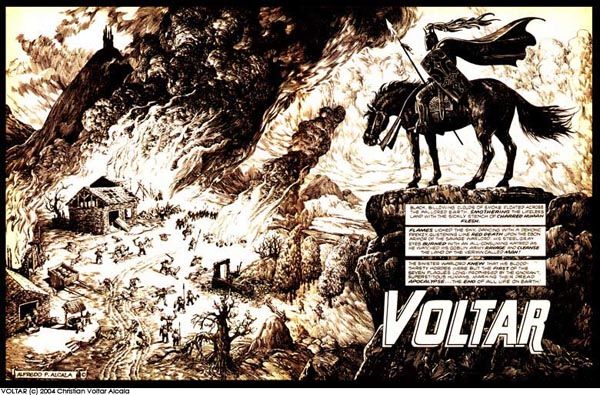 Voltar Spread - Pencils and Inks: Alfredo Alcala
Following his work for almost every publisher in the American comic book business from DC to Marvel to Dark Horse to Warren, he also began work from other sources, such as illustrating for the United States Army, film and television studios, toy companies, advertising agencies the list is almost endless. His work for many of the leading animation companies in Los Angeles included producing brilliant pre-production drawings for many animated features and TV animations.
He was picked to draw the Star Wars and Conan comic strips for newspaper syndication and later also illustrated Stan Lynde's classic Rick O'Shay comic strip when Stan left the strip. Alfredo's prolific brush could be seen in many comic books including Conan, Batman, Swamp Thing, Destroyer Duck, Man Thing, El Diablo, Star Wars, Kull the Destroyer, The Hulk, and Jack Kirby's classic book, Kamandi.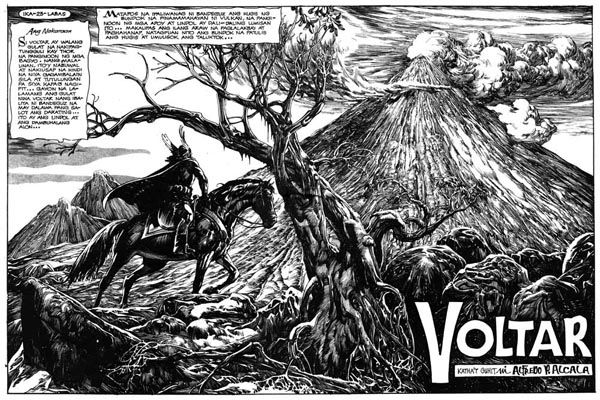 Voltar Spread - Pencils and Inks: Alfredo Alcala
He was also the artist picked to illustrate the history of the making of The Statue of Liberty for the centennial in a collector's edition book written by Henry Gibson and some years later, when Astronaut Pete Conrad was looking for someone to tell the story of the Apollo 12 mission to the Moon, it was again Alfredo who got the job.
When not illustrating comic book and animation projects, Alfredo was also a master painter and his oil paintings have been shown all over the world. His copy of a J.C. Leyendecker 1936 cover is truly magnificent with all the classic brush strokes just like the original and he was only working from a print. Other original composition, oil paintings came from his imagination and memories of a simpler life in the Philippines. His output throughout his career legendary in the field of comic books even had Alfredo at a genuine loss to confirm or deny some of the more outrageous tales of his speed and 'round-the-clock work habits.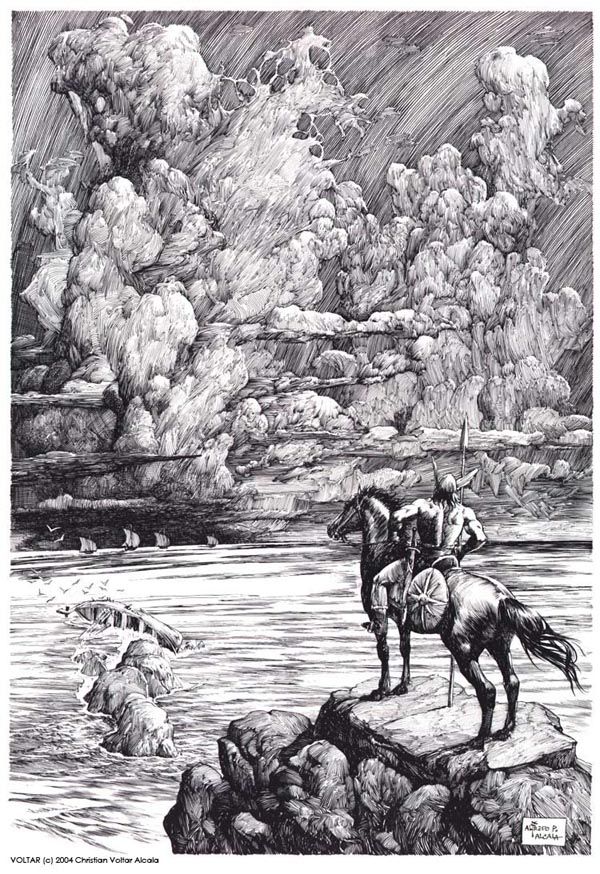 Voltar Splash Page - Pencils and Inks: Alfredo Alcala
His high productivity was probably down to a willingness to work for days straight, without sleep, and an unabashed love of drawing and not just his own drawing. Alfredo might have been looking to produce an enormous amount of work in the a short space of time, but if an aspiring artist dropped by his studio, in need of some artistic tips, he would take the time to help the student and make the deadline wait.
He was confident and inventive as well as very creative and over the years, he fashioned a series of fountain brushes, much like fountain pens, only brushes, which enabled him to draw without pausing to dip. Then, in the seventies, Pentel began to mass-produce an innovative plastic brush-pen, which contained different coloured dyes. He bought one, and drained the dye out of the shaft, successfully refilling it with India ink, but for the other artists, who tried it, even using Alfredo's own brush, they could not make it do what Alfredo did.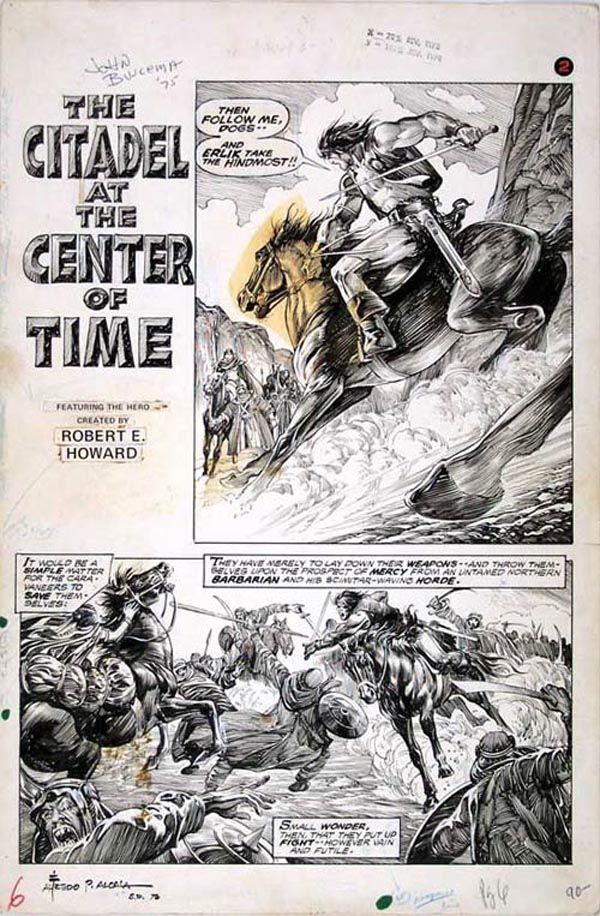 Savage Sword of Conan - Issue #7 - Page 6 - Pencils: John Buscema - Inks: Alfredo Alcala
When he heard Pentel was discontinuing the item, Alfredo attempted to stock up, raiding art supply shops and even phoning the manufacturer. Wherever he called, he told them what he was doing with them and they quickly told him it was scientifically impossible. "India Ink," they said, "will harden quickly and clog the barrel permanently."
That would have been true, had it been almost any other artist, again legend as it that Alfredo was something of a mad scientist of art supplies and that he calculated ways to thin the ink and looked at how to clean his implements and prevent blockages, then again with his prolific output it is likely that his fountain brush never stopped moving long enough for its contents to dry up. Throughout his career, he was a mainstay of California comic conventions, and a mentor to many local artists.
A true master of comic art, Alfredo P. Alcala sadly passed away on Saturday, April 8th 2000 he was seventy-four years old. This followed several years of ill health that had included several strokes and battles with the cancer, which eventually took his life. I was never able to meet the great artist himself, but have studied his artwork since I first saw it back in the early 1970's. His work has remained a big part of my life ever since. His beautifully rendered inks, whether on top of his own pencils or those of other artists never fail to astound me as to the level of his talent.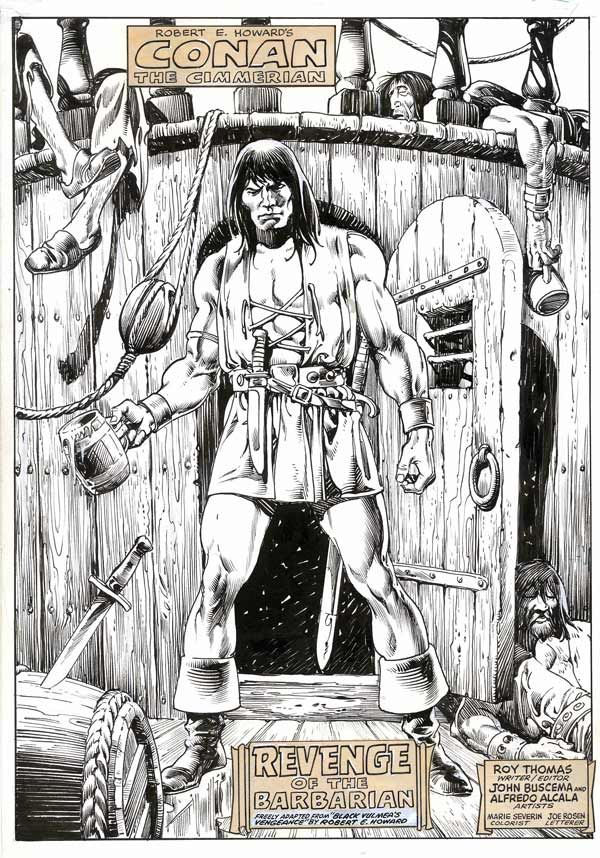 Marvel Super Special - The Savage Sword of Conan - Issue #2 Splash Page - Pencils: John Buscema - Inks: Alfredo Alcala
I am greatly indebted to both Gerry Alanguilan, who put me in touch with Alfredo's family and Alfredo's son Christian Voltar Alcala, who enthusiastically gave his permission to showcase his father's work here in my tribute to him.
As requested, please note ALL artwork here in Alfredo Alcala's Hall of Fame Section is Copyright Christian Voltar Alcala and as such, NO artwork can be reproduced in any manner, by either printed, digital, electronic, photographic, or other means.
I would like to say a very heartfelt, posthumous thank you to Alfredo for his inspiration all these years. I feel proud to be able to include him in my Hall of Fame.
His Fantastic Website can be found here: