Barry Windsor Smith
Barry Windsor Smith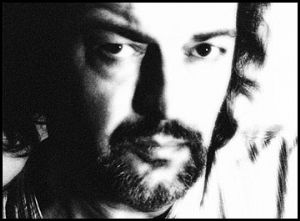 Barry Windsor-Smith has been creating incredible comics, art, and stories since his first published works in 1967. I was first introduced to his work in the October 1970's issue 1 of Conan the Barbarian, a character with who the name Barry Windsor-Smith would become synonymous, which my father brought home one day for me, after he had finished work.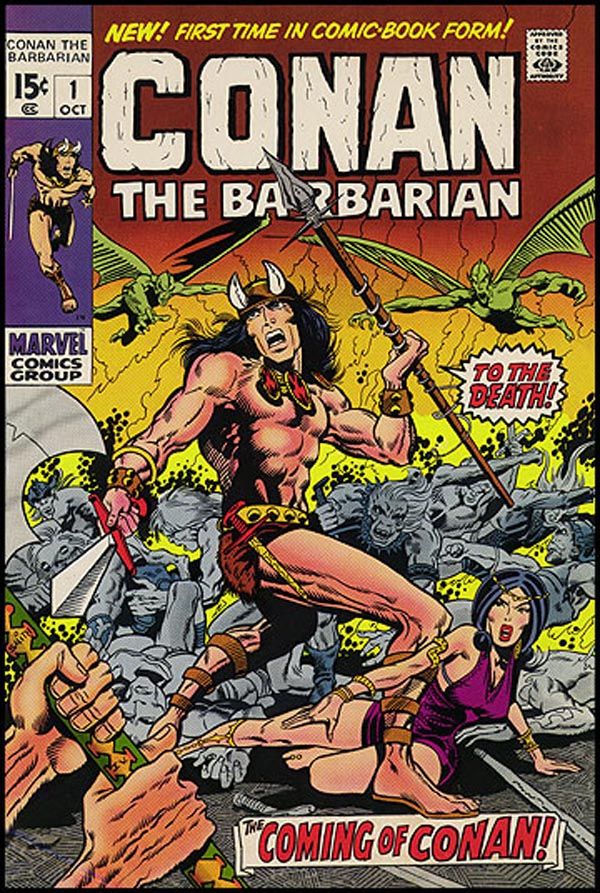 Conan the Barbarian - Issue #1 Cover - Pencils: Barry Windsor Smith - Inks: Dan Adkins
Although not his first work in comics, this work is where he gained international acclaim between the years 1970 to 1974, where he began to quickly develop a very sophisticated and intricate style, introducing elements with diverse artistic influences and graphic storytelling. His work began to show influences from artistic movements such as Art Nouveaux and the Pre-Raphaelites within the panels of his pages, something no other artist had ever done, up to this point.
Barry Windsor-Smith was born Barry Smith, in England, on May 25, 1949 in Forest Gate, a working class area in the East End of London and showed signs of artistic tendencies early on in life. Fortunately his parents' supported his education in the Arts, rather than pursuing a more practical trade. He attended art school for three years at East Ham Technical College, earning degrees in Industrial Design and Illustration, where he himself taught drawing at the school before he emigrated to the U.S. in 1971.
After college, Barry found work producing pinups of Marvel characters for British publisher Odhams Press, who were publishing black and white licensed reprints of Marvel comics in England. Still dreaming of working for Marvel Comics Barry sent off sample drawings of his comic work to Marvel in New York and following encouraging, but non-committal response from assistant to Marvel Publisher and writer Stan Lee, Linda Fite, Barry and his best friend and aspiring comics writer, Steve Parkhouse flew out to the U.S.A. during the summer of 1968.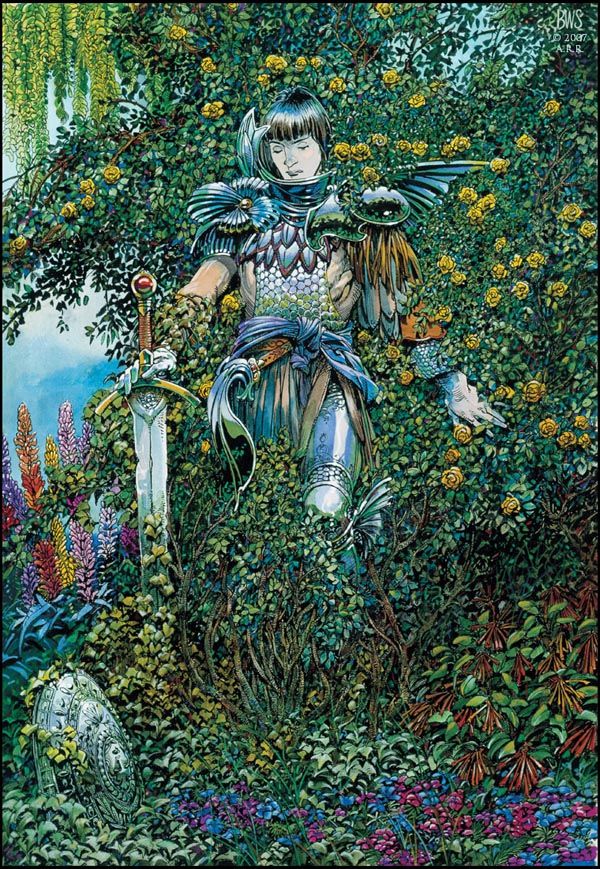 The Beguiling - Pencils, Inks and Colours: Barry Windsor Smith
Arriving at the Marvel offices Barry was offered work by Stan Lee, especially as the work was Kirby-esque, his first work being X-Men #53, on both the cover and the interior story. This was followed with a western short story, "Half Breed," and issue #12 of Nick Fury, Agent of S.H.I.E.L.D. both scripted by Steve Parkhouse.
With virtually no money, both Barry and Steve were eventually forced out of their hotel, and Barry actually drew much of X-Men #53, and the other earliest Marvel works while sitting on park benches. They managed to make a limited two-week visa stretch to become a five month stay in New York, but were sent back to England in December of 1968 by U.S. Immigration authorities.
By now, however, Barry had made inroads at Marvel, and continued to work for them across the Atlantic while trying to secure a Green Card to return to work in the U.S. and in 1970 he was offered the job as artist on a new sword and sorcery title for Marvel, Conan the Barbarian. Due to the fact this was an untried direction for Marvel it was decided that they could not employ one their top artists, commanding the top page rates, for a comic, which could possibly lose them money so Barry was hired instead. In 1971 he was finally given his Green Card and returned to the U.S.A. where, as well as the Conan comic, he worked on Daredevil, The Avengers, Dr. Strange, Iron Man and assorted horror stories for the Marvel monster books such as Tower of Shadows.
It was during the course of drawing twenty-two of the first two-dozen issues of Conan the Barbarian that Barry underwent a remarkable artistic evolution. Forsaking the inspiration of Jack Kirby, Barry developed a style of thoughtful dynamism and art and design entirely unknown to American comic books.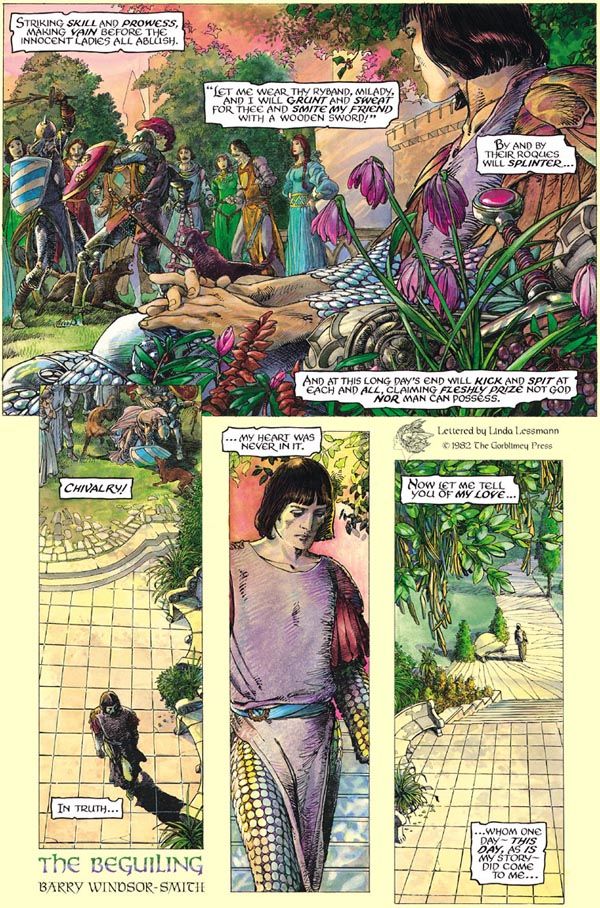 The Beguiling - Page 1 - Pencils, Inks and Colours: Barry Windsor Smith
He also took over more of the writing, largely un-credited, as his grasp of the craft of graphic storytelling progressed. His work on Conan made him a star in the comics field. In 1970 he won the Academy of Comic Book Arts award for Outstanding New Talent, and for Best Continuing Feature for Conan in both 1971 and 1972. His run on Conan the Barbarian culminated in the classic stories "The Song of Red Sonja" in issue # 24, with the story by Barry, and the adaptation, with script-writer Roy Thomas, of Robert E. Howard's "Red Nails," which appeared in the second and third issues of Marvel's black and white comics magazine Savage Tales in late 1973.
I had been looking at Barry's work all throughout his run on the Conan books, since my father had bought me the first issue, back in 1970 as an eleven year old and had immediately seen a difference in both style and pacing of his work and that of the other guys working on the other books at both Marvel and DC comics. It was during this time that my own primitive, as they were back then, artistic endeavours where switching from a Kirby-esque look to a somewhat more detailed approach, because of seeing Barry's work amongst a small group of like-minded artists.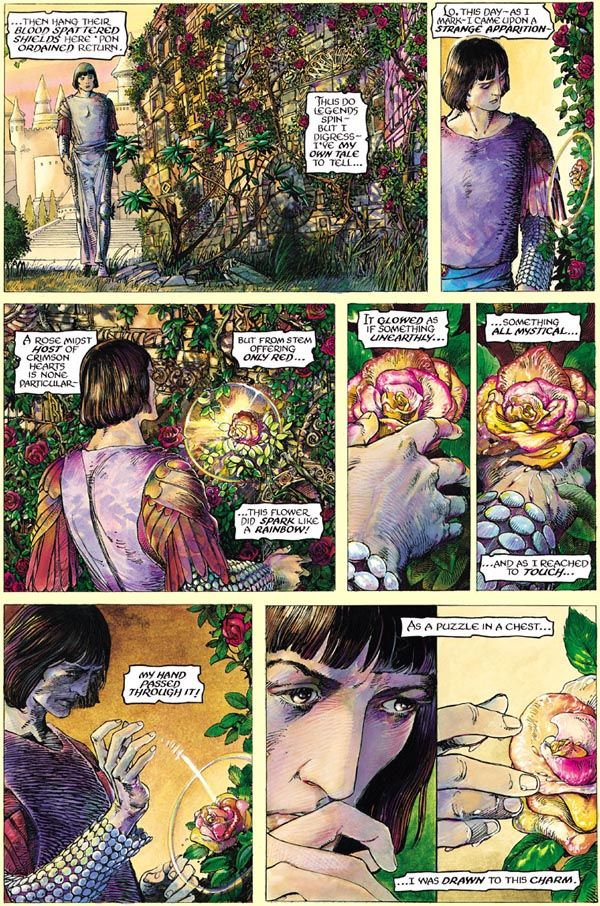 The Beguiling - Page 3 - Pencils, Inks and Colours: Barry Windsor Smith
It was the subtleties of his work that amazed me so much. Although his work still had the dynamics of the other comics, his work had something more. It had masses of body language and symbolism started to appear in the panels of the comics pages. On page 19 of the Conan the Barbarian comic issue #20 entitled "The Black Hound of Vengeance" the final page-width panel on that page shows Conan smashing the vision of his leering skull-faced reflection within a mirror. A great piece on it's own merit, but Barry then adds to this in the foreground to the right of the action with a small cupboard or chest of drawers on which lies a puppet, whose strings lie dangling off the edge of the wooden furniture.
Barry's artwork on these books was incredibly detailed and stood head and shoulders against all-comers at the time, as most other artists continued to give the readers action and dynamics, but in a typically comic book form, totally unlike his ultra detailed pen and ink work. It was also Barry's subtle interaction between characters that drew me to his work, as exemplified in the Conan stories. The scene in Red Nails, where we witness Conan alone with his travelling companion, Valeria atop a rocky outcrop speaking to her about their predicament, which most artists would merely have had them speaking to one another, not so Barry. He chooses to have Conan running his hands through Valeria's hair seductively smelling her perfumed locks.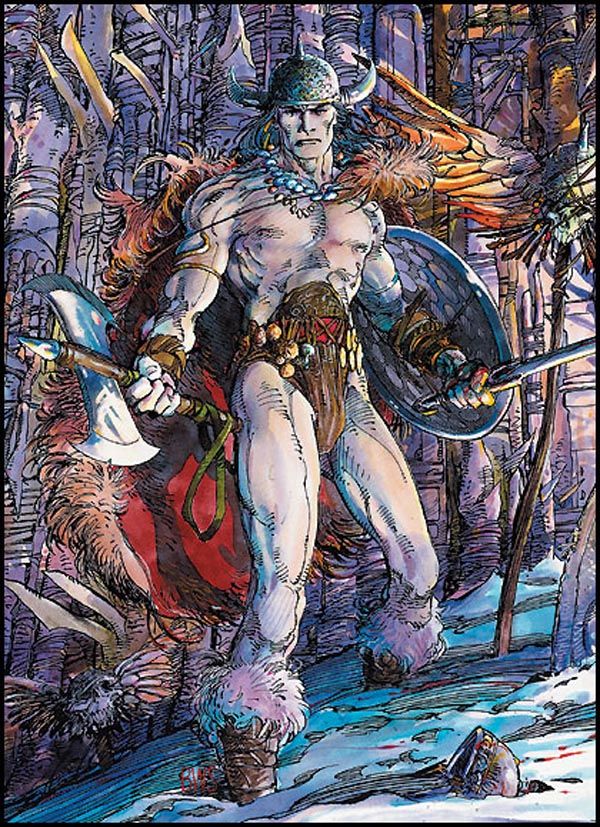 Conan Saga - Issue #1 Cover - Pencils, Inks and Colours: Barry Windsor Smith
When his characters fight there is blood splattered around. Even his dragons bear a resemblance to Dinosaurs, adding to the realism of the tales and not clichéd monsters. To my mind Barry's work outgrew the comics of the time and it was following his last work on Conan that he departed the halls of Marvel for pastures new and in 1974, at the peak of his popularity in comics, he chose to leave the field. Dissatisfied with the exploitation of creative talent by the comics industry, and also by a growing frustration with the artistic limitations of working in commercial comics he began exploring more personal avenues of expression, and shifted his artistic focus to the creation of single illustrations, founding his own company, The Gorblimey Press, to publish prints and graphic stories by himself and other artists.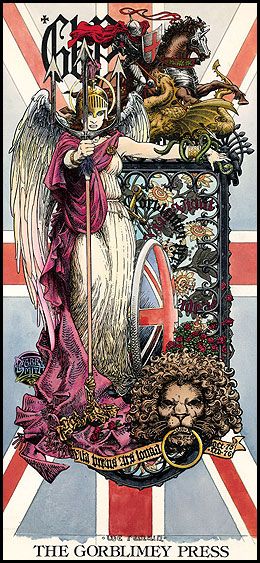 The Gorblimey Press Logo Crest - Design, Pencils, Inks and Colours: Barry Windsor Smith
New illustrations such as Pandora, The Enchantment, Whithering, The Devil's Lake, The Four Ages, Psyche, The Last Atlantean, Mitras and many others garnered a new audience for him, as well as many of the existing fans. Barry's illustrations during this period showed me what could be done with comics imagery in a single illustration format. The work was once again incredibly detailed and full of symbolism and caused the viewer to take time to look at the work, finding new things within the frame upon each visit. He continued to issue fine art prints through The Gorblimey Press until Liberomano, in 1993, and GbP, as it is abbreviated, still exists today as the artist's private publishing entity.
In early 1975 he and three other young artists, Michael Wm. Kaluta, Jeffrey Jones and Bernie Wrightson, shared studio space Manhattan. Each had become innovative stars in the field of comics, Windsor-Smith with Conan, Wrightson with Swamp Thing, Kaluta with The Shadow, and Jones, in more alternative comics circles, with Idyl. A now classic book about their collective, titled simply The Studio, was published in 1979 by Dragon's Dream, although by this time the four had moved off in different directions, and The Studio had ceased to be.
It was at this time as an art student at college, myself by now, that I began to play with the notion of sharing studio space, or perhaps setting up something with other artists. It also served to endorse the idea I had had, whilst in the sixth form at school of eventually having my own company. Looking at the collective works of the Studio inspired me beyond belief. Here was a group of like-minded comic artists who had grown beyond the confines of the four-colour page.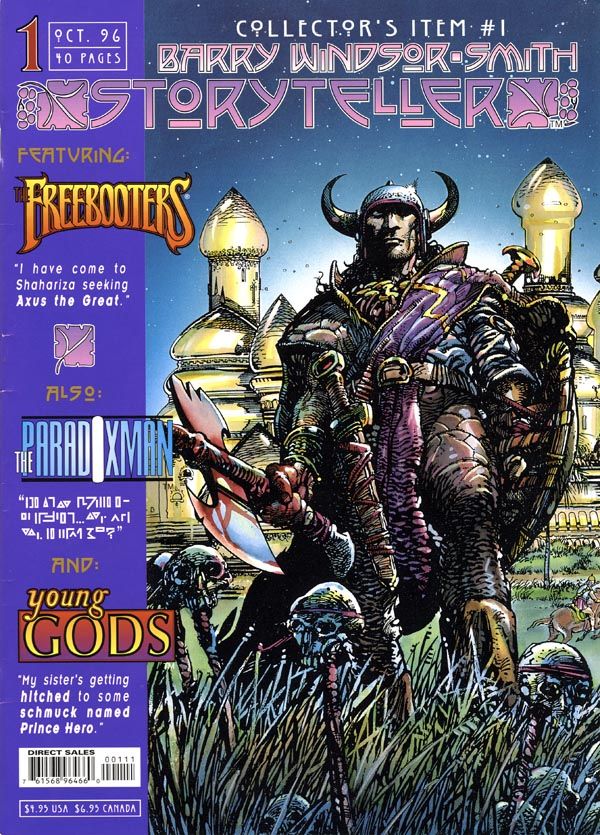 Barry Windsor Smith Storyteller - Issue #1 Cover - Pencils, Inks and Colours: Barry Windsor Smith
He began a major graphic work called "The Real Robin Hood". He had the idea of publishing graphic stories in addition to what he called "easel art" through The Gorblimey Press, but found creating both simultaneously to be too difficult to offer adequate service to either, so "The Real Robin Hood" was shelved.
Eventually he completed a new graphically told story, taking nearly a year to do so, it was the exquisitely rendered, "The Beguiling," for Marvel in 1983 in EPIC ILLUSTRATED #16 and it was not a piece of work produced for the money. Next came his story "Victory" in Machine Man #4 in 1984. Long-time friend Herb Trimpe, offered to have Barry ink the four issue limited series, which he was drawing at the time for Marvel, which would ease his comeback to comics. By the third issue he was not only inking Herb's pencils, but redoing some of his friend's layouts and drawings as well. By the fourth issue Barry was writing, drawing, inking and colouring the entire job.
In 1984 this was followed by "that night . . ." a wonderful, humorous story featuring the Fantastic Four's Ben Grimm, The Thing, and also covers and stories for The Uncanny X-Men (including two classic "LifeDeath" issues, and the Wolverine story "Wounded Wolf"), Kull the Conqueror, Daredevil, The New Mutants and Iron Man.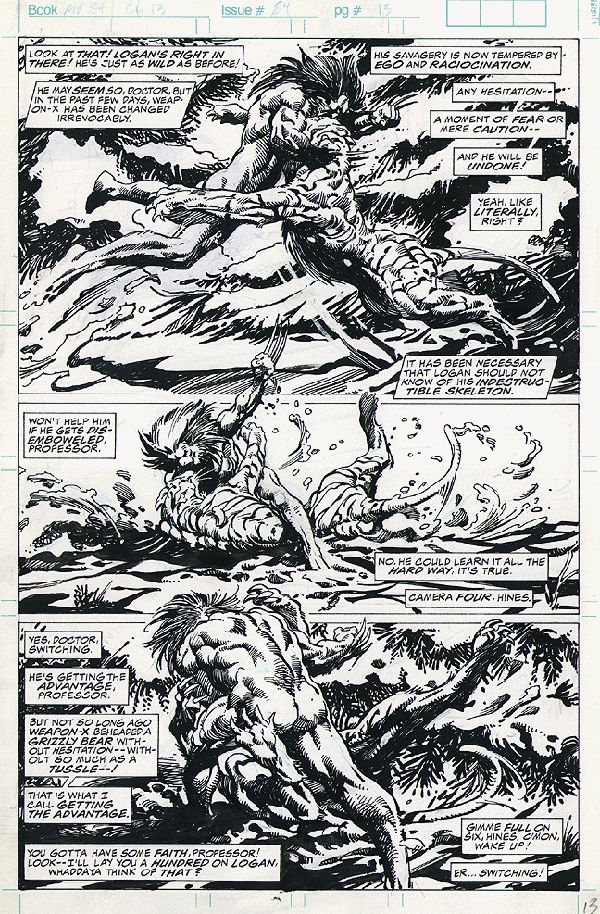 Weapon X - Page 109 - Pencils and Inks: Barry Windsor Smith
1987 saw him revisit Conan for the first time in over a decade, as he provided new, painted, full colour covers for nine Conan Saga magazines, featuring black and white reprints of his 1970s Conan stories. This was fantastic for me personally, as I had always loved his work on Conan and was a chance to see how the veteran comic artist would approach the subject this time around.
1991 saw him create Weapon X, a 120-page story, serialised in issues #72 through #84 of Marvel Comics Presents, offering his own original concept of the origin of Wolverine. Barry conceived, wrote, drew, inked and coloured the entire story.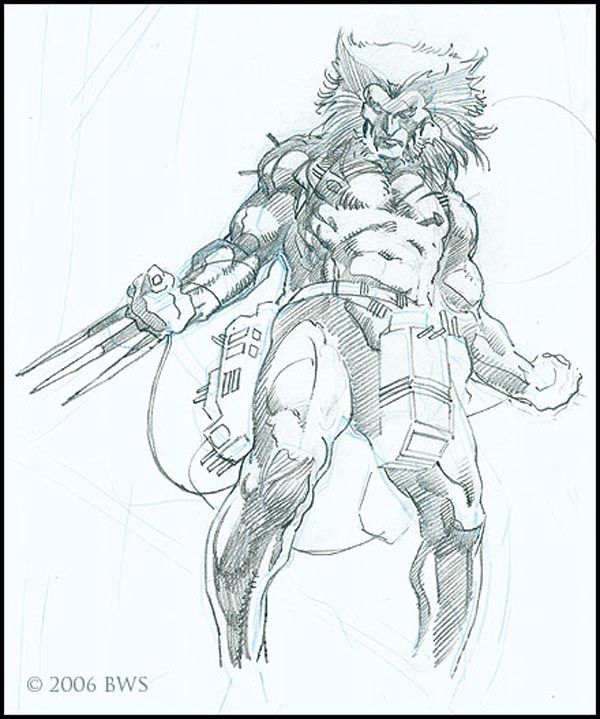 Weapon X Alternate Cover - Pencils: Barry Windsor Smith
In late 1991, he was approached to act as creative director and lead artist at Valiant Comics, a start-up publisher, founded by former Marvel Comics editor-in-chief Jim Shooter, who had licensed a few dormant characters from 1960s and 70s publisher Gold Key Comics. Valiant became a phenomenon and due to this success Barry was offered the presidency of Valiant in 1992, after publisher Steve Massarsky and senior vice president Bob Layton fired company founder and editor in chief Jim Shooter, an action, which Barry did not endorse.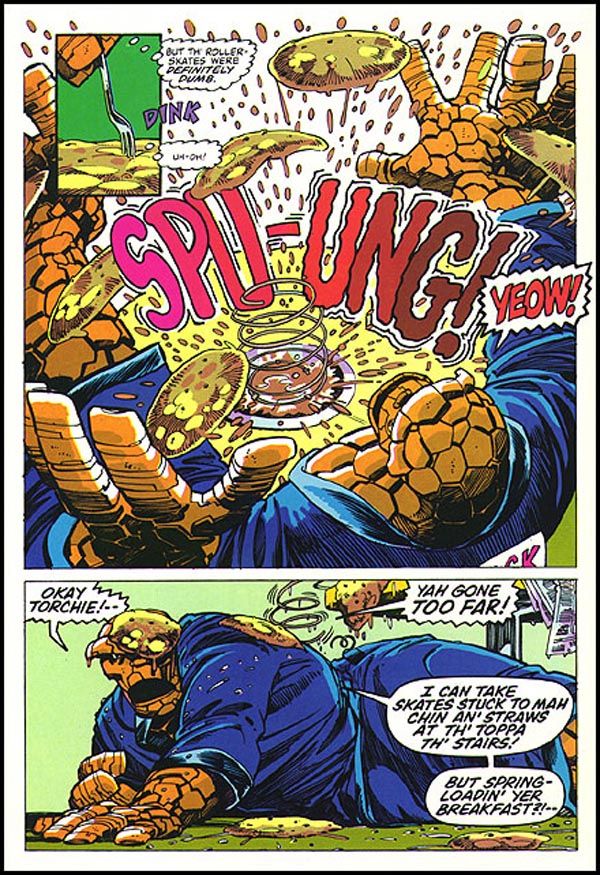 The Thing - Marvel Fanfare Issue #15 - Pencils, Inks and Colours: Barry Windsor Smith
By 1993 Barry, having just left Valiant, once again found himself headhunted by fledgling company, Malibu. Here he helped with the creation and development, with Chris Ulm, of the extraterrestrial energy vampire called RUNE. In 1995 He wrote, drew and coloured his first Conan story since 1973's "Red Nails" for a special one-shot comic titled CONAN vs. RUNE #1. It was published by Marvel, who had bought RUNE publisher Malibu Comics in 1994, primarily to acquire its state-of-the-art computer colouring department.
1995 saw Image approach him for a special crossover event called "WildStorm Rising." He drew and colour designed the complete premiere issue WildStorm Rising #1 and drew and colour edited all 11 covers, including a four panel gatefold cover for WildStorm Rising #2, which saw him consequently working on other comics for the company.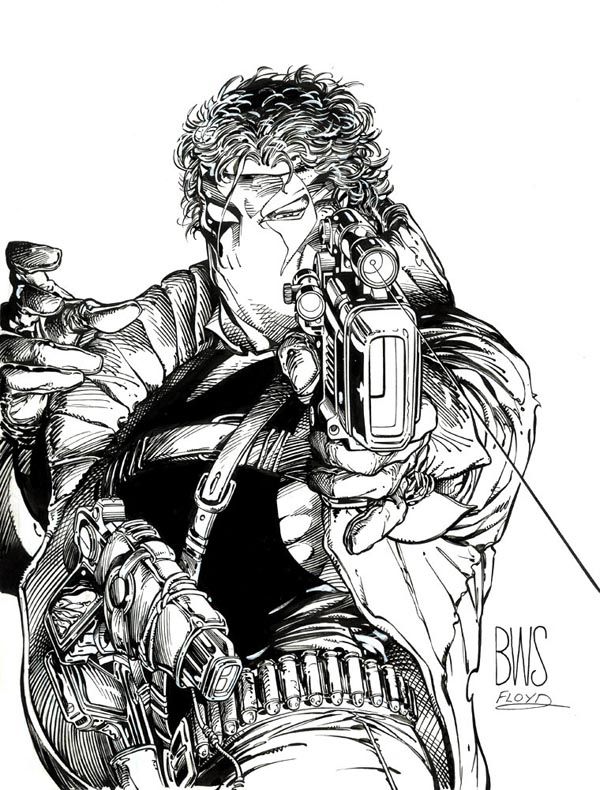 The Grifter - Issue#1 Cover - Pencils, Inks and Colour Design: Barry Windsor Smith - Inks Assist: John Floyd
In late 1995 the, by now, very accomplished artist and writer began working on ideas for several original, creator-owned series, and formulated a plan to publish three of these titles - The FREEBOOTERS, Young GODS and The PARADOXMAN in serialised instalments in a monthly omnibus comics magazine to be called Barry Windsor Smith: STORYTELLER. His goal for STORYTELLER was to create comics that would appeal to a sophisticated adult audience. The writing and graphic storytelling on the new series were characterised by a naturalistic, organic flow of dialog and pacing, reflecting all that he had learned over the span of his career, up to this point. He was also determined to make the new magazine physically distinctive by making it noticeably larger than the usual size of comic books.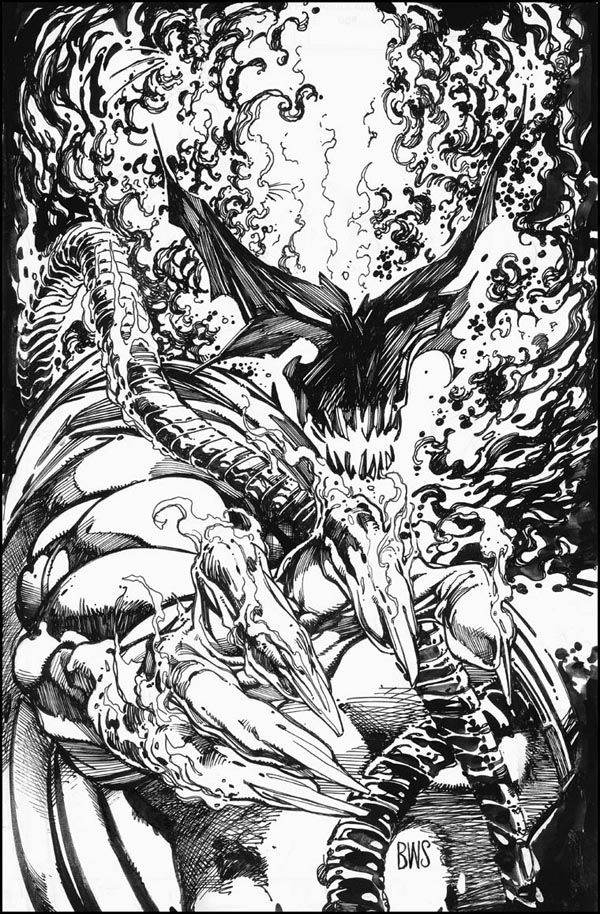 WildStorm Rising Part 9 StormWatch - Issue #22 Cover - Pencils, Inks and Colour Design: Barry Windsor Smith
There are various explanations given for the book's demise, that of the fans unable to find adequate space to fit it alongside their collections of all the other comics, due to the difference in size, something I feel is true as a large part of comic fandom do think like this, but I do not think that this is the sole cause for the cancellation of the book. I am more inclined to agree with Barry's view that it was the almost total lack of advertising, marketing and promotion of the book that was its eventual downfall.
In 1999 BWS:OPUS, a series of fantastically produced books collecting his paintings and drawings from over thirty years was published. The Opus books like most of Barry's work grace my bookshelves here in my UK studio, alongside such works as his Studio, Adastra in Africa, Storyteller and Conan Collections. The two Opus books contain both a great selection of the best of Barry's artwork and also some incredible reading material.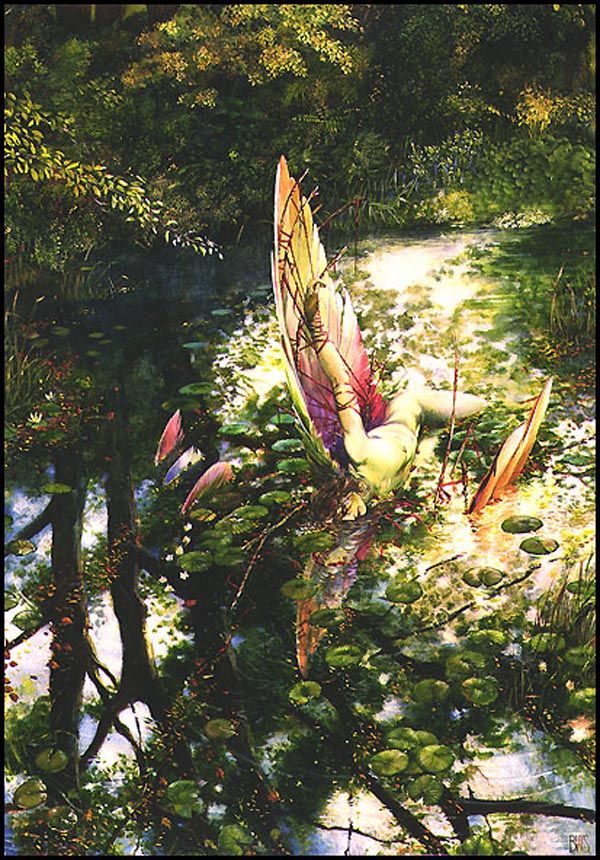 Icarus - Oils: Barry Windsor Smith - 1981
I have only met Barry once at a UKCAC convention, back in the late eighties, in London, where we chatted very briefly before being introduced to the fans at the early Saturday launch to the convention and on the Sunday when he very graciously agreed to sign my issue one of Conan the Barbarian for me, but both times I saw a very astute and articulate, passionate, highly creative individual, whose work has inspired my own for over three decades. I hope to meet him one day soon for a longer discussion on our shared passions.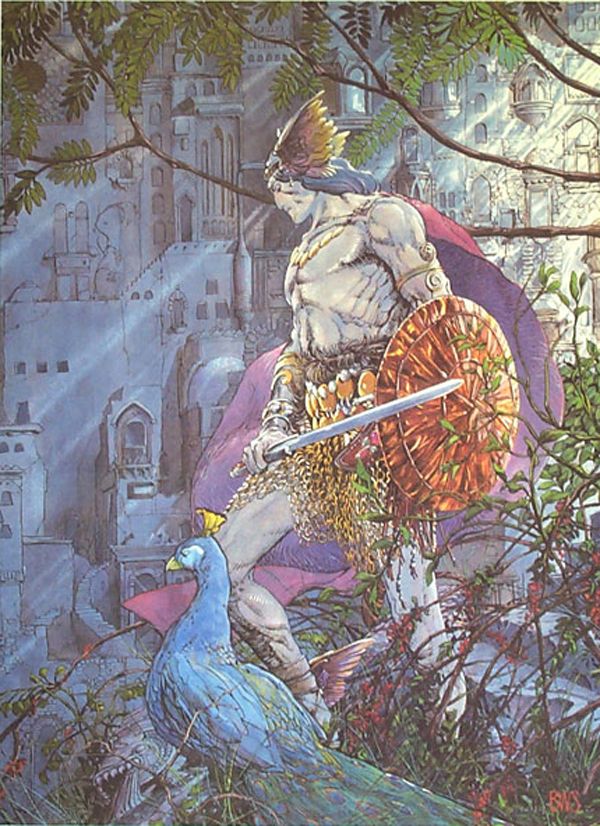 The Last Atlantean - Pencils, Inks and Painted Watercolours: Barry Windsor Smith
I would like to say a very heartfelt thank you to Barry for both his inspiration and also his agreeing to be one of the first to come aboard as a part of my Hall of Fame earlier last year in February 2007.
His Fantastic Website can be found here: