Dave Pugh
David Pugh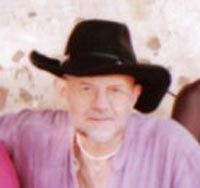 David Pugh attended Art College at Brighton and Kingston upon Thames. On leaving he joined the American company, PIER 1 IMPORTS as their company artist and photographer working with the London based advertising agency BROCKIE, HASLAM AND ALLEN.
After two years of doing this he returned to Wales to work for the THOMSON ORGANISATION as a visualiser in various advertising and promotional departments.
Boy on the Ceiling - 3D Artwork: David Pugh
He started doing freelance work in the field of comic books in 1977 and also became design consultant for HOLIDAY WORLD INTERNATIONAL and OBERLAND HOLIDAYS.

Warhammer - Digital Paint Artwork: David Pugh
He went fully freelance in 1984 as mainly a comic strip artist, drawing the Pat Mills written adventure strip, SLAINE in 2000AD. He then became one of the top artists in Boys' Adventure comics for FLEETWAY (now EGMONT PRESS) eventually drawing DAN DARE in the EAGLE. He has created many adventure books featuring DISNEY and SEGA characters, illustrated a series of educational books for BELITHA PRESS and produced work for children's book publishers, Lady Bird books.
Eagle Comic - Close Up Detail of Dan Dare Cover - Dog Star - Pencils, Inks and Colours: David Pugh
In the U.S.A. he has worked for AC COMICS and BIG ENTERTAINMENT, where he worked on Tekno comics' Phage Shadowdeath, written by Bryan Talbot. Until recently he wrote and drew a regular sci-fi strip and did many space ship designs for GAMES WORKSHOP. OBVIOUS TACTICS the graphic novel for Games Workshop is now in it's second edition.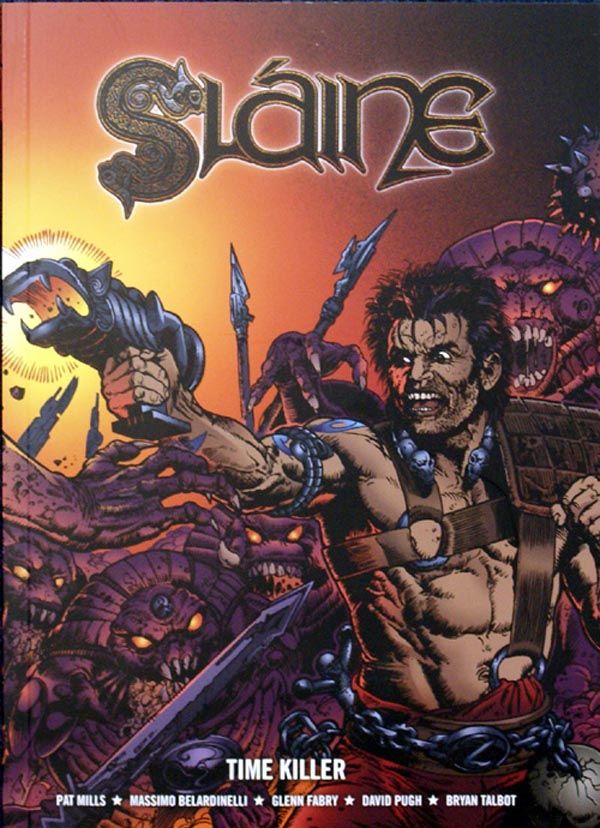 Slaine - Cover - Pencils Inks and Digital Color: David Pugh
He is currently providing the colour and 3D computer effects for the football strip in THE DAILY MIRROR. Recently he has been commissioned to work on several 3D projects including a campaign for RENAULT cars.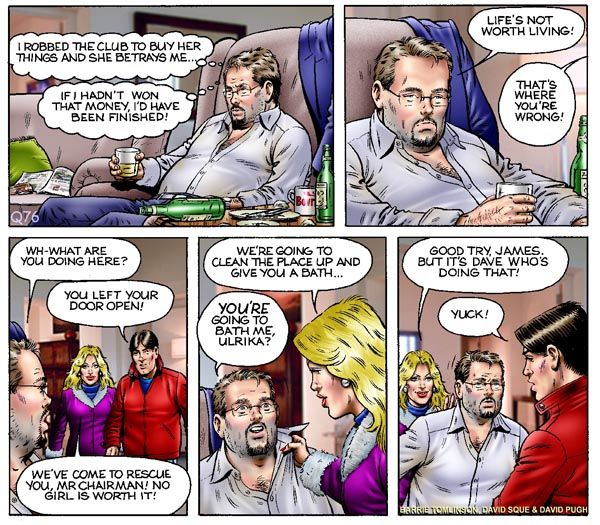 Scorer - Digital Colours: David Pugh
I first met Dave, at a UKCAC comic convention in London back in the late nineteen nineties, although I had been looking at his work in comics for a number of years previous to this. Having worked as the inker on the Phage Shadowdeath project for Tekno comics back in 1996 I have seen the quality of Dave's artwork.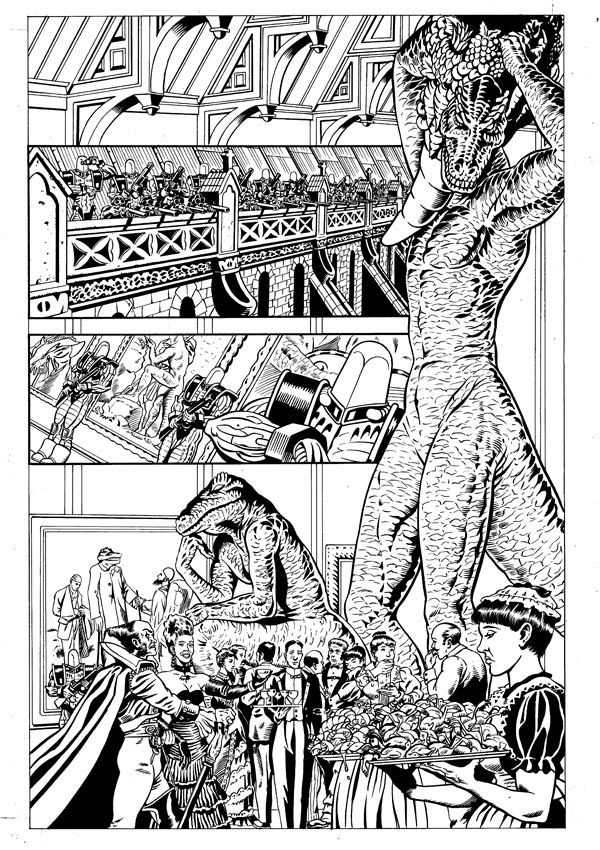 Phage Shadowdeath - Issue #1 - Page 14 - Pencils: David Pugh - Inks Tim Perkins
This is not news to Dave as I have told him several times, both during our time working together on the project and since then, I have had the privilege of working with a lot of very talented individuals producing all aspects of the production of comic art, be it pencils, inks, colours, lettering and I have to say that Dave's work contains the best draughtsmanship of everything I have ever worked on. Nowadays with digital production values an inker would not be required to embellish the art and prepare it for print, the publisher would simply use the pencilled artwork.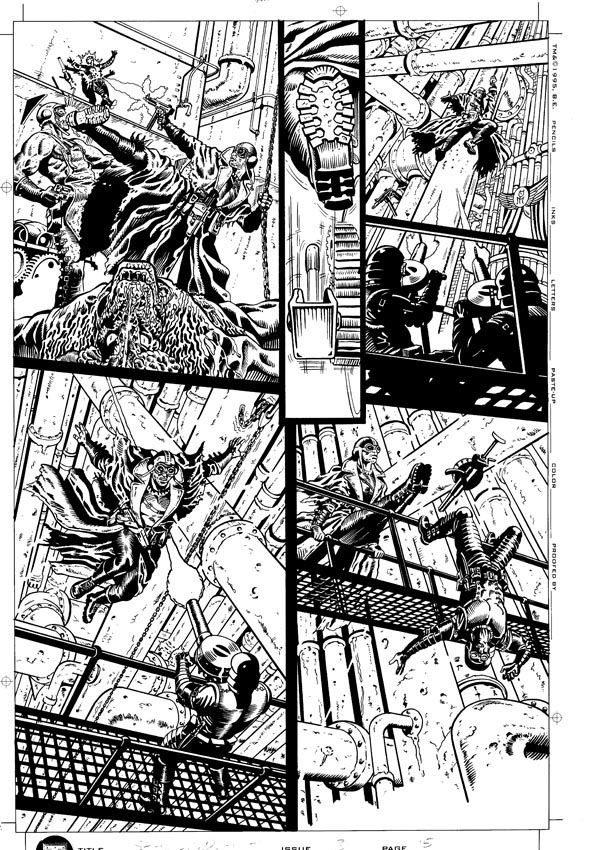 Phage Shadowdeath - Issue #3 - Page 15 - Pencils: David Pugh - Inks Tim Perkins
The only thing looking at the inker when working on Dave's stuff is the fact it is literally all there, down to the last hair or rivet and there is little you can do to improve the work as it is all done for you. His pencil work is the finest I have ever worked on and the most detailed too. To my mind, David Pugh is a very undervalued artist and anyone wanting to look at rendering realistically need look no further then his work on Phage Shadwdeath.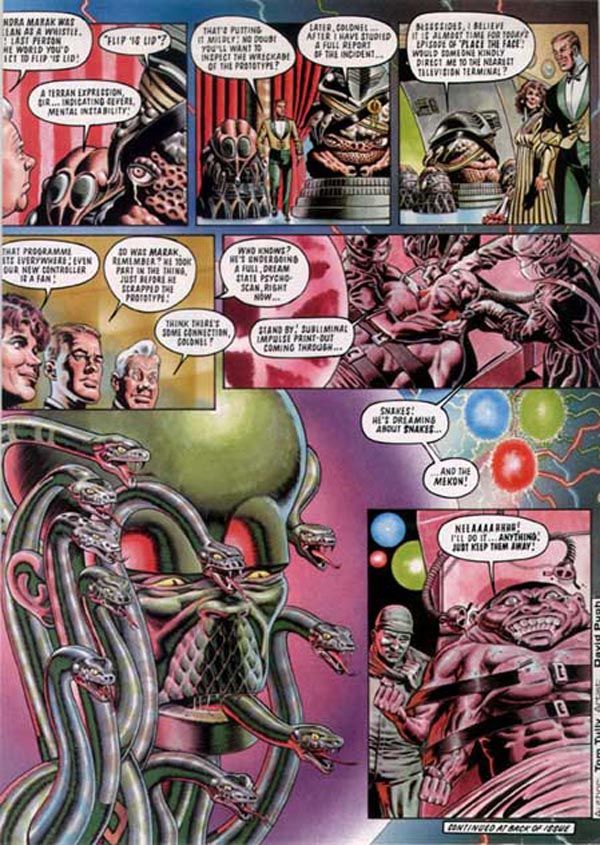 Eagle Comic - Dan Dare - Pencils, Inks and Colours: David Pugh
I would like to say a very heartfelt thank you to David for both his inspiration, especially whilst working with him and also his agreeing to be one of the first to come aboard as a part of my Hall of Fame earlier last year in February 2007.
His Fantastic Website can be found here: