David Lloyd
David Lloyd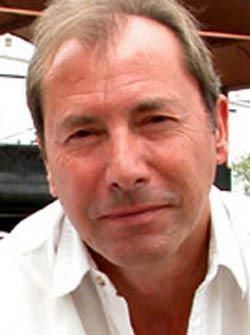 David Lloyd was born in Enfield, North London, in 1950. He trained as a commercial artist in an advertising art studio before becoming a strip cartoonist in 1977. The studio he trained at was a perfect place to learn how to appeal to comic readers, because the artists were taught how to draw stuff in a way that would make people want to buy it. However, almost all of it was still life work - toasters, desk lamps, and tea sets.
David taught himself how to draw people, and how to draw strips. The only how-to books on strips he had were a Walter Foster book, which he liked as much for it's large-size format, as for what it contained, and a little Charlton tips-n-tricks book. For figure drawing, one of the best books he ever had was ' People in Action ' by Nigel Lambourne - it emphasised the necessity to initiate a drawing first from rough lines of energy, which could be moderated at completion. He just found that he loved strips and wanted to draw them whenever he could.
He practised endlessly and he loved it. He Drew great epics in line and wash that no one was ever meant to see. They were his stories, just for him. Like painting for fun, he drew strips for fun. He even drew them in the lunch hour at the studio, and when things were slack.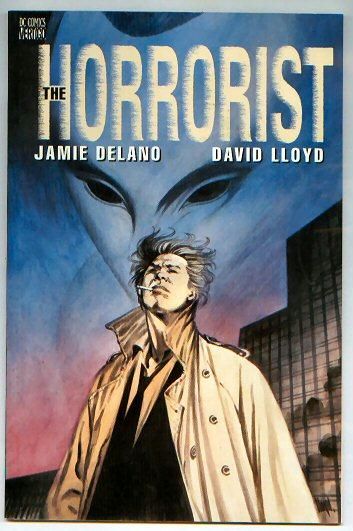 The Horrorist Cover - Artwork: David Lloyd
When he left the studio, it was on the tissue-thin promise of being able to sell some newspaper strip concepts that he had come up with, to a European syndication agency. Sadly it didn't happen, and it's just as well it didn't in the long run, because in his words he still had a lot of very rough edges as an artist that he desperately needed to smooth out.
He ended up doing non-art-related part-time jobs for some time, while he attempted to get freelance work doing book covers, children's book illustration, posters, and greeting cards. Comic strip work was not his first choice to aim for at that time, for reasons he has yet to fully understand. He did a number of greetings cards, but most of his samples leaned a bit too much towards the dramatic, and he had to be guided towards evoking a lighter feel for things. His heart definitely wasn't in it. It was an unstable existence, work-wise, but he was determined never to go back to a 9 to 5 job in art, again. He liked being his own boss, even if he wasn't paying himself much money!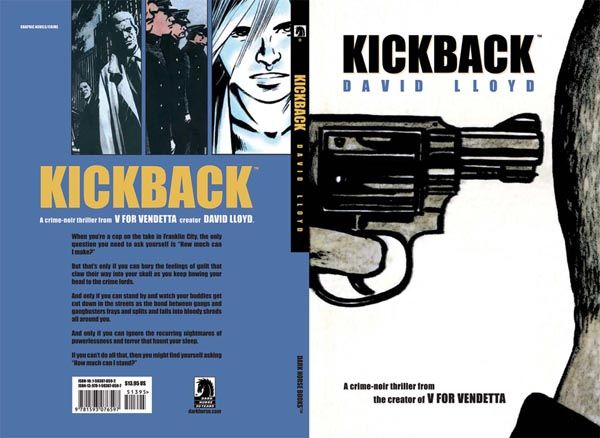 KICKBACK - Cover - Story and Artwork: David Lloyd
His big break was a commission to illustrate a book of stories and strips from the Logan's Run television show. He later worked with Marvel Comics UK, where he drew the pulp adventure series Night Raven, and a range of stories featuring the many villains of Dr. Who.
It was here with Night Raven, that I first began to see his work. Right away I saw that his artwork showed mood, emotion and atmosphere, rather than just the more common dynamic that was commonly used to tell stories. Like Barry Windsor-Smith in the states, David was giving us a lot more characterisation and thought provoking body language for our money. As an aspiring artist at the time, preparing to show my portfolio of work to prospective publishers, I was looking at this and I saw different pacing and camera angle techniques being employed in his artwork.
KICKBACK - Page 17 - Story and Artwork: David Lloyd
His spotting of blacks within the black and white format was also quite different and would be even more evident by the time I saw his work in Dez Skinn's Warrior magazine in 1980.
In 1980 he began collaborating with Alan Moore on the series V For Vendetta, which became the mainstay of the British monthly, Warrior. The magazine folded however before the story could be completed. Luckily for his fans the series was reprinted and completed by DC Comics in 1988, this time in colour, and then published as a graphic novel in 1990. Highly successful and critically acclaimed, V for Vendetta has been published in many countries across the globe and adapted for the cinema in the highly successful film adaptation.
It was during the mid-eighties that I was first introduced to David at one of the UKCAC comic Conventions in London. Then began a regular meet up and meal session, usually on the Saturday evening of the conventions, along with a handful of other artists and writers. David is a very warm hearted, articulate and passionate artist. In a field full of egos he, like my good friends John Ridgway and Bryan Talbot stands out from the crowd because of his down to earth, realistic approach to his work.
His storytelling shows what a true master of the art form he really is. True humanity is always evident within his work and as a writer as well he successfully transcends the norm of comic book production. No short cuts for him, but always great, clear storytelling at its best.
David has also worked on Hellblazer, Slaine, War Stories, Global Frequency, Aliens, Marlowe: The Graphic Novel, Night Raven: House of Cards, and many short stories of various kinds for a variety of publishers. Wherever his work is seen it stands out from the crowd with its distinct style and techniques.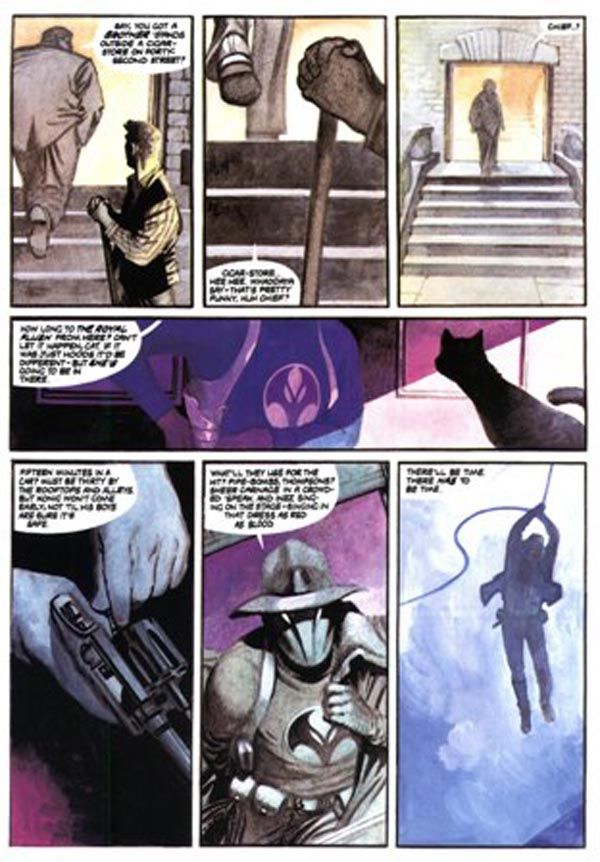 Night Raven - Artwork: David Lloyd
His latest work is the masterfully told, beautifully rendered, full colour, 96-page crime-noir thriller Kickback. My Dad was instrumental in getting me interested in comics in the first place and he recently returned Kickback to me, as I had lent it him to read. In his words, "that's how to tell great stories". David's work obviously transcends the generational gaps as well.
When asked about some of his artistic influences he cites foremost, Turner. It was when he was given a book one Christmas entitled, The Observers Book of Painting, which had reproductions of the great masters that he first encountered the artist's work. One of them was Turner's "Ulysses Deriding Polyphemus", which he managed to get a good print of, and, which remained on his bedroom wall for years. It was the atmosphere made from light that impressed him most with Turner - and Rembrandt, he feels, was on the same team. Then Millais for his extraordinary photo-realist work allied to amazing lighting effects.
In comic books there is Geoff Campion, who drew "Texas Jack" in one the English weeklies. Steve Dowling, who created the newspaper strip "Garth", the first British superhero, not Marvelman. Giles, who was an English political cartoonist, whose work was an extraordinary blend of the realistic and the cartoony. George Woodbridge and Jack Davis, whose artwork of daffy dogs and gunfighters, he loved so much that he did tracings of them and hung them on the wall.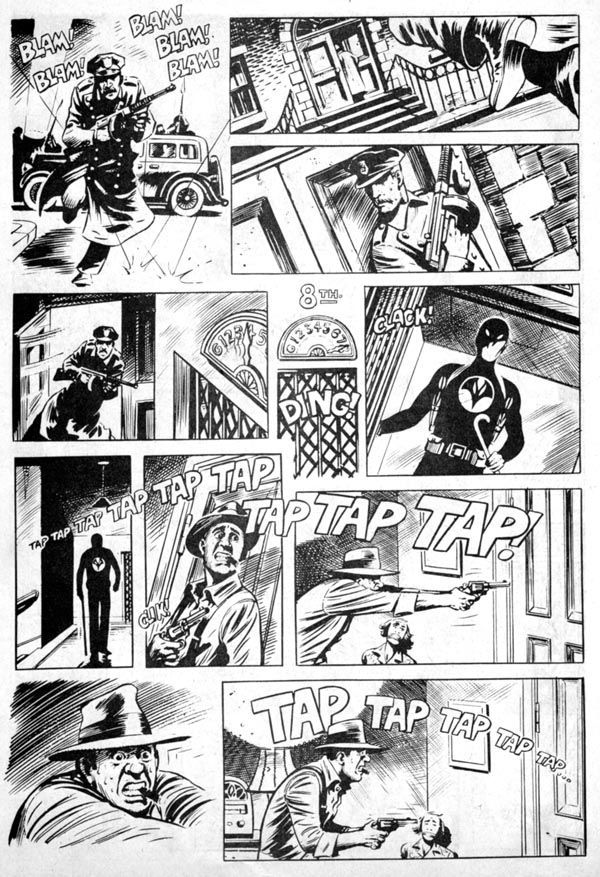 Night Raven - Pencils and Inks: David Lloyd
Other influences came in the form of the little, black and white reprints of US comic book stories, packaged in the UK under such titles as, "Mystic" and "Spellbound". Then there are films such as "The 7th Voyage of Sinbad".
Other creative people, that include writers and filmmakers, as well as artists that have influenced him are: Wally Wood, Orson Welles, H.G.Wells, Ray Harryhausen. Ron Embleton, Rod Serling, Ian Fleming, Mickey Spillane, Robert McGinnis, Josh Kirby, who painted covers for a series of SF paperbacks, some time before he did the Terry Pratchett books, including some for, Ray Bradbury.
Others include: Richard Matheson, Robert Bloch, Robert Sheckley, H.P.Lovecraft, Don Medford, Don Siegel, Alfred Hitchcock, Boris Sagal, Terence Fisher, Ron Cobb, Basil Gogos, Famous Monsters of Filmland, Frank Frazetta, John Burns, Steve Ditko, Jack Kirby, Frank Bellamy, Al Williamson, the EC crowd, Tony Weare, the early Warren comics crowd, like: Gray Morrow, Toth, Torres, Jim Steranko.
Steve Ditko astounded him with his work on Amazing Adult Fantasy, which was the most consistently powerful, individualistic and atmospheric comic book work he had seen to that date. He tried to draw like Ditko and tried to draw folds in clothing like he did, but couldn't because he knew practically nothing about the way people were put together at that time.
At around the same period, he saw the work of the great English strip illustrator, Ron Embleton, on the first series of "Wrath of the Gods", a centre spread in a beautifully printed comic called Boy's World, in which the use of black shadow, expert pen work, and rich colours, collaborated with faultless draughtsmanship, to produce the single most impressive piece of work he has ever seen in this area of craft.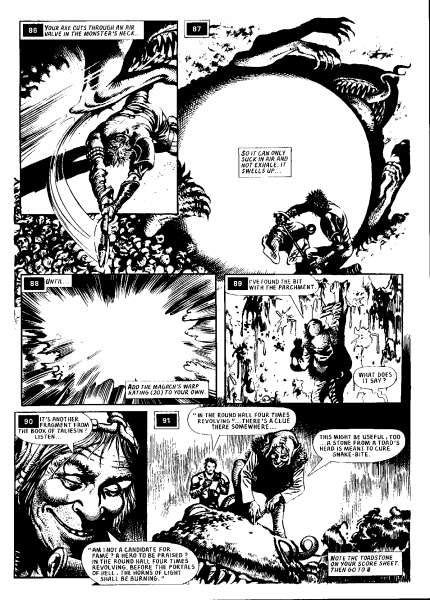 Slaine - Pencils and Inks: David Lloyd
Next The Amazing Spiderman appeared, closely followed by the Fantastic Four drawn and written by the legendary team of Kirby/Lee, those fantastic, overblown, revolutionary, soap opera-style epics that had to be tracked down issue by issue through the various stores in his neighbourhood. There was unreliable distribution of US comic books at that time in England, there were none of the comic shops that we see today, back then. Then Dr Strange appeared in a comic called Strange Tales, again drawn by Ditko and again making an impact with David.
Then another set of comics arrived on the scene for David, containing the work of the EC guys, which were re-printed through Ballantine books. Inside these Al Feldstein's work looked like he cut it out of pieces of wood, but it was extraordinary.
Then there were the early Warren magazines, which were even better, even bigger, and there was more of it. Inside these comic magazines was the work of giants in the field like: Frank Frazetta, who painted the unbelievable covers, especially for the Blazing Combat magazine. Then there was Gray Morrow on "The Long View", Reed Crandall, and Alex Toth. It was a case of too much, but not enough, never enough.
Then one day, when he was at the studio, he saw a newspaper strip called "The Seekers", which was drawn by a guy called John Burns. He thought the artist was American, because he didn't think an English artist could draw in such a smooth, cool way, just like Alex Raymond, but with more realism. He took risks, which worked, he drew water solid black, and minimalised it into a design element. He was totally in control, a true master. Tony Weare was another drawing a newspaper western strip called "Matt Marriott", which was all done with one brush, it seemed, and looked lazy but wasn't, and largely depended on shadow for delineation of figures and objects.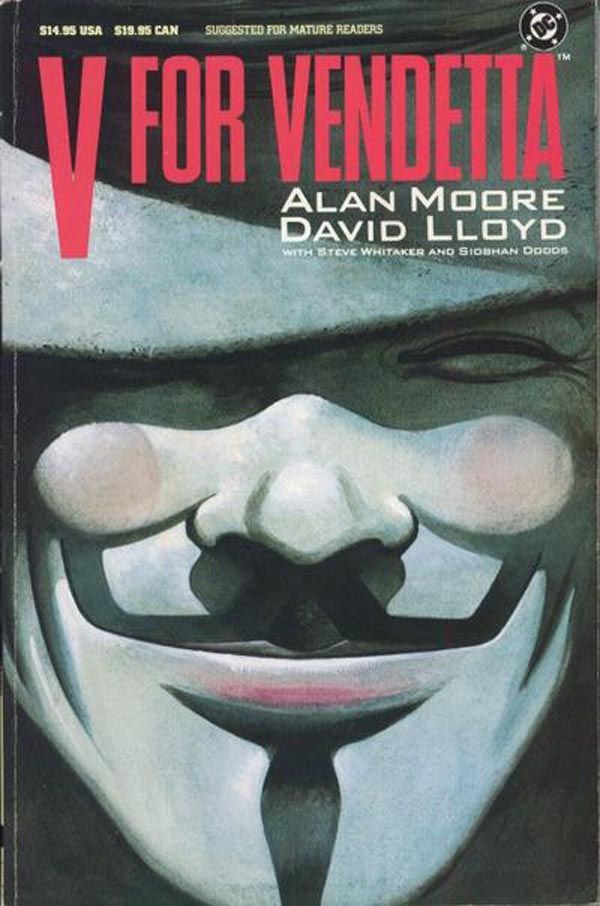 V for Vendetta - Graphic Novel - Cover - Artwork: David Lloyd
So in David's own words it was all of the above, and more, which he could list, which helped him to pursue a career in comics.
It is a pleasure to know David and his kind words and encouragement along the way have inspired me over the years I have known him. It is always great to hear from him and his time spent with encouraging and inspiring new artists entering the field show his unlimited enthusiasm for graphic storytelling.
I would like to say a very heartfelt thank you to David for both his inspiration and also his agreeing to be one of the first to come aboard as a part of my Hall of Fame earlier last year in February 2007.
His Fantastic Website can be found here: