John Ridgway
John Ridgway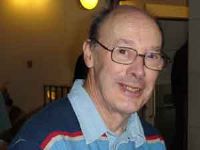 It is a great honour and a privilege to have John, my first Guest Artist here on the Wizards Keep website, now enter the Hall of Fame.
John the Man:
I first met John, when I attended an early eighties Comic Convention in Birmingham, with my wife Margaret.
He was then as he is now a true gentleman. He took the time out to peruse my portfolio that I was hawking about trying to break into the comic book business. I had already seen John's work gracing the pages of Dez Skinn's Warrior magazine and Marvel UK's Transformers comic.
I was now able to see some of John's original work. It was beautifully rendered artwork. I spoke briefly with John, who, as already stated, was a gentleman and after he had kindly looked at my portfolio of work and given me a critique of my work, wished me good luck and told me to keep on trying to break into the comics business.
I followed John's career as he moved onto the Dr Who magazine for Marvel UK. It was during this period of time that I made my first tentative steps and broke into the comic business.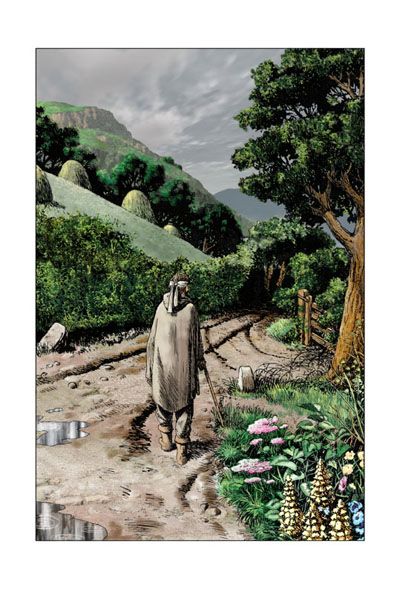 John Ridgway art for Age of Heroes
Working with John:
I received a phone call from the guys down at the Marvel UK offices asking if I would be up for another assignment from them? It was to work on Dr Who…inking John Ridgway. I was so excited, but at the same time, more then a little intimidated by the prospect of working with one of my heroes. Now I am not sure whether I was ready for this or not, but I was given the green light. John was brilliant with me during this time and I learnt a lot from him. Over the years John and I have become great friends and John has helped me out more times than I care to remember. He has always been my harshest critic, although only in the most positive of senses, and I have learned immensely from this. My thanks go out to John a true gentleman and friend.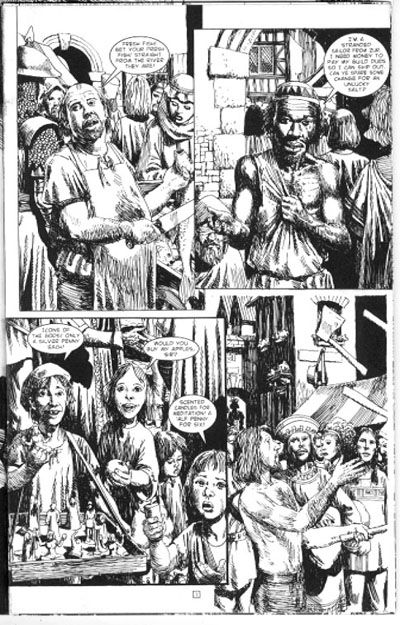 John Ridgway Art for Age of Heroes
John the Artist:
John has always been to my mind a quiet and unassuming man. He is totally committed and professional to the N'th degree. He is passionate about his work and the business in general.
I have always placed him somewhere between Al Williamson, Hal Foster, Frank Hampson, Frank Frazetta, Roy Krenkel, Sydney Jordan and Joseph Clement Coll, so as you can see the guy is a superlative artist.
John started off life as an engineering draftsman, this is self evident in his machines, buildings and craft that he draws... In John's worlds, you know the things would work...because he tells me what parts are housed where!
He began his career in comics, working firstly at nights and weekends, freelancing for Commando comics. He then began to produce some of the most beautifully rendered pieces of artwork I had ever seen, for Warrior, which in turn, lead to all the work that fans of his are most familiar with nowadays.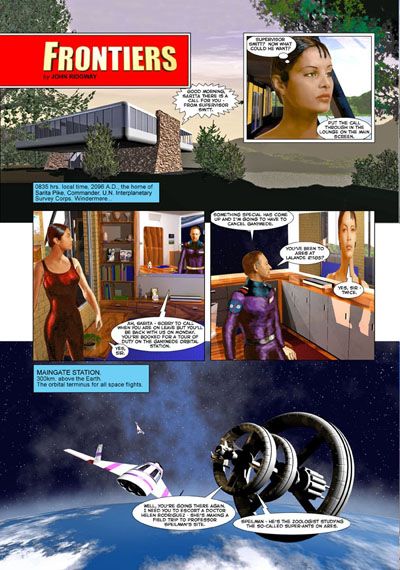 John Ridgway Art for Frontiers
ZORRO:
I have a private joke with John, because of his speed of drawing, calling him Zorro.
John does very little pencil work and produces most of the illustrations by actually drawing in ink, using the pencils (when he uses any at all - and I know I have been lucky enough to ink the guy) as a guide only.
His very finely rendered work and the realism of his settings and characters gives them a warmth and a quality that is the envy of a lot of his contemporaries.
John has worked with some of the biggest and best names in the comic field. People like Charles Vess, Alfredo Alcala, James Hudnell, John Wagner Alan Grant, John Stokes, so as you can see he keeps good company, and rightly so too.
John Ridgway Art for Young Middenface
Digital Computer Art:
John was one of the first people I knew to adopt computers as a tool in producing 3D props and backgrounds for comics. I have watched John produce things using a program called pov-ray to create 3D models of buildings and spacecraft, but no ordinary feat this! John does not choose the easy route and his background in engineering is well utilised when working in pov-ray as John sets about adding code and mathematical equations to form, cut and extrude to create his objects.
John like most Artists nowadays uses the computer to colour up his artwork, and is producing some great stuff over Sydney Jordan's artwork for Spaceship Away.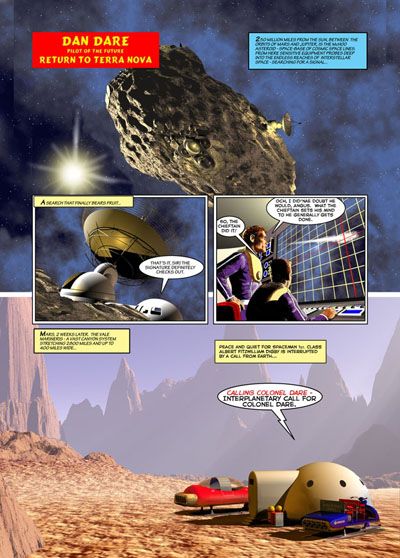 John Ridgway Art for Return to Terra Nova
Present day:
These are a few of the projects that John is currently working on:
Various stories for DC Thomson's Commando Comics.
Producing the colour and 3D models for Hal Starr for Spaceship Away with Sydney Jordan.
John may work on the colour for Jeff Hawk again with Sydney Jordan.
Yet another project in the pipeline is Time and Miss Jones.
Sydney Jordan may be returning the honours by writing Frontiers created by John.
Being the prolific artist he is John also has a number of other hush-hush projects on the go at the moment.
John has just recently worked on Head Shot an episode produced for the series, Black Museum for 2000AD.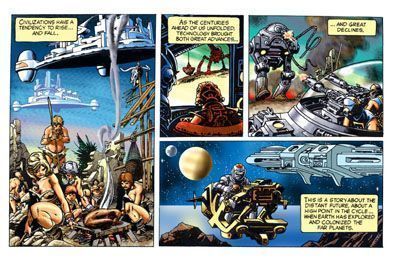 John Ridgway Colours on Star Hawks drawn by Gil Kane
Recently John produced a wonderful full colour illustration of some of the Worlds End characters for my Worlds End Ashcan.
An incomplete listing of some of the characters & comics in John's comic book work:
Air Ace Picture Library, Battle Picture Library, War Picture Library (Fleetway)
Several Commando books (D.C Thomson)
Marvelman, Young Marvelman, Kid Marvelman (for Warrior)
Spiral Path (Warrior - inks only)
Shroud, the Spire and the Stars (Warrior)
Home is the Sailor (Warrior)
Father Shandor (Warrior)
The Liberators (Warrior)
Dr. Who (Marvel U.K.)
Enid Blyton's Famous Five (Guttenburg)
Cyril the Editor Droid (Marvel U.K.)
Transformers (Marvel U.K.)
Zoids (Marvel U.K.)
Sky Hooked (Marvel)
The Grail (Marvel)
Red Witch (Marvel)
Flash Gordon, Phantom of the Jungle, Mandrake (Marvel)
Bozz Chronicles (Epic)
Hellblazer (D.C.)
The Agent (Marvel)
My Name is Chaos (D.C.)
Dan Dare (Fleetway)
Prince Valiant (Epic)
Judge Dredd (Rebellion)
The Deadman (actually Judge Dredd - but who's counting?) (Fleetway)
Biosphere (Marvel)
Junker (Fleetway)
Trenchcoat Brigade (Constantine, Mr. E., Dr. Occult, the Phantom Stranger)(D.C.)
Babylon Five (D.C.)
The Invisibles (D.C.)
Sigmar Heldenhammer (Games Workshop)
The Spectre (D.C.)
Incredible Hulk (Marvel)
Duke Elric (Michael Moorcock's Multiverse) (D.C.)
Hook (Marvel)
Age of Heroes (Image)
Harsh Realm (Harris - inks only)
Kiss (heavy metal group - fanzine)
Chiller (Epic)
Books of Magic (D.C.)
Lobo (as the Lone Ranger) (D.C.)
Solomon Kane (Marvel)
Dark Dominion (Defiant)
Acorna the unicorn girl (Big Rock Entertainment)
Summer Magic
Young Middenface McNulty
Missionary Man
Black Museum
Hal Starr
Jeff Hawke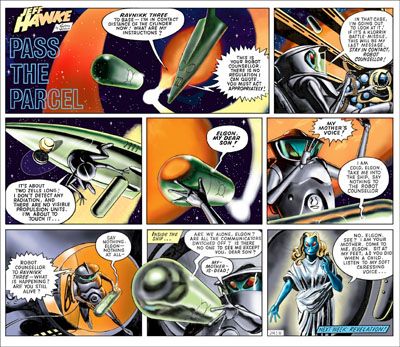 John Ridgway Colours on Jeff Hawk drawn by Sydney Jordan
Now comes the fun bit...
Go out and check John's books and enjoy his artwork in full...or better still buy an original page of artwork...
My thanks go out to John, not only as a colleague but also as a friend whose advice and more I feel I can never repay...
John you are the best.

Tim Perkins