Mike Ploog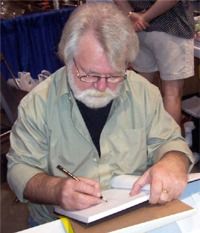 Michael G. Ploog was born in 1942, in Minnesota, in the United States of America Raised first on a Minnesota farm, and later in Burbank, California, Mike, unable to see how he could turn his boyhood love of drawing into a career, decided to become a cowboy instead.
He then entered the U.S. Marine Corps at age 17, remaining in the Corps for 10 years. Toward the end of his time in the army, he began working on the Corps' Leatherneck magazine, doing bits of writing, photography and art. After his discharge, in the late 1960s, he went to seek work in Los Angeles and he did so at the Filmation studio, doing cleanup work on animation art for the Batman and Superman TV cartoons.
The following season he was promoted to layout work. Layout is what happens between storyboarding and actual animation; the artists are literally composing the scenes. The artist is more or less designing the background, putting the characters into it, so that they'll look like they're actually walking on the surface. He switched companies to the Hanna-Barbera studios, the following season, and he worked on layouts for the animated series Autocat & Motormouse and The Wacky Races, as well as the first Scooby-Doo pilot.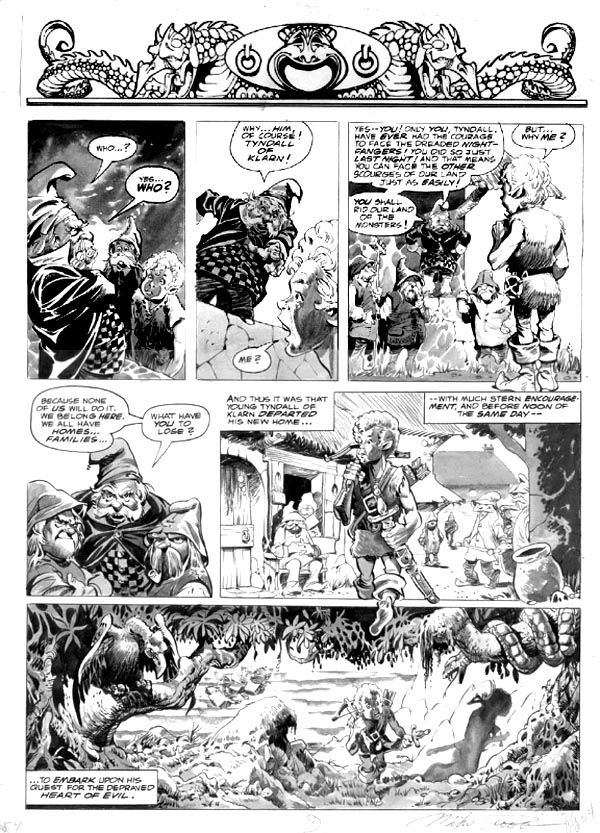 Marvel Super Action Issue #1 - Weirdworld - "An Ugly Mirror on Weirdworld - Page 4 - Pencils, Inks and Grey tone washes: Mike Ploog
Mike felt it was nothing spectacular, it was just okay and it was a regular salary. He admits to having very few aspirations at the time, because he didn't know where anything he was doing was going to take him.
A Hanna-Barbera colleague passed along a flyer he had gotten from Will Eisner seeking an assistant on the military instructional publication P*S Magazine. Mike was familiar with it from his Marine Corps days, and knew the art well, though not the artist's name.
He had been copying Will's work for years, because he was doing visual aids and training aids for the military for a long time. Will Eisner like the sample art Mike sent through to him and he gave the ex-marine the position. It was here that Mike moved to New York City and remained with the Eisner studio for just over two years.
Will had worked on P*S Magazine since about 1952, and the owners decided, They had got to put it out to somebody else. They asked Will to do something. You've got to either back out of it altogether or find some way of doing this. So Will came up with the idea: that Mike picked up the contract, and Will became the shadow partner, so Mike moved across the street from Will's office into another office that he had. Mike was not sure whether he had been leasing it, but they subleased it from Will, and they took over the book. Then it just got to be too much, because it's not that profitable without a partner, but if you've got a partner, then it becomes totally non-profitable.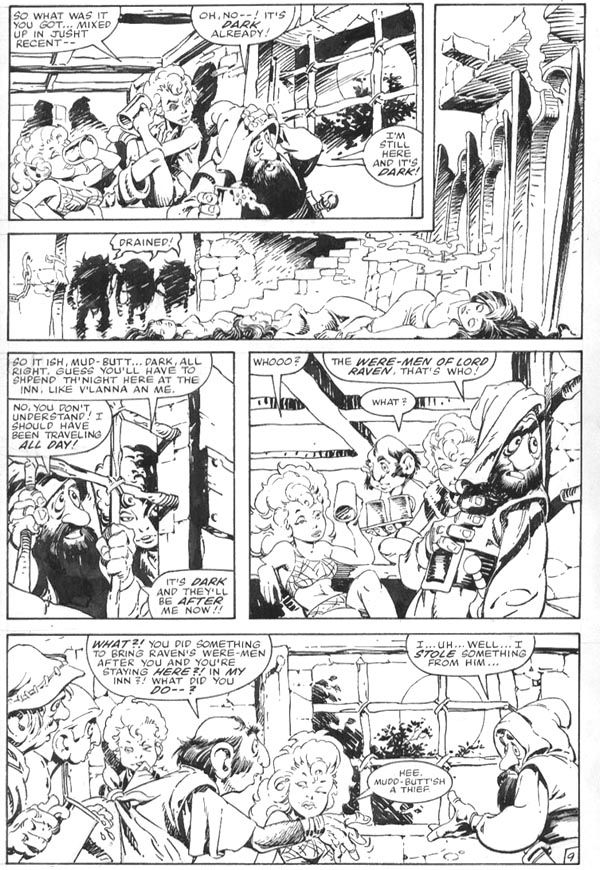 Marvel Fanfare Issue #24 - Weirdworld - "The Were-Men of Lord Raven - Page 9 - Pencils: Mike Ploog - Inks: P Craig Russell
Eventually, at the suggestion of Eisner letterer Ben Oda and artist Wally Wood, Mike broke into comics at Warren Publishing, doing stories for the company's black-and-white horror-comics magazines. When Roy Thomas editor-in-Chief, at the time at marvel had seen Mike's sample art, he loved them but could not see where they could fit his style in, as most of the comics being produced were superhero based and his work did not reflect that type of story.
Marvel then began producing a line of colour and black and white horror comics and magazines, and one of the samples, he had shown to Roy, a Western page earned him a call back to draw Werewolf by Night, which premiered in Marvel Spotlight issue #2, cover dated February 1972. After three issues, the series spun off into its own book. Mike launched another comic with a second character, the Johnny Blaze version of Ghost Rider, in the supernatural motorcyclist's premiere in Marvel Spotlight issue #5, cover dated, August 1972, and continued to work on the book through the next three adventures.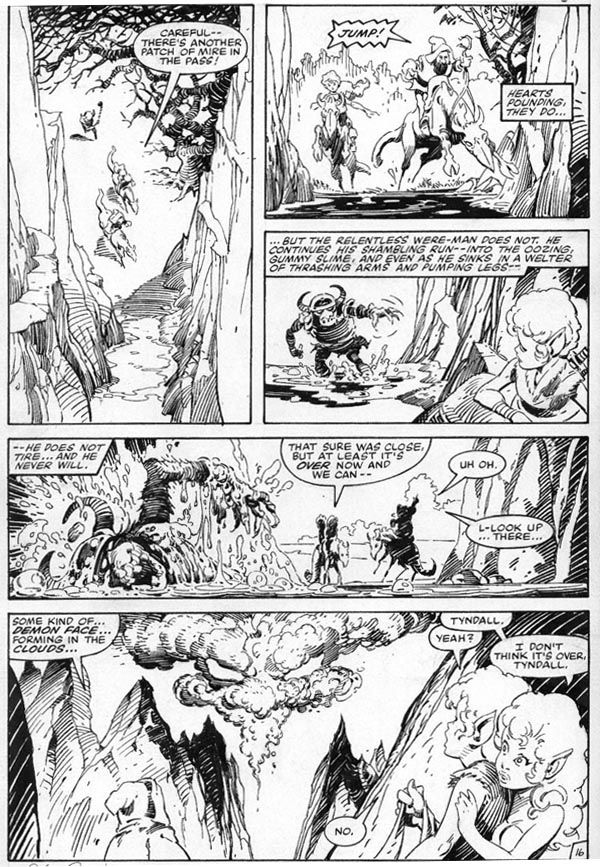 Marvel Fanfare Issue #24 - Weirdworld - "The Were-Men of Lord Raven - Page 16 - Pencils: Mike Ploog - Inks: P Craig Russell
It was with these comics that I was first introduced to Mike's artwork. I loved his stuff right from the off. There was something about the way he handled Horror, but more so his take on Fantasy stories and characters and backdrops that made me instantly sit up and take a second look. His work, whilst cartoony, has a vitality and air of "realness" and "believability" that showed, in hindsight, where his next route in the arts fields would be. There is an animated quality and a quaintness with a dark edge to his work and yet there is a fun-filled, light heartedness to it as well. I suppose I see it as innocence cast into the world of adults and how everything is coped with as a consequence, even though the storylines may be wide of this mark, the artwork always portrays these thoughts to me.
Anyhow suffice to say I think now as I did back then that Mike's work is beautiful, whether colour or black and white. The only fault with his work for me, and I have told him as much, is there is never enough of it.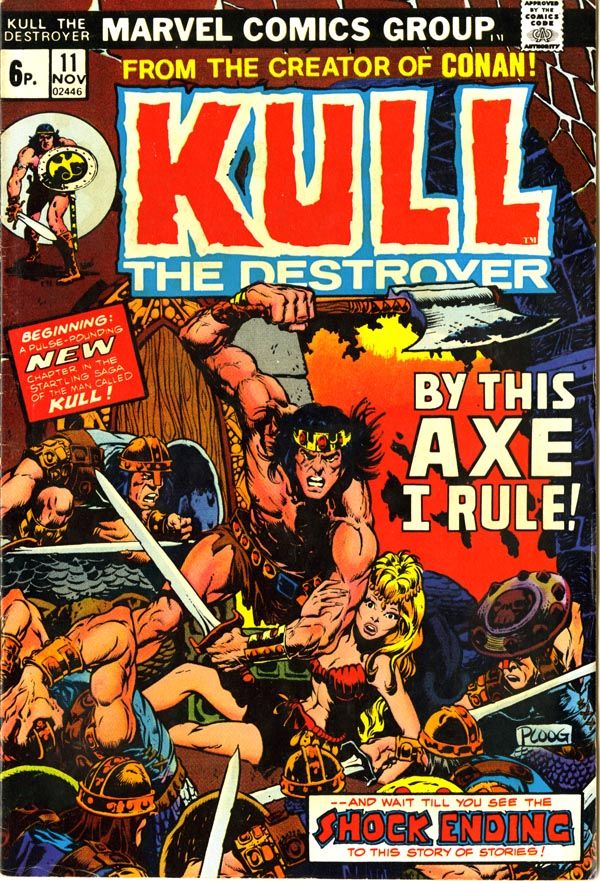 Kull The Destroyer Issue #11 Cover - Pencils and Inks: Mike Ploog
For many Mike's creative high-water mark in comics may have been his six issues of Marvel's Monster of Frankenstein cover dated January 1973 through October 1973, the first five of which contained one of the most faithful adaptations of Mary Shelley's novel to appear in any medium. Script writer Gary Friedrich, whose 1960s Sgt. Fury issues remain among comics' best examples of humanistic military drama, meshed well with Ploog in creating an articulate, sympathetic, yet terrifying living-dead behemoth.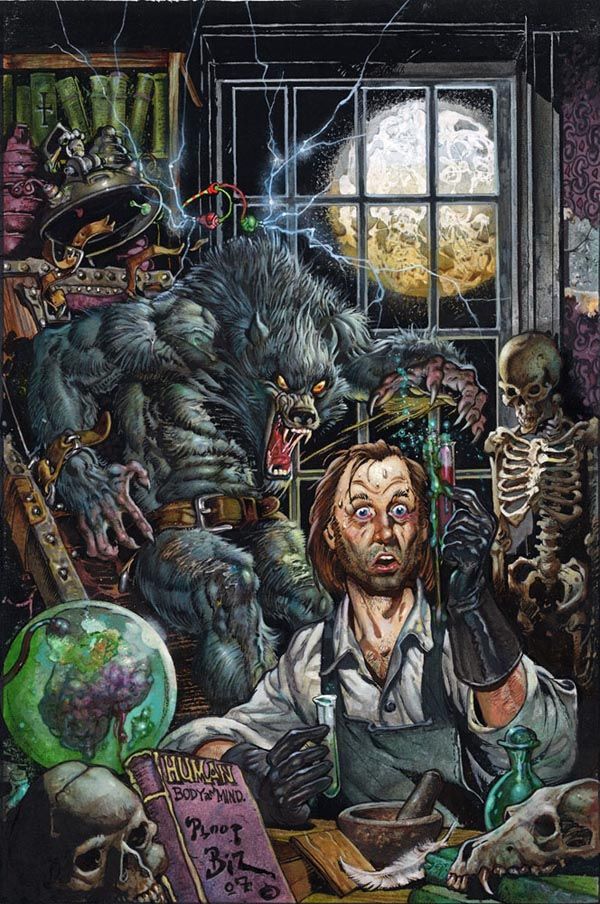 Thicker than Blood Issue #1 Cover - Pencils and Inks: Mike Ploog - Painted Colours: Simon Bisley
Mike really enjoyed doing Frankenstein, because he could relate to that naive monster wandering around a world he had no knowledge of, an outsider seeing everything through the eyes of a child, which helps to back up my thoughts about Mike's artwork.
The following year, Mike teamed with writer Steve Gerber on Man-Thing issues #5 through issue #11, cover dated May 1974 through November 1974, pencilling a critically acclaimed series of stories involving a dead clown, psychic paralysis in the face of modern society, and other topics far removed from the usual fare of comics of the time, with Ploog's cute-but-creepy art style setting off Gerber's trademark intellectual surrealism.
Mike Ploog's other regular titles at Marvel were Planet of the Apes for the black and white line of magazines they were putting out at the time, Kull the Destroyer, of which issue #11 remains one of my favourite Ploog works, and the series Werewolf by Night and Mike also drew the Don McGregor written story "The Reality Manipulators" in the black-and-white comics magazine Marvel Preview #8, cover dated Fall 1976.
His dramatic yet cartoony style at the time, in which bodies appear almost to be made of soft wax, was heavily influenced by the art of Will Eisner, under whom he apprenticed, a resemblance particularly apparent in this early comic book work.
The Big Apple Issue #1 - The Silent Minority - Page 1 Pencils and Inks: Mike Ploog
My personal favourite comic from this period from Mike is the Doug Moench feature "Weirdworld" whose characters first saw publication within the pages of the black and white comics magazine, Marvel Super Action, Featuring, The Punisher issue #1. cover dated January 1976. The story entitled "An Ugly Mirror on Weirdworld", written by Doug Moench, was a black and white episode, lushly painted in grey tones by Mike and was a turning point for me in my direction as far as telling stories in Fantasy settings goes. It had an enormous impact on me back then as a teenager, and still means as much to me today. The artwork is absolutely beautiful and all Ploog-esque in its execution.
The Weirdworld guys returned in the colour comic Marvel Premiere issue #38 cover dated October 1977, and was entitled "The Lord of Tyndall's Quest" and again the artwork is beautiful, this time inked by Alex Niņo. The layouts are just as beautiful and the pacing tells the story superbly.
A third and last Weirdworld story from Mike did not see print until the 1980's and lay in Marvel's archives following Mike's disagreement with Jim Shooter at Marvel. It finally saw print in Marvel Fanfare, issue #24, cover dated January 1986. Entitled "The Were-Men of Lord Raven" written by Doug Moench and inked by P. Craig Russell, it was the first episode of a three-part story, but Mike only ever finished the first book and was eventually finished off by artist Pat Broderick. Again Mike's issue shone like a beacon amidst a sea of super-heroics and is part of my three-part Ploog Weirdworld masterpiece set in my studio.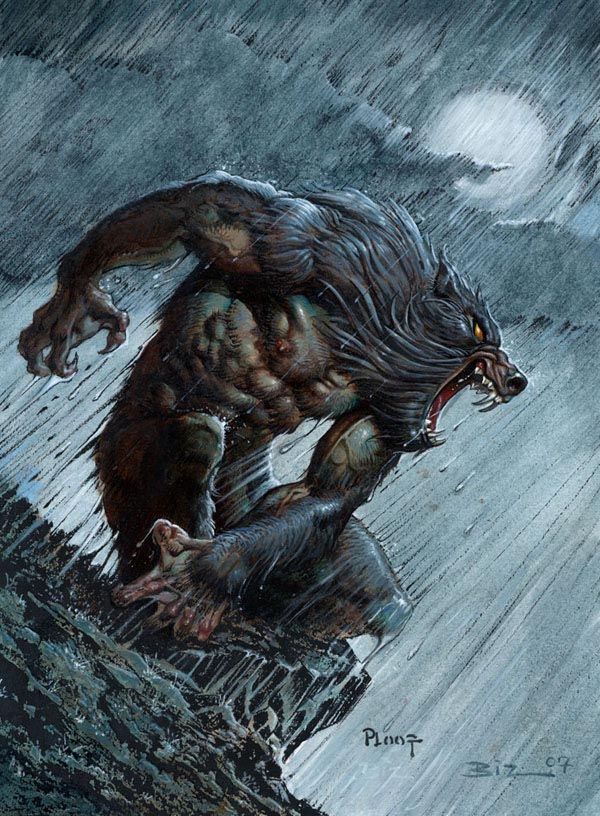 Thicker than Blood Issue #1 Alternate Cover - Pencils and Inks: Mike Ploog - Painted Colours: Simon Bisley
He left Marvel following what he describes as "a disagreement" with Jim Shooter. He had moved to a farm in Minnesota, and agreed to do a hand-coloured 'Weirdworld' story. He was scheduled to work on what would later become the three-part "The Warriors of the Shadow Realm" books, which the eventual publications saw John Buscema pencil, Rudy Nebres ink and Peter Ledger paint. Marvel backed out of the deal after I had started. Mike cannot remember the details, but it does not matter, as he thinks he was ready to move on, anyhow. Marvel and Mike were both changing and in the interim he finished off a black-and-white Kull book, which was his last comic for many years.
The Black and White pencils only Kull piece is again absolutely beautiful and right up there with my Weirdworld, Ploog stories. Published in issue #34 of The savage Sword of Conan, cover dated, October 1978, the story entitled, "The Mirrors of Tuzun Thune", written by Roy Thomas and adapted from the Robert E. Howard story of the same name, featured ten incredibly detailed pencil drawn pages of moody, atmospheric artwork eerie yet majestic. Mike and Wizards were made for each other and this piece definitely brings this to the fore.
Other work followed for Heavy Metal magazine in 1981, and three "Luke Malone, Manhunter" backup features in the Atlas/Seaboard title Police Action issues #1 through issue #3, cover dated February, April, and June 1975 respectively, the first of which he also scripted.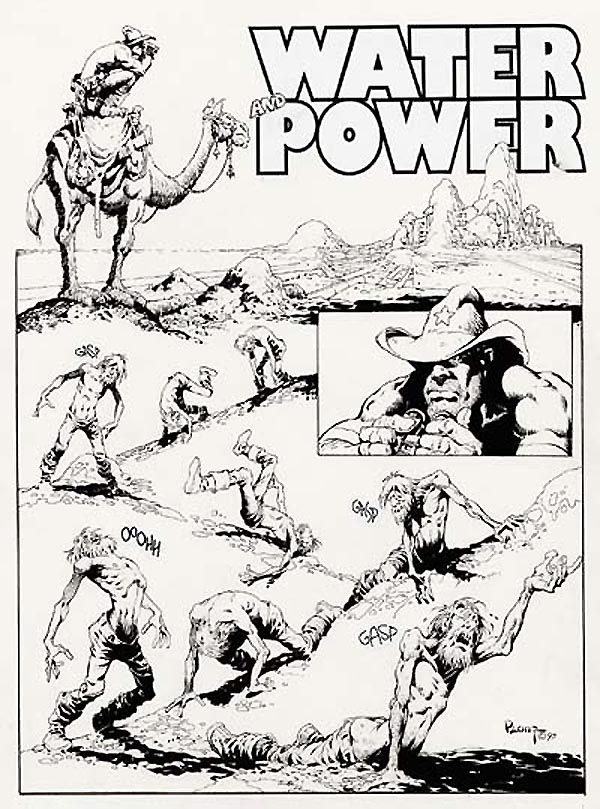 Water and Power - Page 1 - Pencils and Inks: Mike Ploog
Mike returned to Hollywood and the movie industry. By his account, he has worked in post-production on the movie Ghostbusters, all that stuff you saw on cereal boxes were his paintings, and with film director Ralph Bakshi on the animated features Wizards, The Lord of the Rings, and Hey Good Lookin'.
He was production designer on Michael Jackson's Moonwalker from 1988, and has storyboarded or done other design work on films including, Little Shop of Horrors, The Unbearable Lightness of Being, Prince of Egypt, Heavy Metal, John Carpenter's remake of The Thing, Ghostbusters, Disney's Black Cauldron, Superman III, The Witches, and, he says, several Jim Henson Company projects, such as the films Dark Crystal and Labyrinth and the TV series The Storyteller.
Between movies, Ploog spent two to three years illustrating L. Frank Baum's the Life and Adventures of Santa Claus, published in 1992; ISBN 0-7567-6682-6, a graphic novel adapting The Wonderful Wizard of Oz creator's 1902 novella. The book is full colour and painted in watercolours by Mike and a truly beautiful book too, which again sits on my bookshelf next to my drawing board in my studio.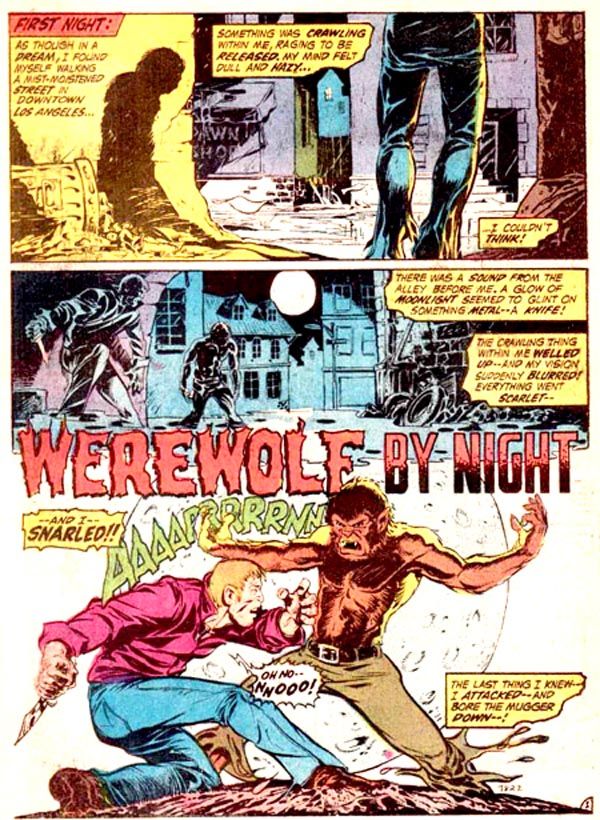 Werewolf by Night - Page 1 - Pencils and Inks Mike Ploog
He returned to comics in December 1994 with his old colleague Steve Gerber, when he drew the Malibu Comics one-shot Sludge: Red X-Mas, cover dated, December 1994, but otherwise remained away from comics for another decade before teaming with veteran writer J.M. DeMatteis on the CrossGen fantasy Abadazad, cover dated May 2004. Ploog and DeMatteis announced they were collaborating again the following year on a five-issue miniseries, Stardust Kid; from the Image Comics imprint Desperado Publishing.
When CrossGen went out of business, Hyperion Books, a division of the Walt Disney Company, purchased the rights to all of CrossGen's publications including Abadazad. In June 2006, Ploog and J.M. DeMatteis teamed once again to release Abadazad Book #1: The Road to Inconceivable & Abadazad Book #2: The Dream Thief. The story was reborn in a unique hybrid format: a children's book series that combines diary entries, full-page illustrations, and sequential art. At least eight Abadazad volumes are planned.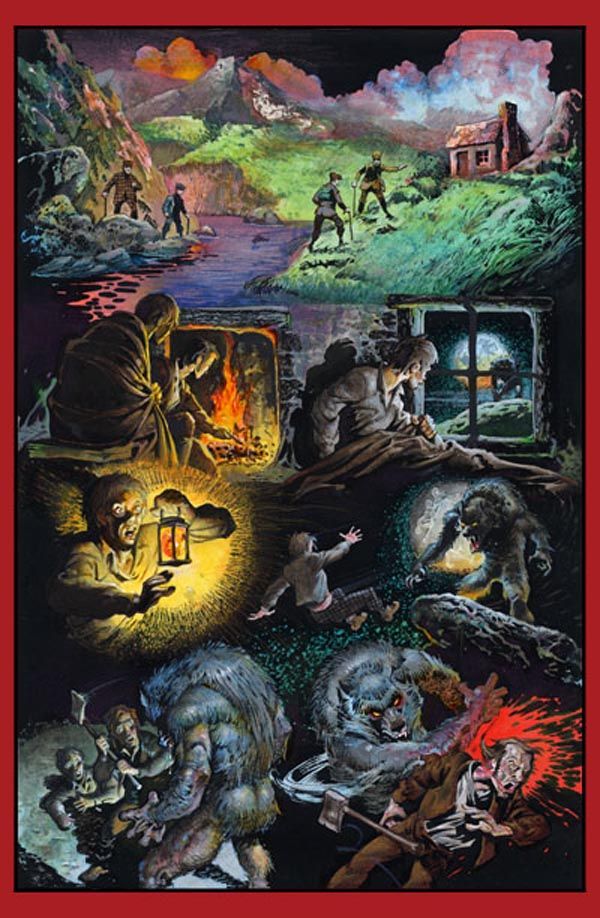 Thicker than Blood Issue #1 Page 14 - Pencils and Inks: Mike Ploog - Painted Colours: Simon Bisley
His latest work in progress is Thicker than Blood for Simon Reed's Reed Comics. Written by Simon Reed, Drawn by Mike Ploog with colours by Simon Bisley and lettering by Richard Emms, this new comic is a return to his tales of werewolves, although obviously not the same characters as the Marvel comics version.
Despite a relatively short initial stay in comics in the 1970s, Ploog left an indelible impression for his highly stylistic, immediately recognizable style and naively dynamic storytelling.
I met Mike for the first time when I contacted him about an animated project I was working on at Morpheus Animations in 2000. We showed Mike the script and artwork, style guides pre-production art etc from our Bible for " Believe the Quest for Innocence" and he loved the idea. We have since kept in touch and I have been down to his wonderful house and believe me when I say he lives in a village, in a house, just like the ones he draws in Weirdworld, which is why I like visiting him down there, not just to see the house, you must understand, but to chat with him and his family and marvel at his wonderful artwork.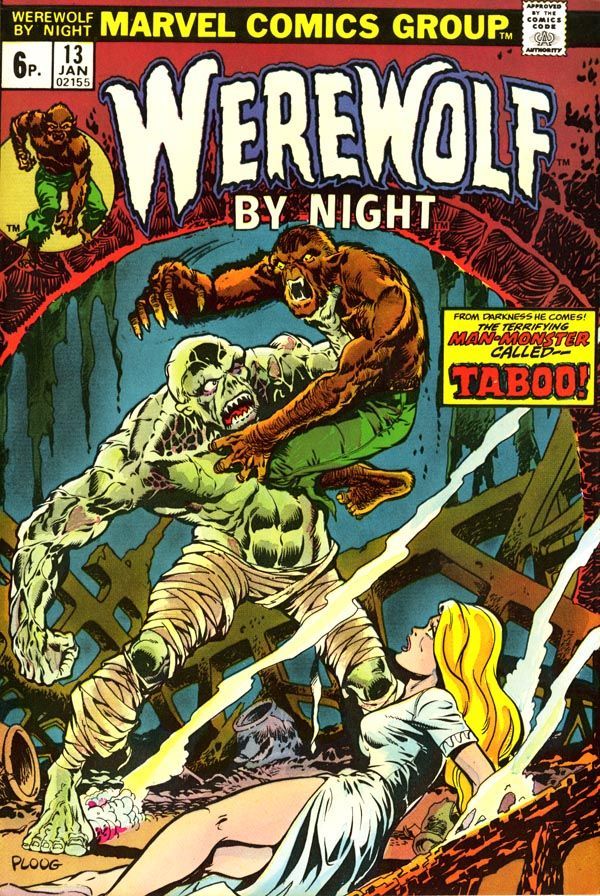 Werewolf by Night Issue #13 Cover - Pencils and Inks: Mike Ploog
It is a pleasure to know Mike and if someone had told me back in the early and mid-seventies that I would one day know and speak to him, I may have wished it could be true, but I would have doubted it.
I would like to say a very heartfelt thank you to Mike for both his inspiration and also his agreeing to be one of the first to come aboard as a part of my Hall of Fame earlier last year in February 2007.
More of his Fantastic Artwork can be found here: