Grand Christmas Competition 2009
4 December 2009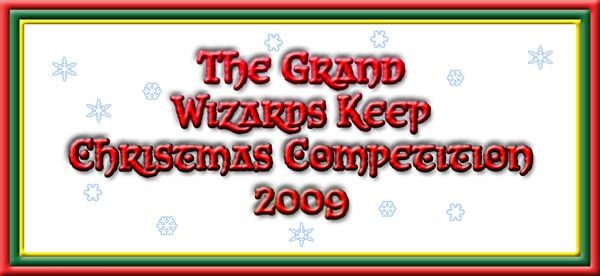 Well, as is now customary here at the Keep at this time of year, we are announcing the amazing Wizards Keep Christmas Competition 2009 and this year we are looking at a Manga theme.
What you need to do this year is look at the Worlds End characters and draw them in a Manga style.
You can find what they all look like here on The Worlds End Gallery.
So hurry up and get artwork sent into us here at the Keep
Format of the Drawings:
The Drawings can be black and white or colour
A5, A4, or A3 in size
If sending via email, please use jpeg file format at 72 dpi
If sending artwork via Royal Mail please do not send the original, please send us a photocopy.
We will contact the winner at a later date and we will give instructions on how to get the artwork to us here at the Keep for publication
Prizes:
The winner will have their work appear on-line here on the Website News Pages, over on the Wizards Keep Blog and on our other Wizards Keep network places on the Internet, all 22, or so of them.
Add to that he/she will have the work published as part of the Worlds End Sketch Book, alongside many other comic book creators.
You will also receive six Sketch Books with your work in them and a prize package consisting of a Worlds End Ashcan, Mouse Mat, Poster and an exclusive Malta Comicon Poster.
There, it's that simple, so start scribbling down your ideas now.
To enter simply send your sketch via email to
Or by Snail Mail to:
Christmas "Manga-Worlds End" Competition 2009
Wizards Keep Limited
11 Walton Crescent
Blackburn
Lancashire
BB2 3TQ
IMPORTANT NOTICE:
If sending via the Royal Mail, please realise this option will only be available to UK residents, to guarantee reaching us in time by December 31st.
If sending via email your artwork must reach by December 31st.
The closing date for this competition is December 31st.
Entries received after this date will regrettably not be entered into the competition.
The winning entry will be announced and displayed here and on the website on January 1st.
GOOD LUCK EVERYONE!!!