Dark Crusade
I have recently been asked by my good, life long, friend Tim Perkins to do a brief synopsis of a project we co-created back in the early nineteen nineties. It was going to be a highly charged, fast paced, all action horror thriller.
The forces of good and evil were to battle each other in the forms of Demons, Vampires, Ghouls, and Werewolves on the pages of our comic.
To House our dark forces the fictitious city of Blackcaster was created in the north of England on a site were a Roman Legion had vanished transporting a cargo of purest evil to the farthest point of its empire.
The forces of good were to be championed by a group of twelve with the ability to regenerate the aging process every thirty-six years, giving them virtual immortality, to fight the dark forces throughout the ages. Maturing, growing old, then starting all over again, back in their prime.
The concept was born and put to paper, Tim's pencils were dark and malevolent; all was now set. A new independent British comic was set to run with our feature alongside a few other titles. There had never been any promise of big money, but just seeing our story in print, flicking through the pages, holding our product and saying 'we did this' would be reward enough and any financial gains would be a bonus, or so we thought.
Everything was now in place except one thing, a title. We both struggled bouncing ideas off each other for days and came up with nothing good. It seemed the harder we tried to come up with something brilliant, the more mundane and trivial it became. Then one night, eureka, in the early hours of the morning I awoke from a deep sleep and 'Dark Crusade' had its title.
Everything had gone like clockwork, then, at the last minute all went pear-shaped. The Independents were in dire straits and about to go under, financially. They had been using our creations, along with others to take out bank loans, to delay their demise. At the fear of losing 'Dark Crusade', in the embryonic stage it was in, to the hands of the official receiver, we walked away, dreams in tatters, but 'Crusade' still ours to do with as we saw fit.
Some dummy run copies were printed and got good reviews from those able to see the limited print run. However, the comic industry had nowhere to showcase our product in the UK, especially featuring the horror subject matter. It would have been excellently placed inside Dez Skinn's Warrior magazine, but that was no longer around.
Due to other commitments, mainly keeping the wolf from the door, 'Crusade' had to be sadly shelved. The clock ticked and years went by. Similar veined ideas appeared and were immense successes. Needless to say all were American. I like to think that comics will make a comeback one day and that 'Crusade' will see full print and be successful.
Like I said at the beginning Tim asked for a few words on 'Dark Crusade' which he is featuring on his new website. I do hope you like what you see and perhaps one day, maybe…who knows?
Paul Roberts – Co-creator/Writer – 'Dark Crusade'.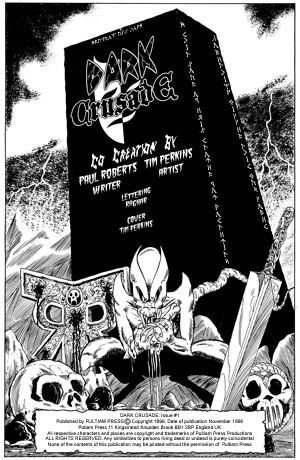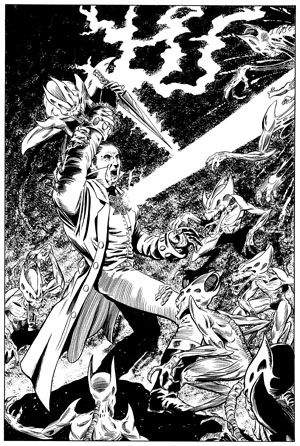 Dark Crusade Frontispiece art by Tim Perkins Dark Crusade Splash page art by Tim Perkins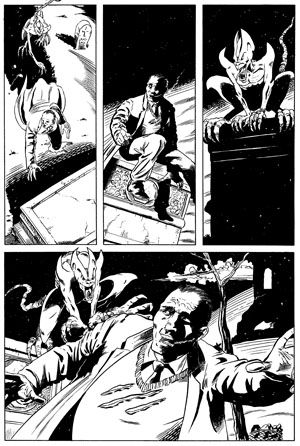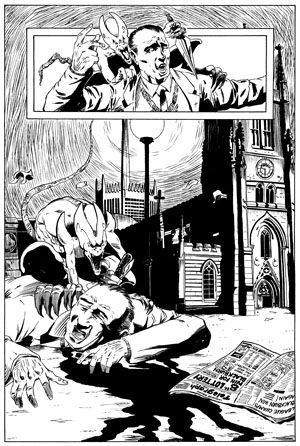 Dark Crusade Issue 1 Page 2 art by Tim Perkins Dark Crusade Issue 1 Page 3 art by Tim Perkins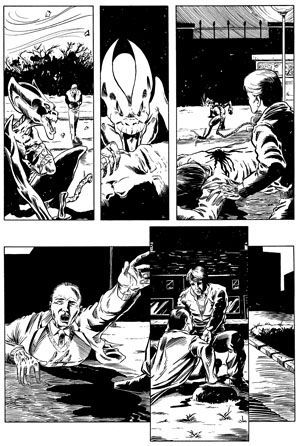 Dark Crusade Issue 1 Page 4 art by Tim Perkins Dark Crusade Issue 1 Page 12 art by Tim Perkins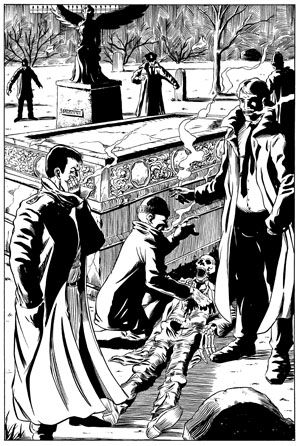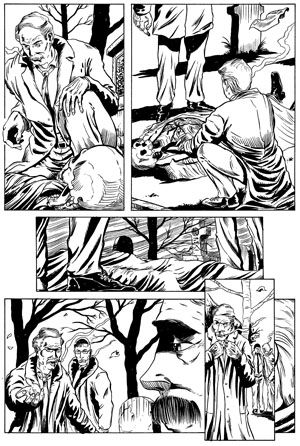 Dark Crusade Issue 2 Page 1 art by Tim Perkins Dark Crusade Issue 2 Page 7 art by Tim Perkins