Phage - Shadowdeath
Following on from Defiant's collapse in the states, by 1995 another comic company had set up operations, this one was a subsidiary of the SCI FI channel on satellite and cable TV. The new company was called Tekno, and employed the services of such well known celebrities as Leonard Nemoy, of Mr Spock fame, Mickey Spillane, of Mike hammer fame, and comic and TV writer Neil Gaiman.
Its editor-in-chief was a certain Ed Polgary, whom Tim knew from Defiant where Ed was first editor, then managing editor after Deborah Purcell had left the company in 1994.
Tim was offered work colouring the books, but with no experience of the new technology, computer colouring, creeping into the comic industry Tim had to decline the offer.
It was only a few months later when attending a social gathering of the speculative science group in Preston, Lancashire in the UK, hosted by Bryan Talbot, another of Tim's friends and colleagues from the comic industry, that Tim showed some of his new project to some of the people in attendance there.
That project was 'Dark Crusade'. Bryan noticed him showing the work to one or two members of the group and came over to take a look. Bryan spoke to Tim a while regarding the new comic book. As was the norm a few of the group went back to Bryans for a few drinks and to chat into the wee hours speaking to each other and also taking the opportunity of doing the same with the guest speaker.
Tim thought no more about it, but later the next week there was a phone call from Bryan asking if he would like to ink a new book he was writing for Ed Polgary at Tekno comics? The book was called Phage-Shadowdeath and was to be pencilled by Dave Pugh.
Tim had always admired the draughtsmanship of Dave and immediately jumped at the chance to work alongside him, agreeing to ink the book. The pencils were some of if not the most beautifully rendered he had ever seen.
The book was computer coloured by Angus Mckie of 'Heavy Metal', the American comic magazine and animated film adaptation fame.
The end product was a wonderful piece of work.
The series ran for six episodes and had Bryan Talbot drawn covers, which again were coloured like the inside pages by Angus McKie.
The market had not fully recovered and despite the hierarchy of the founders and the funding of the TV company to promote it Tekno was forced to close its doors too shortly after the publication of the series.
Below are pages showing Tim's inks over Dave Pugh's pencils with scans taken from the original artwork: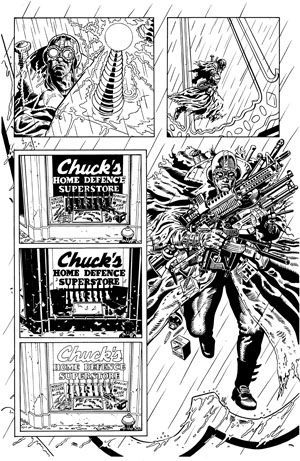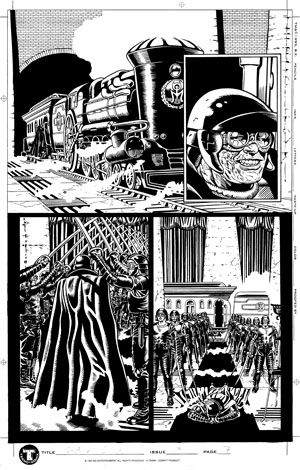 Shadow Death Issue 2 Page 4 and Issue 3 Page 7 art by Dave Pugh & Tim Perkins