A Fun-Filled Festive Feast of Frollicking Favours
13 December 2008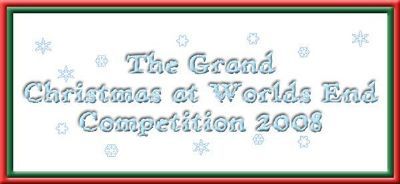 Okay Guys this is how this works.
All you need to do for this one is send in a Christmassy Worlds End picture of one, or more of the characters from the Worlds End Graphic Novel series.
Format of the Drawings:
The Drawings can be black and white or colour
A5, A4, or A3 in size
If sending via email, please use jpeg file format at 72 dpi
If sending artwork via Royal Mail, please do not send the original, please send us a photocopy
Prizes:
The winner will receive a copy of the Worlds End Ashcan, which contains artwork and extras that will not be available in the Graphic Novel, and a Worlds End Large Format Poster.
There, it's that simple, so start scribbling down your ideas now.
To enter simply send your sketch via email to christmasatworldsendcompetition@wizards-keep.com
Or by Snail Mail to:
Christmas at Worlds End Competition
Wizards Keep Limited
11 Walton Crescent
Blackburn
Lancashire
BB2 3TQ
IMPORTANT NOTICE:
If sending via the Royal Mail, please realise this option will only be available to UK residents, as it will need to be posted via First Class by Saturday the 20th of December, or via Special Delivery by Tuesday the 23rd of December.
If sending via email your artwork must reach by December 30th.
The closing date for this competition is Dec 30th.
The winning entry will be announced and displayed here on the website on January 1st.
GOOD LUCK Guys!!!
MORE COMPETITIONS TO COME:
Keep an eye out over the Holiday Season for more offers and Competitions
Also keep a look out for an extra special drawing competition launching January 2nd, which will see your work in print here at Wizards Keep