Deadlines, Conventions and Stocking Fillers
5 December 2012
The new book is finished and, although it was a mad rush to get things done in time, here in the studio we managed to complete the artwork and the design of the new book in time for a world exclusive Pre-Christmas launch once again at MaltaComicCon 2012 in a few short days time.
This has been a chance for Tim to draw some new scenes from the world of Gaeyrth on which the saga takes place. The artwork is purposely very open as it is a colouring book as well as containing some Worlds End back-story too. It contains some great action scenes and some more tranquil moments and includes all of your favourite characters, both hero and villain.
We have received some really nice complimentary comments and emails via our Worlds End and Wizards Keep FaceBook pages since we began to show some of the artwork a few weeks ago.
The new Colouring & Storybook will be available for sale on the website from Wednesday 5th December.
In the meantime for everyone that orders a graphic novel before Christmas, on the evening of Christmas Eve, even if you have missed the last Pre-Christmas post, we will include one of the new 40 page books, as a special seasonal stocking filler.
Here is a little teaser cover-art from the book: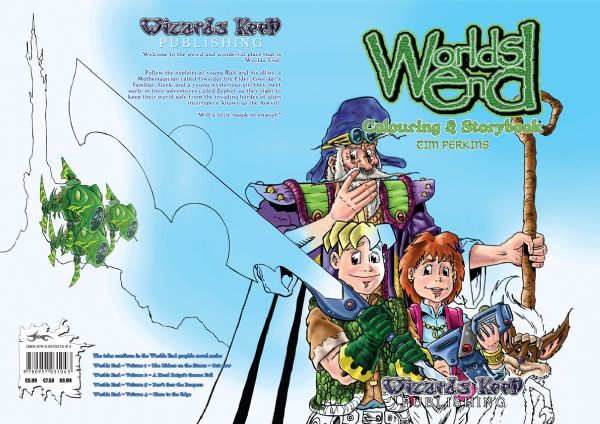 The book has been produced to fill in the gap between the first two graphic novels in the "Science Fusion" series, Worlds End – Volume 1 – The Riders on the Storm and Worlds End – Volume 2 – A Hard Reign's Gonna Fall.
In this book Tim is joined by three – yes three – guest artists. Dave Windett, Paul Eldridge and Lauren Hanratty.
You may remember that back in January 2009 we announced a new Worlds End project, which would launch after the publication of the first graphic novel. Three pages were left open for three lucky winners to fill in the book. It was just a fun thing and the competition was open to four categories – Professional, Semi Professional and Amateur. Dave won the Pro category, Paul won the Semi-Pro and Lauren won the Amateur category.
The Competition required the guys to draw a black and white line drawing of one, or more, of the Worlds End Characters. Well they did just that and after sifting carefully through hundreds of entries we decided on our winners.
Please make sure you get your orders for the graphic novel in before Christmas day to receive your FREE Colouring and Storybook or if you prefer to order just the colouring book itself we will throw in some extra goodies for those fans/customers too, but as to what those may be - well, that will be Santa's secret for now.
***************************************************************************************************************************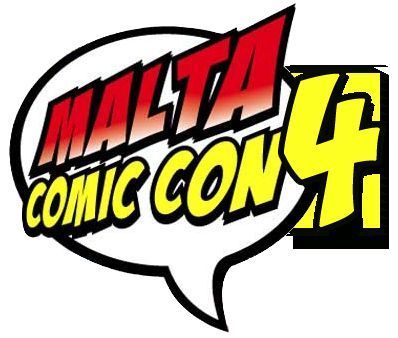 Well, Thursday will see Tim heading out from old Blighty, as a guest once more, for the sun-drenched island of Malta, home to some of the most enthusiastic comics fans and creators he have ever met, as well as some of the nicest folks ever to grace our wonderful planet.
This year's convention has a great line up of guests and includes some big guns from the world of comics – a full list of which you will find in Tim's earlier Blog here.
We will be posting his thoughts and photographs of the trip as soon as he gets chance upon his return to the UK.
If you have been thinking of going and need a little nudge as to whether or not to attend – do yourselves a favour and order your flight now! You won't be disappointed.
If any of you reading this are going to be at the convention and would like to buy something in particular, please get in touch ASAP before Tim flys out on Thursday to ensure we pack your goodies into his cases. That way you will make sure yours is included and won't miss out.
***************************************************************************************************************************
And now NEWS on our latest and quite possibly greatest COMPETITION
"What, there's more?" we hear you say.
Yes, a little teaser for you all. We are launching a NEW competition.
The Worlds End Search For A Superstar!
Okay, it's just that time of year for us here at the Keep, so we'll spill the beans already.
The competition is Free to enter and is open to everyone and the prize will go to someone very special indeed. Have you ever wondered what it would be like to work on a special comic book project for real? Well, now's your chance to find out.
So what do you need to do?
You are cordially invited to colour a page from the Colouring & Storybook!!!
If you work traditionally with "real" paints, inks or coloured pencil crayons then you will need to create your masterpiece, scan your finished artwork and then send it off. Please DO NOT send off original artwork – we cannot accept responsibility for any potential damage or loss.
If you work digitally you can scan the page from the book you intend to digitally colour and then work on the computer to colour it.
After which you need to email it to one of our email addresses.
OR you can opt to send full colour photocopies, or prints of your work via snail-mail to our studio address at:
Wizards Keep Publishing – 11 Walton Crescent – Whinney Heights – Blackburn – Lancashire – BB2 3TQ – United Kingdom
Now here is the prize – the winner will get the chance to work with us here at the Keep on a new Worlds End project as the colourist.
Yes, it's a paid Gig and a chance to work alongside us here at the studio. Now, don't worry you don't need to leave home to come along here it can all be done virtually from your own homes. But the work needs to be of a professional standard and it is even better if you can do this digitally.
So there you have it in a nutshell.
The winner will be the colourist on the next Worlds End Project that we will announce following the prize draw!!!
Check back here soon for updates and Good Luck when you enter.

Below is a copy of the Competition Flyer for you to pin up on your notice boards.