Exclusive Worlds End Malta Comic Convention Poster
28 October 2009
Latest Malta Comic Convention News
The Latest A3 Posters arrived here at the Keep yesterday from the printers.
They say a picture paints a thousand words, so without further ado here is Tim's latest Worlds End poster exclusively created for the first annual Malta Comic Convention taking place this coming weekend: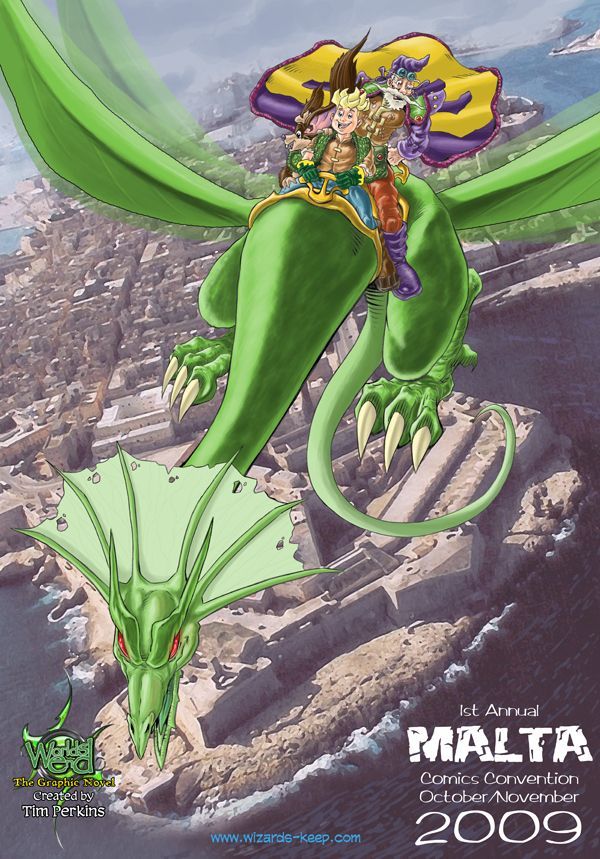 Below is Tim's Itinerary for the weekend:
Saturday morning - Children's Comic Book Workshop - Approximate times: 10:00 am - 13:00 pm
Sunday morning - Children's Comic Book Workshop - Approximate times: 10:00 am - 13:00 pm
The above workshops are being run by Tim and Mike Collins.
The rest of the weekend will see Tim sketching for the fans at the Wizards Keep tables and will be joined by Mike Collins, David Lloyd, Ian Gibson, Warren Pleece, and Sean Azzopardi at theirs.
On show at the Wizards Keep tables will be:
The original pencil artwork from the first volume in the Worlds End Graphic novel series.
Worlds End Ashcan
The above "exclusive" Malta Comic Convention A3 Poster
Worlds End A2 Posters
Worlds End "BriteMat" Mouse Mats
Tim's first Sketch Book
1 x each of the A3 Giclee Prints
Bookmarks
and a few "Freebies" too for good measure
Due to the weight constraints of travel to Malta the above products are very limited in numbers, for which we apologise in advance.
If there is any product you wish to order now, please send an email to us here at the Keep and we will endeavour to make sure it is packed ready for the trip for you, thus saving you the shipping cost.
Tim will be sketching throughout the weekend.
So if you want a Worlds End sketch before the book is released now is the time to ask.
Also, as it is Halloween weekend and you fancy a Halloween Horror special, please feel free to ask.
A quick note about sketches, if you want a sketch of a specific comic book character, please bring along a comic, or picture of the character you want, for reference.
Tim is very excited about the trip and looks forward to seeing you there.