Sci Fi Weekender
13 February 2013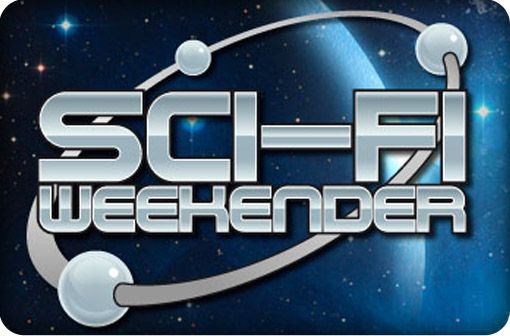 A few weeks ago Dez Skinn of Marvel UK, Warrior and Quality Communications fame (to name but a few of his publishing successes) asked if Tim would attend Sci Fi Weekender; a science fiction and comics convention in North Wales.
Well, having a lot of respect for Dez Tim accepted his kind invitation.
The Official Sci Fi Weekender website makes it look like it will be great fun and Tim is really looking forward to attending first convention of 2013 – full itinerary details of convention appearances for 2013 can be found here on the Worlds End Website.
The convention takes place at Haven's Hafan y Mor Holiday Park in Wales from Friday 1st March to Sunday 3rd March 2013. There's also a pre-convention party being held on the Thursday night of 28th February too.
The weekend line-up is very impressive with the likes of Craig Charles, Peter Davison, Frazer Hines, Richard Madden, Jerome Flynn, and Brian Blessed, amongst the film and TV stars in attendance. There are authors such as, Robert Rankin and Tim will be joining fellow comic creators such as Glen Fabry, for the weekend.
The Official Website says this of the event:
Back for a fourth year in 2013, The Sci-fi Weekender (formerly the SFX Weekender) promises the ultimate sci-fi experience. It's a festival of fun and activities for people who love science fiction and fantasy
The Sci-fi Weekender is packed with activities for fans: big-name guests, interviews, Q&A sessions, movie screenings, comic workshops, video-gaming, music, book readings and plenty more. It's all about bringing like-minded people together for a weekend structured around four pillar events: the entertaining Imaginarium cabaret, the sweeping Maskerade party (with awesome DJing from Craig Charles), and the fiendish Blastermind pub quiz.
The Sci-fi Weekender attendees will get the chance to fully immerse themselves in Sci-Fi culture. Fans can discover how comics are made, discuss burning issues with their favourite author, or be among the first to see exclusive screenings of films and TV shows. There are also many autograph opportunities. Above all, though, it's a chance to hang out with like-minded people and enjoy a few drinks in a safe environment with other fans.
Tim will be taking part in a midday panel on Friday, chaired by the aforementioned Dez Skinn, entitled "Comics in the Digital Age: A Blessing or a Curse?" He will be alongside 2000AD's Neil Roberts, Glenn Fabry and SFX caricaturist Paul Cemmick. The panel will focus on whether digital online comics help hard copy sales or not, and asking whether it is a boon producing work on computers whilst not having any originals to show and sell, etc.
The rest of the time Tim will be manning the Wizards Keep tables, where he will be signing copies of the Worlds End – Volume 1 – The Riders on the Storm "Science Fusion" graphic novel, and Worlds End Colouring & Storybook amongst other related Wizards Keep products, such as Giclées, Original Art and other merchandise.
He will also be sketching for and chatting to anyone that comes along.
So if you are one of the lucky folks to have already got your tickets for this "SELL OUT" convention Tim is looking forward to seeing some of you drop by the table for a chat and to see what he has on display there.