Sci-Fi Weekender - Guest Appearance
18 March 2014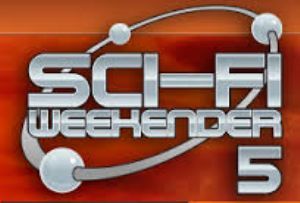 Today we would like to officially announce that Tim will once more be attending Sci-Fi Weekender – the convention in North Wales for all things Science Fiction, which he attended last year also as a guest.
Also going along for the event will be Dez Skinn, Glenn Fabry, Simon Bisley, Will Simpson, Pat Mills, amongst a whole plethora of other Sci-Fi writers, actors and associated Sci-Fi guests.

If last year's event was anything to go by then he is excited to be going along once more and is looking forward to seeing everyone in costume, all the showmanship of the event and as many folks as possible dropping by the stand to say hi.
He will be taking along the usual Worlds End Fare, Graphic Novels, Ashcans, Colouring & Storybooks, and other merchandise, etc – as well as the full line up of Worlds End themed Mugs.
He'll also be sketching and displaying the latest pages from Worlds End Volume 2 and is looking forward to seeing some of you guys soon.