Tim Perkins is a Guest at Bristol Comics Expo 2009
9 February 2009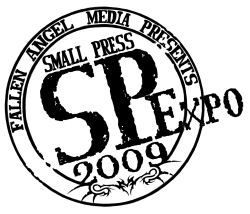 Here is the first of several updates on the run up to this year's Comic Expo in Bristol here in the UK. We thought it was time to tell you guys that Tim is on the Guest List and that Wizards Keep are Exhibiting.
First of all we would like to say many folks have mentioned the fact that the Comics Expo, is taking place in the Ramada Hotel alongside the Small Press Expo in the Mercure Hotel (a short walk between the two) is a negative move by organiser of the Comics Expo, Mike Allwood.
Hopefully the following information will allay any such fears from you guys!
Yes, there is a small downsizing due to Mike's current work commitments and the time with which he can organise the event this year, and are co-producing with the show with Fantasy Events this year.
The current "credit crunch" has had an effect with 2 major sponsors/supporters saying they could not lend their support in 2009. Mike believes they will be alone and that now is not the time to be making expensive plans for May 2009.
The ownership of the Commonwealth Hall is still unlikely to be resolved by 2009, but 2010 should see the whole of the building available, that would create an extra 20-25% more space for the Expo.
Now what does that mean for folks wanting to come along and see the guests and exhibitors that will be attending this year?
Well it means that although a little more streamlined, it reminds Tim of his first Comic Convention he ever attended, as a 20 year-old wanting to break into the industry way back in 1979 at Colin Campbell of Bytoo Books fame's convention at the Metropole Hotel at Birmingham's NEC exhibition complex. This was were along with his younger brother Chris he met folks like Al Davidson, also trying to break into the industry and professionals like, Frank Brunner, Jim Steranko, John Bolton, Joe Staton, Len Wein, Denis O'Neil, Steve Leialoha, Rodney Matthews, Jim Fitzpatrick and many others.
The above group of professional artists and writers was quite a stellar group of creative folks and the convention still stands out as one of if not his favourite of all time. Now this could be to do with the fact it was the first he ever went along to, so it could be for nostalgic reasons, but he has been to other very momentous ones just prior to working in comics and also others as a guest alongside some great names and others in different parts of the world and this one still holds up for him, not because of nostalgia, but because it was a very cosy and intimate experience, because of the relatively small set up in comparison to others he has attended since.
So if you want to pay a visit and speak in more intimate surroundings, we figure that this one in May should fit the bill perfectly.
Now whom can you expect to see on the Wizards Keep tables?
Well accompanying Tim for the extended weekend will be his wife, Margaret, fellow writer, Paul Roberts and his partner, Cyn, so there will be plenty of folks on the stand to speak to.
What products can you expect to see on the Wizards Keep tables?
Well as well as the usual fare:
The Worlds End Ashcan
(Please remember the Ashcan contains artwork, not included in the Worlds End Graphic Novel - and comes with a £2.50 money back security Voucher, redeemable against the Graphic Novel)
Worlds End A2 Posters
Worlds End Mouse "BriteMat" Mats
Worlds End Figurines
Limited edition, signed and numbered Sketch Books
Limited edition, signed and numbered Giclee Prints
Original Comic Book Art
We will have some Expo exclusives:
First off are the new:
Worlds End Door Posters
Fantasy Book Marks.
We will also have some information on our New Mural Artz Product range.
Also showing for the first time should be the new:
Worlds End Colouring Book
The latest Sketch Book – 12 The Witching Hour
There will also be a chance to view for the first time, "exclusively to Bristol Comics Expo" some "New Art" by Tim that takes him in a different direction from that which folks have come to expect off him, and which will be coming out as Giclee Prints soon.
You can also take a look at the new Worlds End Graphic Novel pages in full colour, before we go to print later this year.
It goes without saying that there will be lots of "freebie stuff", which we will be giving away, and a competition or two as well for a chance to win some our great products.
Paul is also taking along some copies of Dark Crusade Issue #1, published way back in 1995 by Pultiam Press. If you like Demons, or Fringe, or Buffy on TV, this one is for you. Remember though Paul and Tim were there first.
As always the guys are excited about meeting up with as many of you as they can over the extended weekend.
Remember, please don't be shy, do come along and say hi…they don't bite…honest!!!